Two Michelin Stars. This surprised me, not because I didn't believe that a restaurant associated with Alain Ducasse was deserving of two stars, but because I had been here once, around the time that it opened, and it was… good, really good actually, but I wouldn't have said that it was deserving of two stars. Living in Europe while this was all happening made it difficult to get a booking here since I was only ever back for a few days at a time, but I finally managed to revisit 'the Spoon' at the Intercontinental hotel in Tsim Sha Tsui.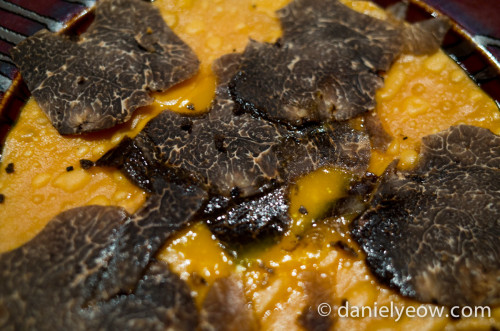 So it has become popular to put fancy restaurants on the waterfront at Tsim Sha Tsui, overlooking Hong Kong's harbour, but looking back at Hong Kong. One of the reasons for this, is that someone came up with the ingenious idea of the "symphony of lights" which is an extremely tacky laser and LED light show which takes place on the scale of buildings. What better way can there possibly be to, um… enhance, the crowded skyline of Hong Kong than to strap some lasers to the tops of some buildings and wave them around as if you're trying to write your name in the snow, if you catch my drift. In any case, crowds of bored tourists gather at the waterfront to witness this show, and I thought I would avoid them by ducking into the hotel and into the restaurant. I was still able to see the show, since the entire side of the building was glass, but for me the food was the only thing that night deserving of my attention.
The setting is cosy, and there are hundreds of spoons stuck to the ceiling. Aside from the spoons, there is nothing particularly outstanding about the decor. The menu itself has changed completely since my last visit. The old concept involved an experimental journey through a standard 3-course meal where you chose the main ingredient for the first, second, then third course, and then you chose a sauce. What would then happen is the chefs would serve you up your choices in some sort of creative way. The 'new' system is decidedly old-school in that there is a standard a la carte menu, and a chef's degustation menu, which is what I ordered. There was also a special on truffles (first picture) and seeing as I like truffles, I decided to go along with it.
The truffles came by the gram, and they even weighed the truffle before and after being shaved onto my food (pretty much anything other than a truffle being shaved onto my food sounds gross…). Almost every main course was enhanced in some way by the addition of truffle shavings, although I did occasionally think that a more sparing use of the ingredient would have been more effective. You see, truffles by themselves don't taste like anything, they have this very distinctive smell, and it can be so strong that it feels like you're tasting them with your nose. Creamy dishes, and especially dishes which include egg yolk can have their flavours significantly enhanced with the addition of truffles. My starter, pictured above, of a pumpkin soup was greatly enhanced by the truffle addition, whereas my next dish, which was made up mostly of scallop, needed the truffling to come in the form of a sauce in order to be able to carry the smell.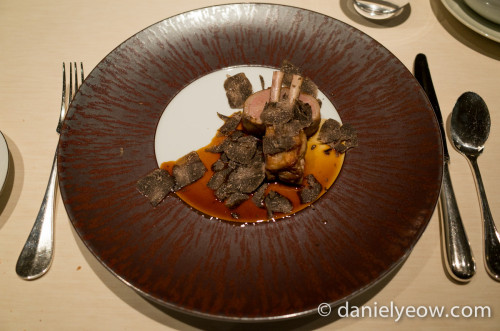 Overall, the experience was a good one. The food was pretty fantastic, and surprisingly filling for this kind of dining. Some dishes, like the scallop one mentioned above, were beautifully constructed and the flavours came together well to create a coherent 'message' for your sense of taste, but other dishes seemed like a more random throwing together of a bunch of good ingredients – which works well, don't get me wrong, but left the diner sometimes wondering "why did they do that?".
Despite my love of truffles, my favourite part of the experience was actually the desserts. They were beautifully-executed dishes with no 'flat' spots, where you wondered what the chef was thinking. I made an unusual request in that I asked for an item on the a la carte menu to be added to the end of the tasting menu because I was so intrigued by the concept – grapefruit soufflé. Served with grapefruit sorbet and little bits of grapefruit. Surprisingly enough, it actually fit quite well in my meal, coming just after the my mandarin sorbet which was delightfully served in a small mandarin which had had its skin treated in such a way that you could eat it.
The attention to detail on all of the dishes was superb, and the frequent visits from the manager made me suspect that I had been mistaken for some kind of food reviewer. I wonder where they could have possibly gotten that idea from. Honestly though, the food was not quite up to two-star standard because of its inconsistency. Some dishes were worthy of a three-star restaurant, but others seemed hastily-designed to name-drop certain ingredients into the menu to add to the 'prestige' value of the meal (as if a restaurant suffixed with 'by Alain Ducasse' needs it). The service and surroundings however were excellent, as one would expect from a restaurant situated in a five star hotel. I would definitely recommend this restaurant though, and if you would like to get a seat to see the symphony of lights, then I suggest you book a few weeks in advance, more for weekend-nights.
Even so, this remains one of the more accessible Michelin star experiences available in the world, curious considering the size of the eating-out culture in Hong Kong. A restaurant of this quality in Europe or North America would ordinarily require much longer lead times to make a booking, or maybe I was just lucky and they thought I was food reviewer, so they squeezed me in on short notice (I called three nights before my meal, which took place on a weeknight). If you only go for the view, there are cheaper restaurants which are easier to get tables at, but there probably aren't better restaurants. (click the image below)