My Journey into the World of Supershoes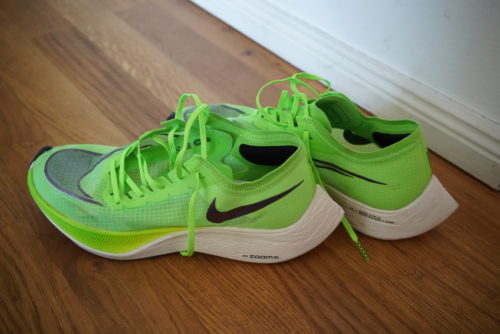 This is an exciting time to be getting into running shoes. Earlier this year I bought a pair of the Nike ZoomX Vaporfly Next% on a whim (and because they were on sale as the Alphafly was about to be released), and I was inadvertently thrown into the brave new world of running super shoes. It all began with the Vaporfly 4% which evolved into the Next% – two shoes which were unashamedly designed with a singular purpose in mind – to help Eliud Kipchoge run the marathon distance in under 2 hours.
Ultimately, Eliud did not run 42.195km in under 2 hours in either of those shoes, but he did set the official marathon world record in them at the 2018 Berlin Marathon. The shoes also proved surprisingly versatile with many runners using them to set significant personal bests in distances other than the marathon. The combination of high-stack, bouncy foam with a carbon fibre plate and a rockered shape to help roll the foot forward from efficiently from footstrike to toe-off turned out to be a winning combination, and other shoe manufacturers have been playing catch up ever since. Indeed, even now the Vaporfly Next% is the reference shoe against which all other supershoes are compared.
However, as I wrote in my review, while the shoes worked for me in that I was able to run faster, for various reasons, most of which concern the shape of my feet and structure of my ankles, the shoes aren't very well-suited to me. Thanks to this covid-inspired season of not-much-skating and a lot of running, I have signed up for a number of virtual races, in distances ranging from the mile, all the way to the marathon. With the physiological demands of a marathon being particularly poorly-matched to my natural abilities (I'm really more of a sprinter) the shoes I choose will make a significant difference to whether or not I can go the distance, and if so, the condition I will be in when I reach the end. With that in mind, I set out to find other shoes to add to my training rotation, and to perhaps unseat the Next% as the king of the marathon.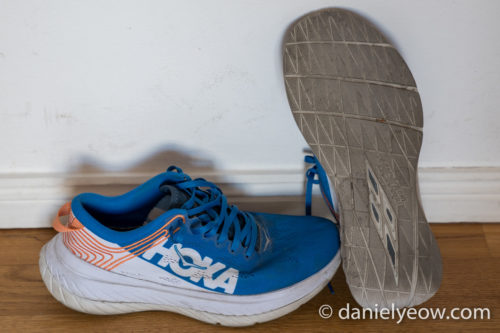 Hoka One One Carbon X
My first alternate super shoe was aimed at distances of a marathon or longer. The Hoka was also one of the first shoes to come out with a high stack and carbon plate combination after Nike (Adidas has, in the past, experimented with carbon plate shoes, and many track spikes have had stiff plates in the sole since forever). A much more comfortable and forgiving upper, with almost no heel counter compared to the Vaporfly, paired with a very wide midsole combined to make a much more forgiving shoe overall. In the Nikes, you need to be going above a certain speed, otherwise the soft bouncy foam feels very unstable whereas in the Hokas the foam is not as soft and the base, especially through the midfoot, is much wider allowing pronators like myself to not have to put any effort into maintaining a neutral ankle position for fear of rolling my ankles inwards too much and injuring myself.
I was very fortunate with my first shoe to be added to the rotation, since this is a very versatile shoe which not only can be run in perfectly fine without my orthotic inserts, but is well-suited to a large variety of speeds, from easy recovery/aerobic runs, all the way up to fast tempo and race pace runs. Only at the very fast end of the spectrum, (e.g. 100m sprint repeats), for which these shoes are too high and too heavy, and at the very slow end, where these shoes are fine, but the foam is a little bit hard, do these shoes not deliver.
All of the inline skating races that I normally do in a season have been cancelled, so to stay motivated I've set myself a number of "training targets" which are running-based, and one of those is to run a sub-20 minute 5000m (I'm currently sitting on a PB of 21 minutes). It is perhaps indicative of how much I like these shoes, that the second time I wanted to have a serious crack at the distance, these are the pair I reached for (the first were the Nikes). This is definitely a shoe I recommend to people who ask, and it can even double as a casual shoe if need be (shoes with an aggressive rocker, or very soft foams are often not suitable for just walking around in).
addendum – just as I finished writing this article, Hoka has announced/released the next model – the Rocket X

Asics Glideride
If you read my review of the Nike Vaporfly Next%, you'll know that prior to buying those I did all of my running training in exactly one pair of shoes – the Asics Gel Kayano. A mainstay of the stability shoe world, it is also heavy, clunky, poorly-cushioned, and slow. When I retired my last pair (which is something I generally do after about 500km) I wanted to try one of a number of newer shoes in the Asics lineup, and after reading a few reviews, I happened on the Glideride.
The Glideride, aside from having a name you'd expect to find in an adult shop, is Asics' embrace of the brave new world of running shoes. After sticking to a well-worn formula of reliable albeit boring shoes while other manufacturers have forged ahead, this new Asics shoe brings the company into the fold with a bouncy foam, high stack, aggressive rocker, and a nylon plate in the sole for extra structure and stiffness. The upper of this shoe is a familiar and very structured Asics upper with a solid (probably over-engineered) heel counter and the familiar Asics overlays over the midfoot. This may not be nominally a "stability shoe", but the structure of the upper and design of the midsole gives this shoe a reassuring amount of stability.
Running in it is slightly odd at first, with the rocker making it feel like you're about to hit a speed bump as you roll forward onto the ball of your foot, then the ground suddenly giving way as you roll over it. Unsettling as this is, it helps keep the cadence up, and when combined with the bouncy foam, actually makes the ride feel rather effortless. Unfortunately the shoe is also quite heavy (there's even some of that signature Asics gel in the heel) and for that reason, its geometry, and the foam, the shoe is only really suited to long slow runs and recovery runs.
New Balance Fuelcell TC
This was one of the first shoes to seriously come close to mimicking the feel of the Vaporfly. New Balance's Fuelcell foam is near identical in weight, bounce, and responsiveness as the Nike ZoomX foam, and with the addition of a carbon plate, the shoe is stabilised and the toe-off has a suitable kick to it when the speed picks up. When I first put these on and stood up, I felt that unusual sensation of not being stable standing with my weight on my heels – just like I felt when I first tried on the Vaporflys. When I first went for a run, I would glance down at my watch and notice that my speed was significantly faster than how fast I felt I was going – just like the Next%.
The astute reader can probably sense a big "but" coming up, and here it is – the shape of the last (the fake plastic foot around which shoes are built) is that of a neutral runner with a high arch. Moreover, the middle of the midsole narrows between the heel and the forefoot, and there is considerable lateral flare (in a shoe/foot, the medial side is the side where your arch is, and the lateral side is the side where your arch isn't). The lateral flare certainly stabilises the shoe and prevents you from rolling your ankle outwards, but for a pronator with fairly flat feet like myself, all of these elements seems to actively encourage my ankles to roll inwards – which is a recipe for injury. Even though I wear my orthotic inserts in the shoes, it simply isn't enough to overcome the design of the shoe, and even though my current half marathon PB is set in these shoes, I unfortunately won't be buying another pair, and will probably try to offload these early (do I have any friends with high arches who want a very good shoe in a european size 42/US 9?).
For now, I run in them with orthotics, and my ankles straight, but with the soles feeling like they only exist between the ground and my foot at the heel and forefoot, and feeling like I only have the lateral side of the sole at the midfoot. If I had more 'normal' feet, these would be a shoe that is nearly on par with the Vaporfly Next% although significantly heavier. "TC" btw, is short for "training companion" and New Balance have since released the "RC Elite" which you can probably guess what is short for. It actually looks like a wonderful shoe, and a legitimate contender to take on the Next%, but sadly I won't be bothering with it because of the shape of my feet. If you have good feet and arches, you should definitely check out both the TC and RC.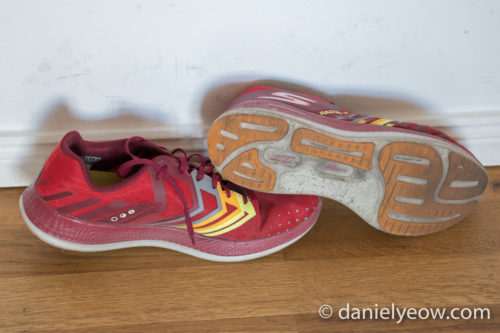 Skechers GoRun Razor 3
One of the many websites I read for shoe reviews is Road Trail Run, and one of the nice features of their website is a collection of runner's stories, one of which caught my eye about a Belgian age group runner who went on to success in the world marathon majors. In the article, he talks a bit about some of the shoes in his rotation, and he happened to mention the Skechers GoRun Razor 3 Hyper. An inexpensive (relatively speaking) lightweight trainer from a company which is better known for cheap "fashion" shoes, I was intrigued and had to try them out.
This was another case of love at first run. The most obvious thing about them is that they are incredibly light – the lightest shoe in my collection (at least until I bought the next shoe on this list), and with a very lively, responsive, springy midsole, these have proved to be a surprisingly versatile shoe, and for its versatility and user-friendlyness, is another shoe that I will often recommend to people. It was also at about this point in my journey that I started to realise that the stability of a shoe wasn't just down to how structured the upper was, and its ability to hold my orthotics in place, but that the shape of the last, and in particular the shape of the sole has a significant impact.
The Razor 3 has a relatively low stack, but still a significant lateral heel bevel, and a decent amount of sole support in the medial midfoot area, so despite looking like a sportified fashion shoe, actually turns out to be the real deal, and is perfectly useful over an astonishing range of speeds (although for really long, slow runs, I would prefer a little bit more stack). Just as an indication, I used these for 100m intervals at a recent summer training camp with some speed skaters, and I ran the last 2-3 repeats in 11.9 seconds. Just for some context, my official PB in the 100m is 11.7 seconds, and that's with spikes on a proper athletics track (in fact, it was in the Melbourne Cricket Ground when it was set up for the 2006 Commonwealth Games, and they were using Victorian State Championships to test the facility and all the competition procedures, and give the staff and volunteers a 'tech rehearsal' so to speak). To come anywhere near that in a racing flat on a road surface (and at my advanced age compared to when I ran that PB 14 years ago) is insane and borderline unbelievable. In fact, I thought it was a timing error, until I did it a third time in a row.
Along with the Hoka, this is another shoe that you could conceivably wear as a casual shoe (some marathon shoes these days are basically bouncy platform shoes). As I'm writing this, Skechers have announced the spiritual successor to the Razor 3 which has been, confusingly, named the "Razor +" which has an updated upper and a more durable and grippy outsole but is otherwise unchanged. I will definitely be considering that shoe for my rotation when these have reached their retirement mileage.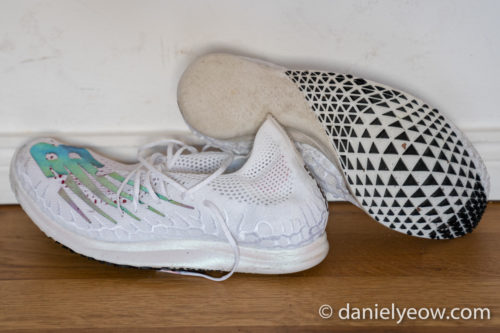 New Balance FuelCell 5280
This shoe was actually New Balance's first carbon fibre plated fuelcell-foam shoe. Big kudos to NB for taking the risk and putting their foot into the ring with a highly-specialised shoe which is nothing like the other carbon-plated super shoes out there. The number 5280 come from the fact that there are 5280 feet in a mile, and that this shoe is designed very specifically for the mile. As a business case, I think this shoe was a disaster for New Balance because there aren't a lot of people out there who want to pay over 200 euro for a shoe that is designed to race the mile distance in a road race. It is precisely for that reason that I was able to pick up a brand new pair online for only 80 euros. Without that discount, I'm very sure I would not have bothered.
I don't know if Nike intended this, but a specialised marathon shoe like the Vaporfly Next% has a surprisingly broad appeal to the general public. Let's be real here – Eliud Kipchoge ran his entire sub-2-hour marathon at a clockwork-consistent pace of 2:50 per kilometer. I recently ran the virtual 5th Avenue mile in a rather mediocre 5:29 which comes to a per-kilometer pace of 3:25. So the Vaporfly is designed for speeds that most people can't even run for a mile, but importantly the structure and foam is designed to cushion the athlete from the fatiguing impacts of the 30,000+ steps that one ordinarily takes during a marathon with the reasoning that it keeps the legs fresher for longer. That feature alone makes it valuable for the amateur enthusiast. A shoe specifically designed for the mile, however, doesn't take any of that into consideration. A good miler is mostly worried about efficient energy transfer, grip, and keeping their cadence and technique at a high turnover and quality throughout the race.
The 5280 is a magical shoe, but it has a very narrow and specialised "sweet spot" of use. It is basically a track spike, but without the spikes or the track. An elite runner might be able to use this effectively for a road 5k, but for me I barely was able to squeeze optimal use out of it even in the mile. For 800m repeats, and any speed work over shorter distances, this will be my go-to shoe. It has a ton of grip (I ran my 5th Avenue mile in very wet conditions) and so long as you're forefoot striking, the carbon plate does this magical thing of taking torsional (slightly twisting, inefficient) energy inputs from your footstrike, and then snapping them into forward motion when you toe-off. While I will be using this shoe for sprinty intervals, if I had to pay full price, I think I would be just fine doing those intervals in the Skechers (and indeed I did before getting these shoes). Honestly though, if you're doing shorter, speedier intervals, you should be doing them on a track, with spikes, and indeed since anyone with 200+ euros to spend on specialised shoes probably also has access to a track and spikes, that probably goes some of the way to explaining why New Balance has had more success going in the direction of the Vaporfly-mimicking TC/RC Elite line of Fuelcell shoes.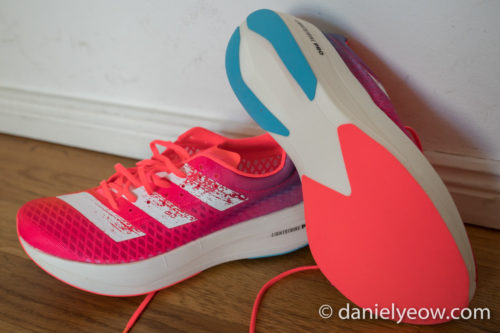 Adidas Adizero Adios Pro
These shoes were quietly released to little fanfare at around the same time the Adidas Adizero Pro (another shoe I'd really like to try) was released. It garnered mixed reviews until Peres Jepchirchir broke the womens-only world record in the half marathon in a pair, then they were suddenly very difficult to get a hold of. I was very fortunate in that last week, a new colour scheme was released and after pressing refresh on the Adidas website many times in quick succession around the time of the release, I was able to snipe a pair. What made me interested in them was a review on the excellent blog – doctors of running, where one of the reviewers of the Adios Pro described the shoe as being a 'stability shoe'. For a pronator like myself, these words immediately piqued my interest.
Putting these shoes on for the first time gave me all kinds of doubts. The tongue is gusseted with a fairly tight elastic material, and the celermesh upper locks the foot down firmly, so firmly that I feared that I had ordered the wrong size (Adidas european sizing, at least on the online store, is divided up bizarrely in 2/3 size increments). On standing up, the heel felt mushy and slightly unstable, not unlike the Vaporfly when I first tried them on, but then the outsole felt very slippery when I walked around the wooden floorboards inside my apartment. However, when I actually went running, all my doubts were for naught, and I can safely say that I have finally found my marathon supershoe.
The heel, although soft, is also springy and stabilised well by the carbon fibre plate which only runs up to the midfoot where they give way to a unique system of 5 "energy rods" which follow the line of the bones of the feet. It's a curious sensation – at slower speeds, they feel fairly solid, similar to the speed hump feeling as you approach the ball of your foot, like in the Asics Glideride, but at higher speeds, when the forces are greater, the rods deform and spring back, giving you a lot of energy at toe-off, like a regular carbon plate. After dirtying, and I suppose, wearing down the outsole slightly, the surface turns out to grip very well, despite appearances. Even though it looks smooth, up close and to the touch, the outsole material reminds me of the very grippy rubber that you encounter on rock climbing shoes. The best thing about running in the shoes is that they are incredibly stable – the combination of heel bevel, the shape of the last, and substantial medial support (without a medial pillar) means that they are even stable enough for me to run in without my orthotics.
I haven't run in them enough to know if they're faster than the Vaporflys, but even if they aren't, they're very close. The only real difference in feel is that the threshold for springiness in the forefoot is higher in the Adios Pro than in the Next%. The Adios is also slightly heavier, but the difference is imperceptible while running. For me, the biggest and most important difference is the stability. The Next% is not quite as bad as the Fuelcell TC, but it nearly is and that means I'm putting in a decent amount of extra effort just to keep my ankles straight while I'm runnning. At the end of a race as long as a marathon, I would be genuinely concerned about rolling my ankles in and even if I manage to finish, doing so at the expense of my calves or achillies tendon in an overuse injury. These concerns would not exist in the Adios Pro.
Epilogue
So is that it? Not really. The existence of a fast marathon shoe that won't injure me by the end of a marathon is certainly something to celebrate, but racing marathons isn't the only kind of running that I do. In fact, it's one of the kinds of running that I have not yet ever done. This journey has taught me a lot about shoes, and especially that there is no linear ranking going from the best to the worst shoe (although some shoes are certainly better than others). A better way to think of it is that, among a group of shoes built for a particular purpose, there are some which will suit an individual runner better than others.
Knowing what I know now about the different factors which go into making a shoe suitable to my physiology, and in particular the shape of my feet and ankles, there are certain things I might have avoided. I hate to say it, because they've been one of the more innovative shoe companies in recent years, but I would avoid New Balance shoes. They're great shoes, but unfortunately are uniquely poorly-suited to the shape of my feet. I might still have bought the Fuelcell 5280 though (but not at full price), since at the speeds I would use them, I would be running exclusively on my forefoot, and the shape of the last matters very little when you're running at those speeds.
The bottom line to all of this is that even though the supershoes were originally brought in to facilitate faster speeds when raced in a marathon, they've done something more – they've opened up our minds to the possibility that there are many more ways to make an effective running shoe than were previously thought. Finding bouncy, responsive foams which also absorbed impact has always been a thing – Nike Air, Asics Gel, and Adidas Boost have all been around for a long time. But for racing, "racing flats" have always been lightweight, minimal, not-durable, and rather harsh on the joints as a result of this, the logic being that a runner needed to be close to the ground, shod in the lightest shoes possible. As evidenced by the Vaporfly's succesor, the Alphafly, which is actually heavier than the Vaporfly but much more cushioned, building a shoe for a specific purpose involves finding the best compromise of several different factors.
During the pandemic, I've done far less skating than I usually would, and have instead substituted running, mostly because it is very time-efficient in that from the moment I walk out the door to the moment I'm back home, almost all of that time is spent actually training. Only cycling on my home trainer is more efficient in this regard, but because of the nature of the different sports, I can get the same training effect in a far shorter time while running compared to cycling. This summer, I've run higher mileage that I've ever run before, indeed, occasionally more mileage than I believed possible without burning out, and I believe one of the factors which has made this possible is the forgiving nature of this new generation of footwear. The soft, bouncy foams and high stack height has been much more gentle on the muscles and joints than even my well-dampened Asics Gel Kayano ever were, and the well-designed, well-ventilated uppers have been much less harsh on my feet. All of this has meant that the rate-limiting factor in my running training is actual physiological capacity for energy conversion, rather than injury, blisters, or muscle soreness. This has allowed me to continue training at a high quality, despite the difficult circumstances of the last few months, and even if the supershoes don't make me that much faster at the end of the day, if they allow me to train better (even if it is for a completely different sport) then this journey down the rabbit hole won't have been for nothing.