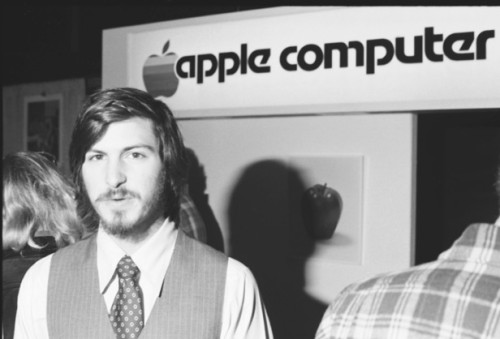 I feel like a bad person for saying this, but ever since his death I've been eagerly anticipating the film adaptation of his life. A hero to many (and a villain to many) he epitomised the silicon valley spirit – a couple of young guys with big brains and dreams to match starting out in their parents' garage, making it big on the world stage, suffering some setbacks, and then making a comeback worthy of any feel-good disney sports film (I recommend Remember the Titans, and The Miracle). I wasn't the only person anticipating this film, and even when it opened to mixed reviews, I just *had* to see it.
It pains me to say this but don't bother. It is poorly-written and far too loosely strung together. The film covers the period in Steve's life starting from sometime after he dropped out of Reed College but was still dropping into classes, until shortly after he returns to Apple as chairman and CEO. Throughout the film, I couldn't help but feel like the writing team had sat down with a check list of important events that had to cover, and had simply gone through and ticked them off in sequence. It seems that far too much effort went into making Ashton Kutcher look, dress, and act like Steve (and he does it well, to his credit) and not enough on creating stronger segues between these short episodes of his life.
To people who know even a little about the life and times of Steve Jobs, this film doesn't really add much. Everyone knows he had a bad temper, everyone knows he was big on design, everyone knows he wooed that guy from Pepsi by asking him if he wanted to sell sugar water or change the world. This wasn't supposed to be a documentary, this was meant to be some kind of biopic. To the writers' credit, they did paint a fairly unflattering portrait of the man behind Apple computer, but the somehow managed to forget that they were also telling a story, and good storytelling requires a strong "red line". Since this film was about the life of an actual, real person, there's really no excuse for that kind of oversight.
Someone once gave me some of the most useful writing advice I've ever heard – "show, don't tell". This was in the context of writing resumes and personal statements for college admissions, but it basically came down to approaching the writing by showing the reader what I did, rather than just telling them. It's a subtle difference, but an important one, and one which was unfortunately missed in this film.
In 2005, Steve Jobs gave an entertaining and moving speech at the Stanford University commencement (graduation). It goes for about fifteen minutes, and covers more ground than the film about his life does. He doesn't just tell his story, but he shows the listeners why it mattered. Skip the film, watch the commencement speech instead.