My food tour of Hong Kong is finally complete, at least the first part of it – I have now dined at every three star establishment on the island. Otto e Mezzo, named after the Fellini film, is an exquisite restaurant based on modern Italian cuisine, brought to us by chef Bombana pictured above shaving truffles into our truffle linguini dish. In possession of three Michelin stars, and occupying a high 39th on the World's Best Restaurants list (second highest in Hong Kong, just behind Amber in 36th) it is located in the swanky surrounds of Alexandra House, home to some of Hong Kong's most expensive shopping. It is interesting to note that on this block, which includes The Landmark (a shopping mall), The Landmark Mandarin (a hotel on top of aforementioned shopping mall), and Alexandra House, there are three Michelin-starred restaurants – Amber (two), Otto e Mezzo (three), and L'Atelier de Joël Robuchon (three). Just across the road, there's the Mandarin Oriental (a hotel) in which the two-starred Pierre [Gagnaire] is located. This part of town seems to be the "fancy restaurant quarter" of sorts.
Interestingly enough, it was not too difficult to get a table here. I called about a week ago and was told that they were booked out until April 21st, which at the time was four weeks away. I told them I'd call back. Several days ago I called again, ostensibly to put my name on the wait list for Tuesday night, when I was going to attempt my 'rock up and get a table' routine, taking advantage of the (inside) information that, at these restaurants on any given night, sometimes as many as 30% of people who book don't show up. I was told that there was space available, but only in the lounge area – a sitting area which includes the bar at the entrance of the restaurant where the food is the same but where the feeling of a 'sit down dinner' is somewhat diminished. Fine, I said. By the time we showed up on the night, there was magically space in the regular dining area…
Out of all the Michelin-starred dining experiences I've had in Hong Kong so far, this one is the most 'conventional'. Easy to understand menu, standard degustation set menu, comprehensive wine list. In many ways this restaurant eschews many, indeed most of the recent trends in fine dining and comes back to simple (very high-quality) ingredients combined in new and imaginative ways. As with any establishment of this sort, the service was exceptional and the setting elegant yet understated. Amber and Lung King Heen probably exemplify the spared-no-expense, posh-looking restaurant surroundings, whereas on the other end of the spectrum, you have Noma and The Fat Duck which were located in a warehouse and small village house respectively, and were very modestly decorated indeed.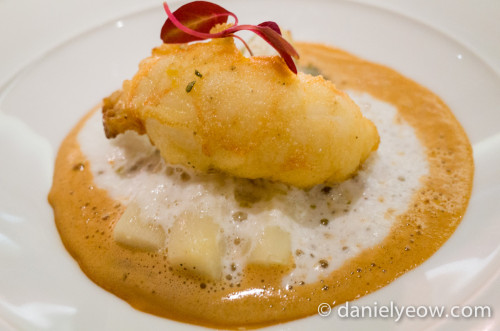 The courses consisted of the standard foams and jellies to deliver the fairly unsubtle and strong tastes to our refined palettes. There is something to be said for the Italian approach of simple ingredients and relying on novel combinations and technique to bring out the flavours. Owing to the smaller number of courses, each course was also slightly larger than one normally expects from a degustation menu.
Fearing that I might not satiate my appetite after counting the number of courses, I asked the waiter if the restaurant would be so kind as to add one of the courses from the a la carte menu to the degustation menu. In my view, one of the true tests of service and Michelin star worthy-ness is their ability to handle strange requests. Catering to allergies and dietary preferences is expected, of course, but adding courses to a set menu goes a step further, and at restaurants which spend a lot of time and effort perfecting the sensory journey through their degustation menu, it can be considered by some as sacrilege.
Nevertheless, I convinced the staff to add a lobster with lobster bisque reduction and truffle to the set menu, and everything was ok.
One of my favourite courses, pictured above, was the creamy linguine with truffle. Not just because adding truffle to pretty much anything makes it better (it doesn't always) but because this dish did such a brilliant job of using the truffle to enhance the flavours and the smells of the pasta. It also felt pretty special for chef Bombana himself to make an appearance and shave a very liberal amount of truffle onto our dishes.
Also worth mentioning is the quality of the bread. It was served with a dish of organic olive oil whose importance in bringing out the quality of the bread cannot be overstated. The various varieties of bread were fresh and light and served to complement the meal well. Not since the truffle-butter experience of Tetsuyas have I consumed so much bread at a meal of this nature.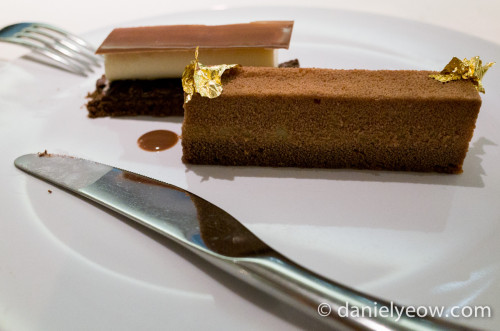 Last but not least was the dessert. Simple, elegant, yet strong in taste and leaving a good impression – a recurring motif for the meal. The petit fours which were brought out while we were finishing our meal with some tea were served to us twice. I'm not sure if that was deliberate or a mistake. I'm also not sure whether to count that in favour or against the restaurant, tasty as those petit fours were.
For a three Michelin star restaurant, this was a very simple meal, a huge contrast to the molecular gastronomy of say Bo Innovation. Stylistically it was most similar to Amber and the unusual move of naming a restaurant after a film has motivated me to find a copy of, and watch, Fellini's Otto e Mezzo. The experience of the meal was enjoyable and quite 'complete' in that it was all that you expect from this level of dining. As I explained above in my story about how I got a table, this is a very accessible restaurant and as of the time of writing is actually the cheapest Michelin-starred meal I've had so far, coming in at about half the cost of Sushi Shikon. The food is also very accessible in its style – it is not pretentious or intimidating in any way (despite so many truffles) – this is the three star restaurant that you would bring a date who was perhaps a little squeamish about trying new food. This was modern Italian on steroids to be sure, but still distinctly recognisable as modern Italian.
The food is very good, of course, but my lingering feeling is that it isn't quite deserving of its three stars. Two, definitely but I'm not so sure about three. Perhaps I need to come back and try some of the other a la carte dishes, and possibly some cheeses as well (in the background, chef Bombana was constantly raiding the cheese room to 'test' the various cheeses they had). On the other hand, its very understated and unintimidating food encourages more 'regular' dining than the once-a-year kind of special occasion dining that many of the other three star establishments frame themselves as. I guess I'll have to come back.