Bo Innovation is the latest restaurant in Hong Kong to earn a coveted third star in the Michelin guide, so naturally I had to give it a go. It's worth mentioning at this point that this was the most easily accessible three star experience I had ever had. Previously the easiest booking I'd ever made at a three star establishment was for lunch at De Librije in Zwolle in the Netherlands. Although dinner is booked out months in advance, one can get a table for lunch on a weekday with about a week's notice, and the food is the same. When I called Bo Innovation, when I asked for the "next available" table for one imagine my surprise when they said "how does tomorrow night sound?". Perhaps I was just lucky and they'd just had a cancellation, or perhaps a table for one was an automatic red flag for a  food writer, but either way I have never had an easier time getting a table at a three star restaurant.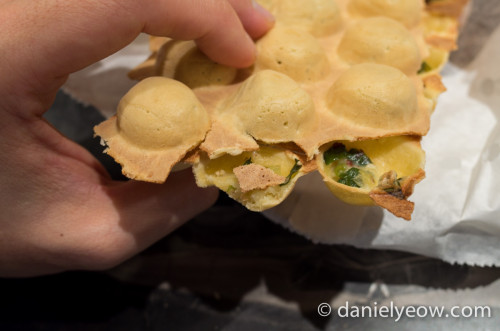 The restaurant is situated in a very understated location on the terrace level of an office building. There's a trendy bar serving pub-grub on the floor above and a very stock-standard office building lobby on the floor below. It is very easy to miss the entrance to the restaurant and it makes no effort whatsoever to attract attention to itself. While this sort of setup is fairly normal for astronomically-good eateries in Europe (Noma is situated in an understated dockside warehouse, and The Fat Duck is in a small house in a village where I walked straight past the entrance several times before finding it) it is well out of the norm for Hong Kong, where being very show-offy with one's wealth and status is encouraged. I was sat down at one of about thirty tables in the small restaurant but when the front of house manager came to speak to me, I was immediately asked if I would like a seat at the "Chef Table", further confirming my suspicion that I had been flagged in some way. The first 'starter' was an interesting take on some traditional Hong Kong street food, which was prepared with some rather more exotic ingredients and smells (pictured above).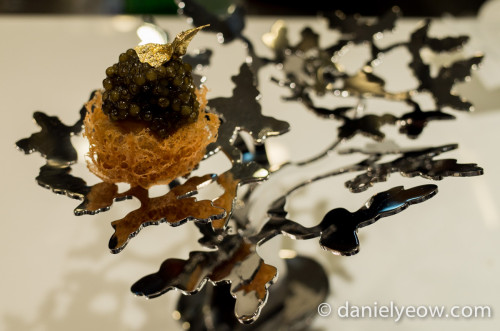 Like most restaurants of this kind, the menu is by default a degustation journey of several courses. Sitting at the Chef Table not only allowed me an unencumbered view of the kitchen, but also compelled me to order the full Chef Table menu, which was made up of 14 courses, including all of chef Alvin Leung's signature dishes. Leung's cooking is (self) described as extreme chinese, and he himself has the nickname The Demon Chef. The cuisine is best described as fusion with ingredients from traditional cantonese-style cooking combined with techniques of molecular gastronomy. Like Heston Blumenthal, Leung is self-taught and originally trained as an engineer.
My first course was very photogenic, and simple at heart. A smoked quail egg topped with caviar and a tiny piece of gold leaf (this is a popular thing in Hong Kong). Simple eggy tastes give way to the creamy and rich texture of caviar, but the size of the course ensured that this richness wasn't overwhelming so as not to be too out of place at this point in the meal. As you can see from the photos (above) attention to detail was paid in the presentation, with the metallic 'nest' upon which this egg was perched a custom-made piece of kit, manufactured just for this restaurant.
The next course was probably the only out-of-place dish there was, at least in terms of the journey of the palette. It was foie gras with pear, ginseng, and sea urchin, mixed in a broth of Korean spicy miso. It was reminiscent of meals I had had in Korea and the light, cool sensations of the cold soup paired with the the slight spice (to clear the airways) was, what I thought, a foreshadowing of the kind of dishes which were to come – very light, breezy, and almost with a wasabi-like sting to the nostrils.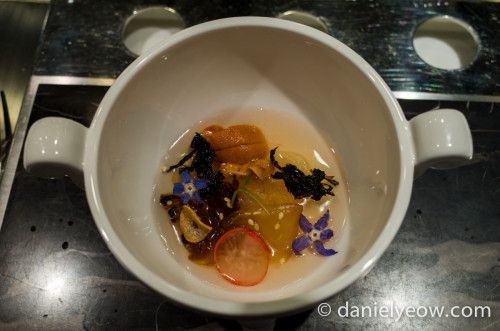 But that is not the direction that the journey went. The next dish was the "baked alaska" which was a curious bit of baked foam topped with some rice wine which was subsequently set alight. Not only to cook the rice-cracker-like morsels at the bottom, but also to make elements in the foam evapourate into diner's noses. The flame was extinguished with just a tiny bit of alcohol left and when I bit into it I couldn't help but be reminded of the first appetiser I had at The Fat Duck where a ball of frozen foam (frozen in liquid nitrogen, no less) exploded in my mouth to deliver taste and smell sensations to both my tongue and my nostrils, all at the same time. While undeniably light (the foam is mostly air, after all) the tastes were strong and distinctive, although of quite a different colour (if that makes any sense) to the previous dish.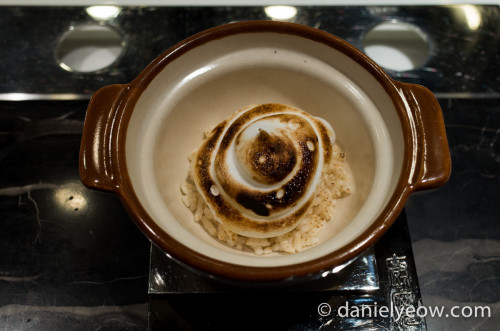 I should probably also mention that one of the other advantages of sitting at the Chef Table was that the area (being, as it was, literally in the kitchen) was very well-lit. This is why there are so many photos of the food.
The next dish was an interesting one, named "umami". What you see is a regular old dish of vermicelli with some slices of tuna sashimi topped with truffle shavings, but the experience of eating it was something else entirely. Yes, there was the wonderful taste of fatty tuna, and yes, the taste and smell of truffles was delightful as always, but mixed in amongst all this was a special oil made from the essence of gelfling dried shrimps. This lent a very distinctive shellfish smell and flavour to the dish which, if you had told me about it before I tried it, I would have told you wouldn't work. But it did, and it worked very well.
The next course was a small palette cleanser of sorts named "xiao long bao" which is based on a traditional shanghainese steamed dumpling. Anyone who's ever seen a real xiao long bao will know that they look nothing like the spherical blob pictured below. Of course, that's all part of the trick, which is to take themes and tastes from familiar foods and deliver them in strange new ways. Forgetting the texture of the food for a minute, if I had closed my eyes, I would have honestly thought that this 'dish' was a xiao long bao, but the juxtaposition of the visual input with my sensory stimuli was part of what made this such an interesting experience. As an aside, it was an exceptionally tasty xiao long bao, as I didn't have to contend with nasty inconveniences like having the chew the bread, or remove the rice paper from the bottom of the bun…
One of the following dishes was rather modestly named "Tomato" and consisted of three items which slowly lead up to the concept of a tomato. First a marshmallow which smelled vaguely of a tomato, then some fermented olives which had been infused with the essence of tomatoes, and finally an actual tomato (I know, so mainstream, right?) which had been peeled, then cooked in balsamic vinegar. Aside from tasting amazing, I was able to observe this being prepared right in front of me for a table of four. As one of the chefs slowly placed the individual items on the plate, he noticed that one of the marshmallows was slightly crooked. He proceeded to replace the crooked marshmallow with a straight one – a detail that many would have missed, but it is this very attention to detail that earns a restaurant three Michelin stars.
The course immediately following "Tomato" was another deceptively simple one – "Black Truffle", which was a variation on the common egg-and-truffle combination. Simple, well-executed, interestingly presented (it looks like a mini-hamburger, doesn't it?) and above all, delicious. This represented the halfway point in the meal, and a transition from small appetite-whetting dishes which were big on subtle flavours and smells, towards 'heavier' dishes which, while not particularly large, were designed to be more filling and the tastes themselves were also less subtle and more full in flavour.
One such "full bodied" dish was the lobster, served with a sichuan hollandaise sauce, and matching broth to complement the naturally-flavourful lobster flesh which can be seen on the left, just where the broth is being poured in. A few small pieces of charred corn seemed a bit strangely superfluous, but perhaps they were added for carbs?
After a handful of sweetbreads, we moved into the final act – dessert. Sadly, this was one of the slightly weaker aspects of the meal, although I was pleased to see a return to popularity of the technique of using foam to deliver flavours. The twist here was that these foam concoctions were designed to harden, thus adding a layer of texture onto the original liquid-and-gas delivery by making it a solid-and-gas delivery. The theme here was coconut, and everything was in some way related to that vision of sitting at a beachside resort sipping pina coladas (one of the little bloblets below was pina colada flavoured).
To finish there was the standard tea and petit fours which were, predictably, not standard at all. A unique brew of specially selected leaves and dried herbs was served in a shot glass sized teacup which I believed was there to give a continuous and deliberate background smell to go with the rest of the desserts.
Showing great variety, but not lacking the obvious structure and direction of the previous dishes, the petit fours were still very enjoyable, although I would've taken the chocolate out because it was an unusually heavy, creamy, and bitter (relatively speaking) spot in amongst a selection of predominantly light, powdery, and sweet things. Alongside this little bird cage was a steamer with a desert dumpling and sponge cake, just as a last reminder of the roots and inspiration for this fusion cuisine.
Apparently, when Bo Innovation was awarded its third star, there was much controversy. I can't imagine why. Perhaps it was the fact that it wasn't considered a big restaurant, or because of its very modest surrounds in comparison to the opulent nature of many of Hong Kong's other big restaurants, which are generally located inside the very best five star hotels. In the context of my travels, and my experiences with other high calibre restaurants, Bo Innovation falls squarely and comfortably in the top echelon, easily deserving of its three star status, and in my humble opinion, moreso than Lung King Heen. The name says it all – Bo Innovation, the food is actually quite innovative. Restaurants like the Fat Duck seem to have fallen somewhat off their perch at the top of the lists of the world's best restaurants, and I suspect that the reason is because the dishes are basically the same from year to year, and with the head chef busy building and empire and opening other restaurants, it can be difficult to always keep new things coming into the menu. Legendary (and now closed) restaurant El Bulli was said to begin its season with one menu, but be serving a completely different one by the time the season ended.
All I can say is strike while the iron is hot. This is a genuine three star experience in modest surroundings with incredible food, and nobody seems to have caught on. It is ridiculously easy to get a table here, but I imagine that it is only a matter of time before people start to realise, and it becomes impossible. Tables of more than one will probably need more lead-time, and weekend nights will obviously be more difficult, but Hong Kong dining is a funny thing, and there are always lots of no-shows, so go ahead and waitlist yourself. While this restaurant is probably not the very best I've ever been to, I can safely say that it is the best I've been to in Hong Kong, and while it isn't quite the incredible and interactive experience of a place like Noma, it definitely deserves to be mentioned in the same breath. In the red guide, it says under the three star heading : "Une des meilleures tables, vaut le voyage" – exceptional cuisine, worth a special journey. I couldn't agree more.