L'Atelier de Joël Robuchon
I first visited this establishment many years ago, when it first opened its doors in Hong Kong. Since the Michelin guide had not yet visited Hong Kong at the time (and I hadn't yet visited a Michelin-starred restaurant at the time) I had no way of being able to anticipate just how good the food would be. It was probably the best meal I had ever had at that point. Curiously enough, revisiting it many years later, while I would not say that it is the best meal I have ever had, I would say that it is significantly better than it was at that first visit.
When I first crossed paths with this restaurant it had only been open a few months. The menu choices were somewhat limited and, although I didn't realise it at the time, very 'conventional'. Robuchon did most of the work he is famous for in the late 70s and early 80s, and by the time he was my age had earned every meaningful culinary award and accolade that existed. In the mid 90s, worried about the drain on his health and family life he retired from the restaurant business at age 50.
Of course, he came back, otherwise I wouldn't be writing this review. A critic of the old ways of the Michelin guide, as well as the old-school nouvelle cuisine in France, he helped transform both into what they are today. Famous for his perfectionism and temper (he once threw a plate at Gordon Ramsay), his return has been nothing short of triumphant having now earned a total of 28 Michelin stars between all of his various restaurants, most of which are named "L'Atelier" which translates roughly to 'artists workshop'.
The menu when this restaurant opened was very conventional modern French with strong, complex flavours which were a revelation to me at the time. The new menu is subtler, more evolved, and more finely-attuned to local tastes and ingredients. We were very fortunate that Robuchon himself had visited this restaurant in the previous month and had made revisions to the tasting menu. Many of the dishes were what one might call 'fusion' in that they combined techniques, ingredients, and influences from local dishes into their makeup.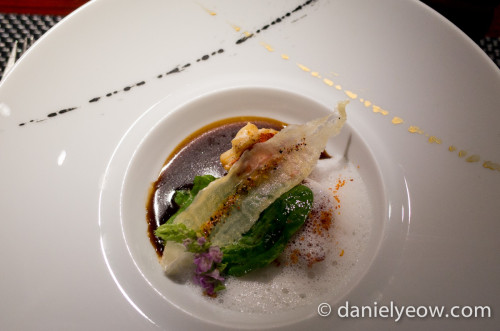 In fact, the very layout of the restaurant is suggestive of a combination of western and eastern fine dining influences. Diners are sat what looks like a very large bar, the interior of which is filled with about half of the entire kitchen. The counter was reminiscent of Sushi Shikon in many ways, in that there was a connection between where the food was being prepared and where the food was being consumed. Robuchon has a restaurant in Tokyo (I think his first L'Atelier outside France was opened in Tokyo) and the design of the Hong Kong restaurant was based on that of the one in Tokyo (and all subsequent L'Ateliers have followed the same formula). The service is, of course, first class as one expects from a restaurant of this caliber, and the arrangement of being seated at a bar facing the kitchen certainly encourages interaction with the staff who are chatty, knowledgable, and friendly.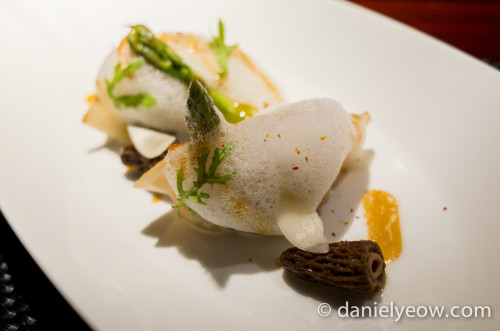 Chinese-style dumplings paired with local ingredients and some very modern French-looking preparation techniques. Every tiny little detail is attended to, and all the crockery and cutlery is custom-made. The atmosphere is also very casual and friendly which is a trend in the upper echelons of fine dining which is very welcome in my opinion (and having to wear a jacket would be impractical in a place with the climate of Hong Kong).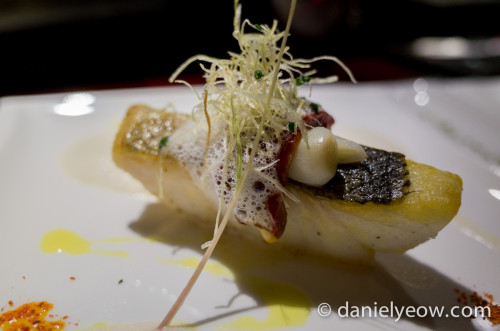 While this restaurant didn't have access to the daily air freight of fish from the Tsukiji fish market from which Sushi Shikon benefited, we were never in any doubt that the ingredients were as good as one could get. The combinations were novel and delicious, and sometimes a little unexpected. In our meal there was even an interesting little 'red thread' which united all of the dishes in our little culinary journey – a small and often hidden bit of spice would pop up in every dish (it can be seen in the bottom-left corner in sea-bass dish above).
Once again, I was utterly flabbergasted by how easy it was to get a table, although I really shouldn't be after hitting all five of the three-starred Michelin restaurants in Hong Kong in the space of two months and finding that none were difficult to book at all. The menu here was probably the most diverse out of all the restaurants I've visited, offering the widest range of à la carte dishes, and even a wide selection of tasting menus which were very different from each other (most 'selections' of tasting menus are simply dictated by the number of courses, with the smaller-numbered menus being subsets of the larger ones). With this in mind, this might be the restaurant I most want to return to, because my next experience here would probably be significantly different from the first, while at many of the other 3-starred restaurants, I would have to wait for a significant change in seasonal ingredients for there to be a noticeable shift in the menu.
While I would still rate Bo Innovation and Sushi Shikon above L'Atelier, Robuchon's restaurant rates as the one most likely to get frequent repeat business from me. Jiro Ono, from the film Jiro Dreams of Sushi described Robuchon as not only being an avid perfectionist, which you generally have to be to earn Michelin stars, but also possessing of the keenest sense of smell that he knows of – a quality which is paramount, and indeed can be limiting, if you aspire to be a truly good chef. It is a slight pity that Joël must divide his time among so many restaurants and so cannot concentrate all of his considerable powers on a single one, but if this is his way of beating the stress of the daily grind of running a restaurant so that he can live longer (and bring us amazing food for longer) then I'm happy with that compromise. For a chef to ascend to the top of the world of fine dining for so long, then retire, then come back and still be held as one of the best takes something truly special, and that is reflected in the experience of L'Atelier, and most importantly the food.