Los Angeles (13/3/07 – 15/3/07)
This was a bit of a let down. Santa Monica beach at about 10am. I think the weather might have had something to do with it. The bus there took such a long time, I had to get a taxi back so that I could be at the airport in time. LA public transport struggles a bit.
Mountain View
Mountain view is a quaint little town near the San Francisco bay area. It is famous for being the home of Google. In fact, Google has been so kind as to provide free wireless internet access ANYWHERE in Mountain View. We stayed with some family friends of Nick's and this was the idea launching pad to visit the campuses of UC Berkeley (in Berkeley, an hour away by BART) and but a few short train stops on the Caltrain to nearby Palo Alto, home of Stanford University.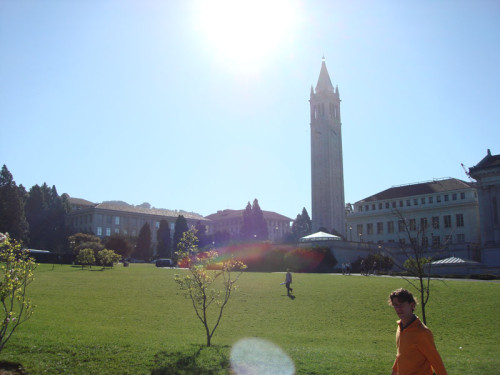 The University of California at Berkeley. Unfortunately, the day wasn't the clearest and one could not see much of the bay, even from the tower. Me and Nick thought, being a government university, Berkeley would not look as pristine as some of the private institutions. Well… maybe it didn't look *quite* as nice, but it was still mighty impressive.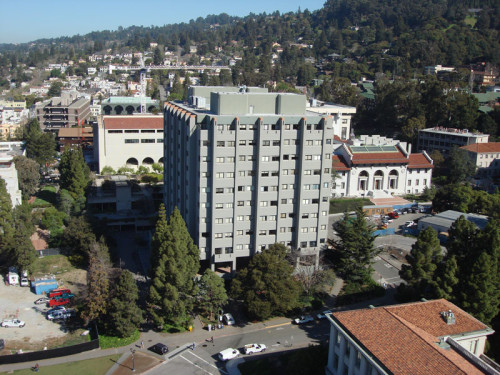 The large grey building you see in the centre of shot is the whole reason we're here. That entire building does maths. The view from the top floor is pretty sweeeeet.
The noticeboards here get quite a workout.
…and one for those mathematicians who are following our progress from the safety of your own homes (or offices), some maths jokes.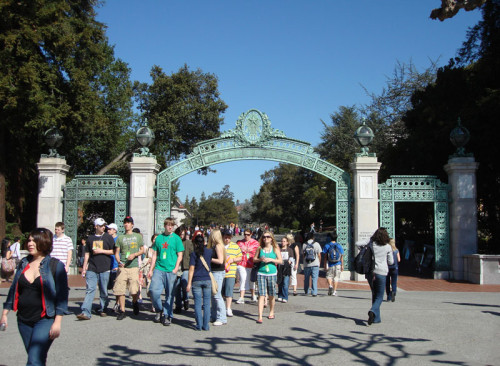 These curious looking gates link… well… they look nice don't they? Apparently, many years ago, the area where I was standing was outside of university bounds and was where a lot of student housing was located. The uni realised that they actually owned all the land there, and decided to do away with the streets and build their big student union buildings there.
The buildings and cafes here had nice names.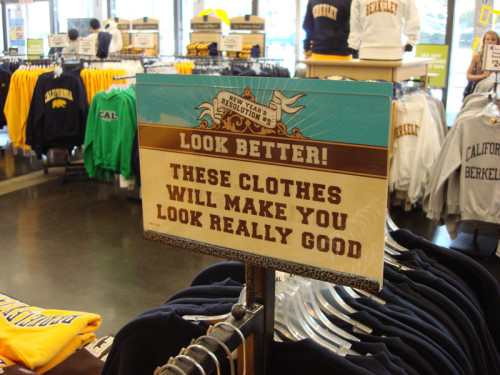 …but… what if you already look really good?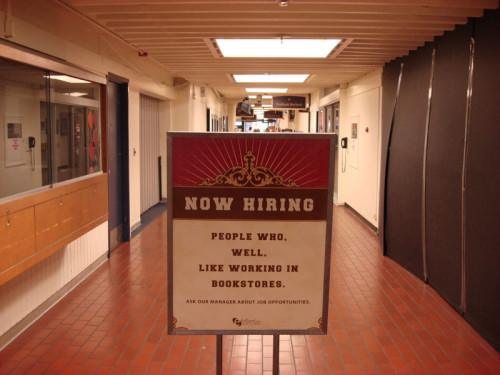 They were terribly subtle when it came to advertising for jobs in the bookstore.
I hate to spoil the fun, but the sign actually used to say "geological" Laboratory. You can *almost* see where the old letters were painted over.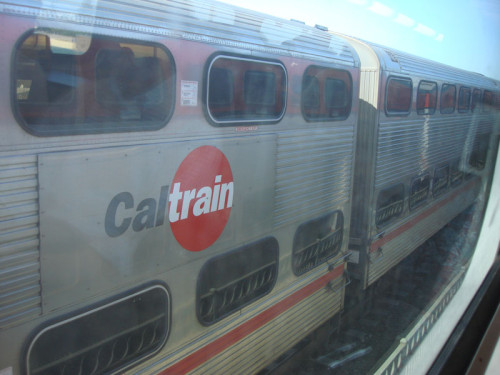 The next day, we boarded the Caltrain to San Francisco to have a look around.
Those Australians who read this blog will understand the (slightly strange, to be sure) humour associated with these signs.
There is a famous pier in San Francisco, I'm not sure if it is famous for this reason, but in any case, the sea lions are very cool.
Trams, for various reasons of practicality, are not able to run as much as they used to. However, if one's eyesight were bad enough, one might not even notice the difference…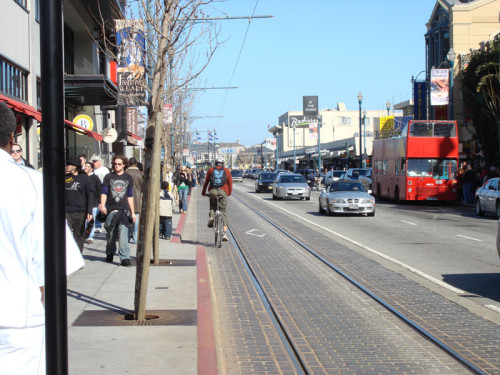 We decided to rent bicycles so that we could cover more ground more quickly. Here we are riding on the wrong side of the road… again. Although it may not look it, it was quite cold on that day and we had the good fortune of being able to ride into the wind on the way to the golden gate bridge.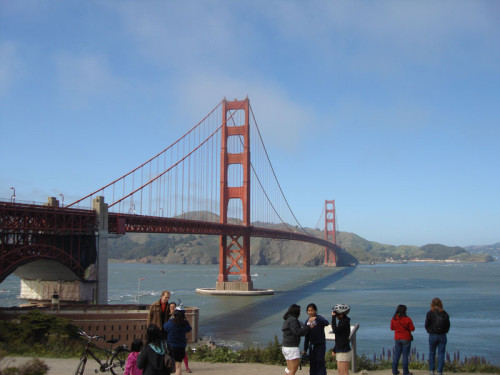 Another deceptive photo. It was actually very foggy on that particular day and we were just very fortunate that, just as we got to the bridge, it cleared enough for me to take a good picture of it.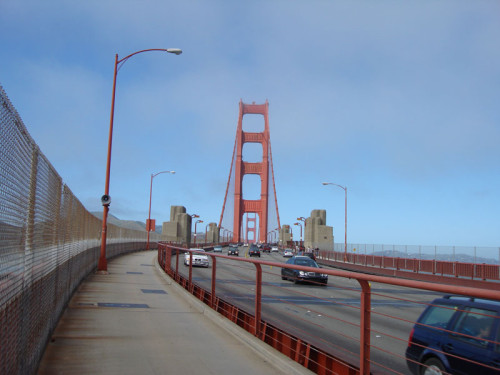 This shot was trickier to take that it looks… I was riding an unfamiliar bike (which felt HEAPS different to my road bike at home) and trying to operate a camera while also trying to remember to ride on the right side of the road… multitasking at its best.
Our next stop was Stanford. We were fortunate enough to have one of Nick's family friends, a former student of Stanford and now part of the faculty, to take us around. In the morning we sampled her (rightly) famous pancakes with all sorts of add-ons, including whipped cream. They had a 3 year old daughter who delighted in watching her breakfast become a work of art, only to be consumed moments later.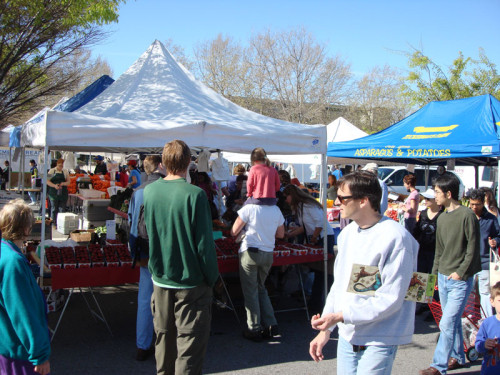 On our way there, we stopped by the organic farmers market. (and also because I left my bag in the other car…)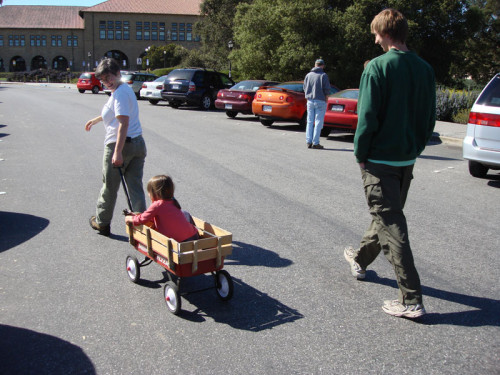 We parked just north of the main quad and ventured in, accompanied by our guide (she's the one in the cart).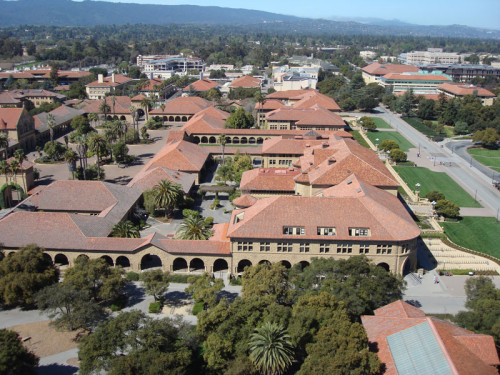 We ascended the "Hoover Tower", affectionately known as Hoover's last erection, to catch a better view of the campus. It was… very nice.
In addition to all the academic's offices and clasrooms and lecture halls, there were also fairly large museums on campus, including this one which had an impressive display of Rodin sculpture out the front. These doors are… the "Gates of Hell", from which "The Thinker" was drawn (you can see him, looking over the door).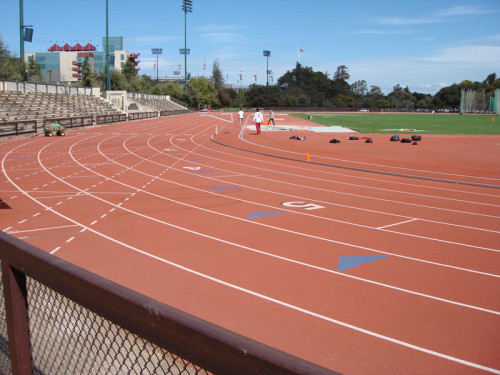 Standford's Athletics facilites are mighty impressive… I spent no small amount of time just perving on the track…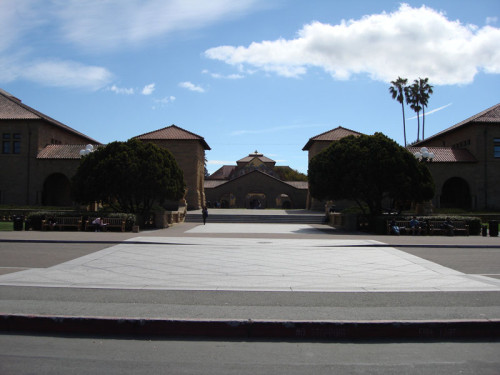 It was difficult to capture the impressiveness of the Stanford campus in one shot, so here is a picture of the "front door", the main quad from the north (notice that, in the northen hemisphere, the sun light comes from the south, which is why this photos didn't come out very well.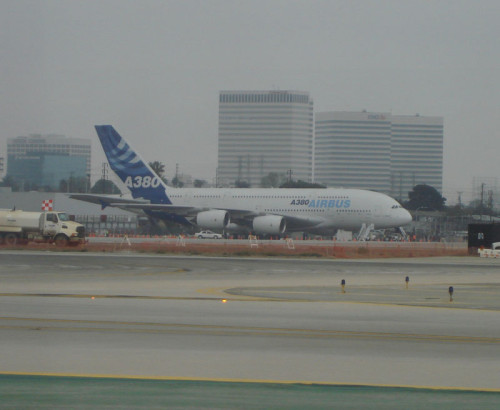 While in transit at LA international airport, on my way to Boston, I managed to spot one of the new super-sized Airbus A380 planes. It didn't look particularly big, until you realised how far away it was.
Cambridge (20/3/2007 – 25/3/2007)
Cambridge Massachusetts, famous for being home to Harvard University and The Massachusetts Institute of Technology. Not only that, but they are but a mere 30 minute walk from each other. How convenient. I stayed at a lovely guesthouse which was smack in between both of them.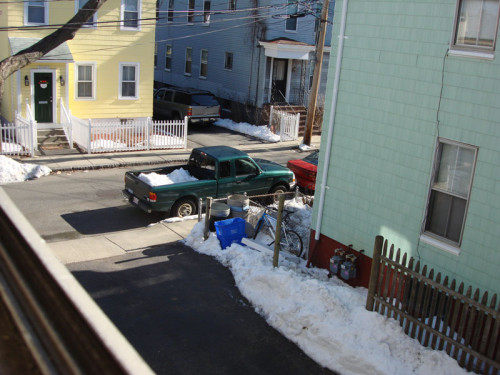 Due to delays, I got into Boston at about 2am on the coldest day in March for like… 60 years or something. Yay. It was very cold, thankfully, it warmed up a bit during the course of my stay. This is the view from the window of the place I was staying at.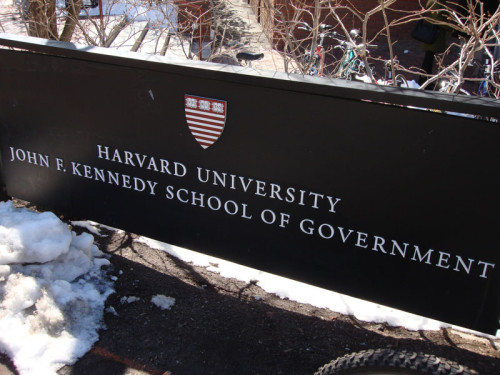 The famous JFK school of government. Kind of ironic that the best photo I took of the logo and name happened to be on a barrier…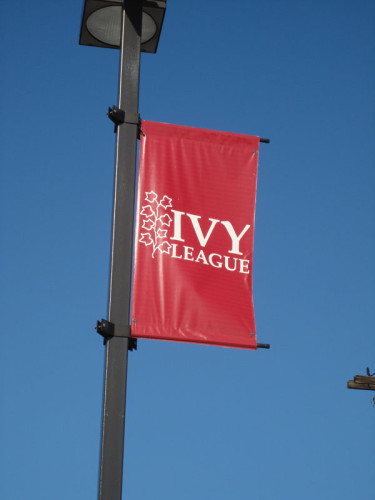 The name says it all. The Ivy League originally referred to just the athletic competition of 8 private universities located in the North Eastern United States. It has since become representative of the educational philosophy of those very old schools – elitism, academic excellence, having too much money etc.
Harvard, not being satisfied with just the one athletics track, has two. One of them is indoors… (I mean… what if it snows?) and the whole facility is very spiffy indeed. Their football stadium (yes, STADIUM!) wasn't snowed-under, it had a gigantic inflatable tent set up over the playing field which was heated, so that teams could train all year round.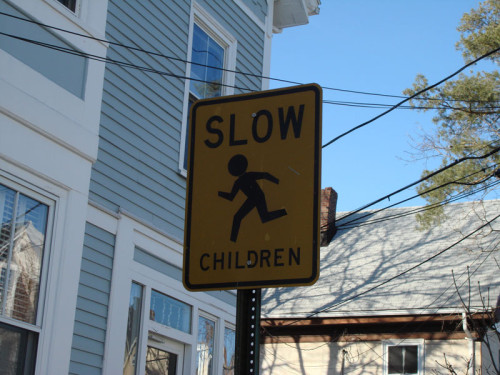 Something must happen in between the time that these people are children and when they become grad students… becuase most of the ones I've met are pretty sharp.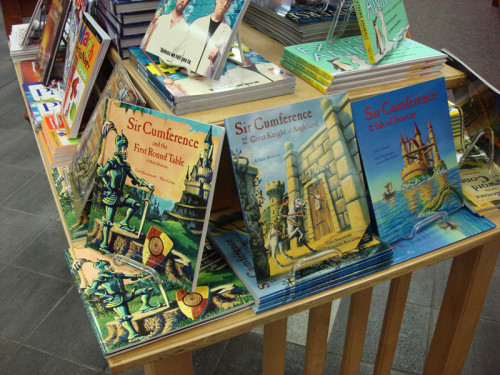 The "Nerd Culture" at MIT isn't frowned upon. As a matter of fact, it is strongly encouraged…. some of these titles in the bookstore are an indication of that.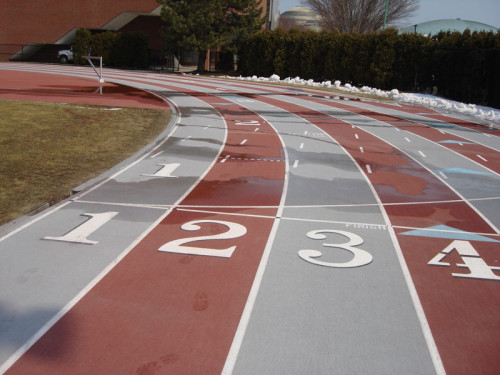 MIT's athletics track was interesting in that the lanes were alternating colours. I wonder if the grey surface is slightly faster than the red.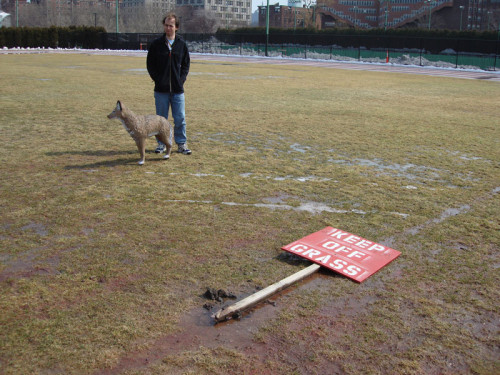 In the middle of the track, aside from the "keep off the grass" sign, there was a plastic canine of some sort. Standing next to it, is my guide, Peter McNamara who is a current PhD student here.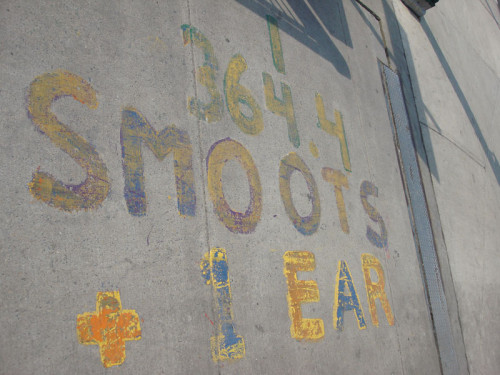 Speaking of the Nerd culture, this is the marking on one of the many bridges that cross the Charles river. Apparently, some time ago, a fraternity decided to measure the bridge using the unit of measurement, the "Smoot". Where Mr. Smoot, then a fresher, was laid on his back and… used as a yardstick to measure the bridge.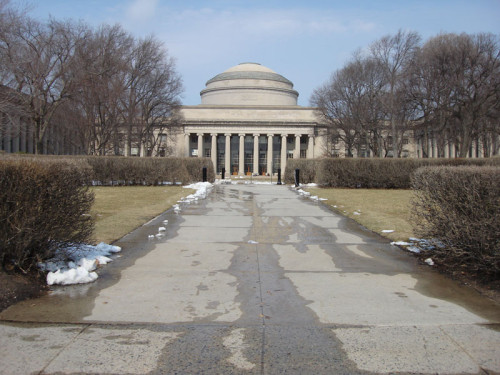 The great dome at MIT. It is quite impressive. Unfortunately, during my visit, nothing was placed on the dome. In the past, there have been a myriad of things placed on the dome as pranks, from giant wooden screws to police cars.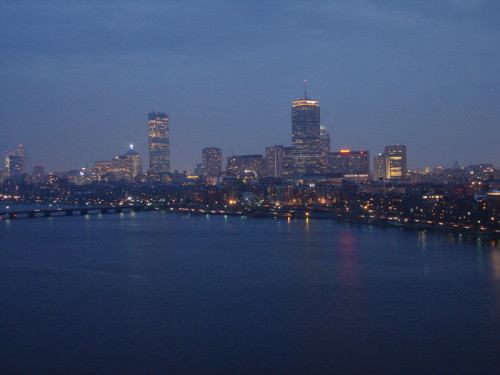 After doing some crosswords in the maths common room, we ventured up to Peter's living quarters to drop some stuff off before hitting the town. The view from his window is quite magnificent. Here, we look across the Charles river at the Boston skyline.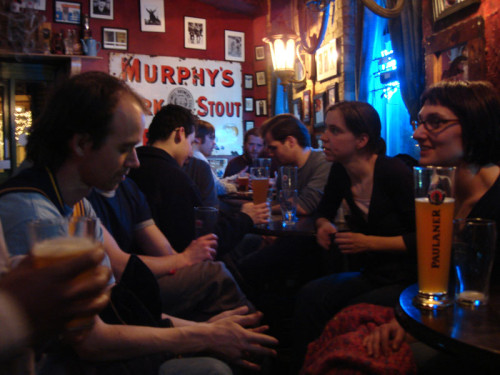 That night, after dinner, we went to the pub to socialise with some of the grad students. There are quite a few international students here, for example, the two rightmost people in the shot are from Portugal and Italy respectively.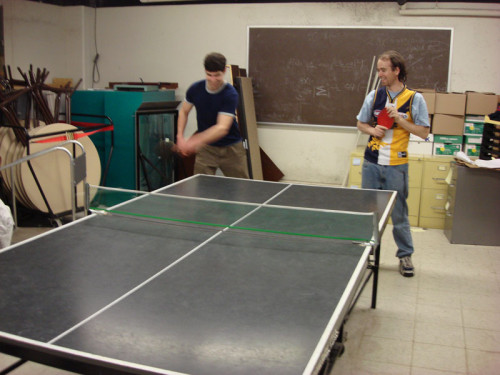 The bar closed at about 1:30 so… we ventured back to the maths department and played table tennis in the basement (as you do). I asked if there were any 24-hour libraries at MIT, no there weren't (though some libraries opened until quite late). Then I asked if there were any 24-hour computer labs – ALL computer labs at MIT are 24-hour…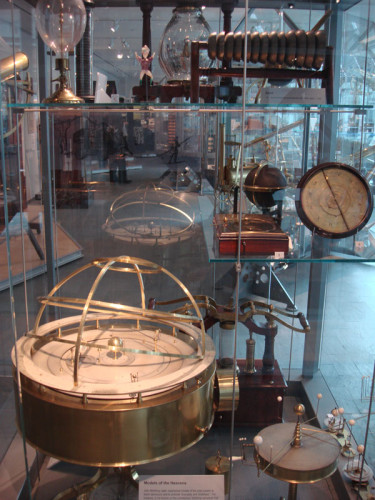 The next day, I went back to Harvard to have a look around its many museums. Here is a view of the small, but quaint museum of scientific instruments.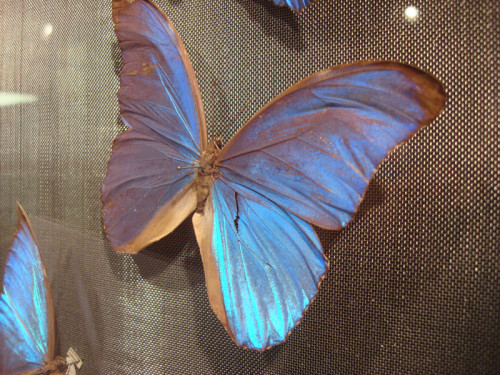 The Harvard Museum of Natural History loved its little models. Here are some butterflies.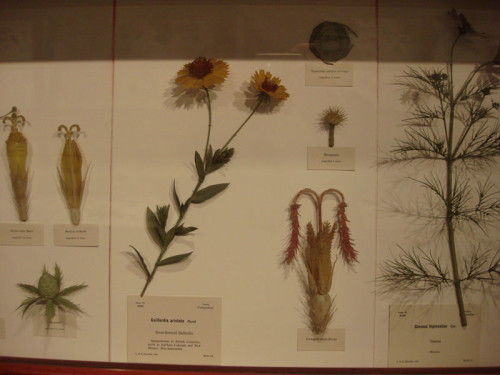 Of course, the highlight of the Harvard Museum of Natural History is their famous glass flowers. I thought that "glass flowers" meant shiny, ornamental-looking things but these, these were quite something else. They looked very very real.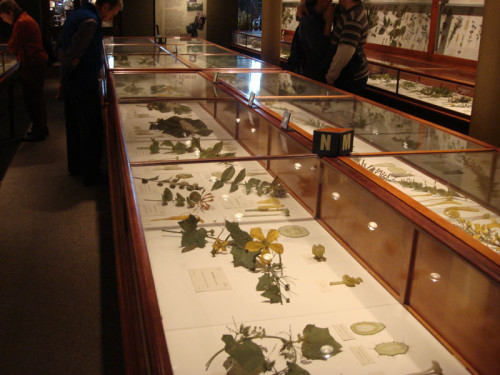 If nobody had told me that they were made of glass, I may well have mistaken them for being real. They were created using the same techniques that jewellers use to make small bits of ornamental glassware, except the object in this case was to make realistic models of plants.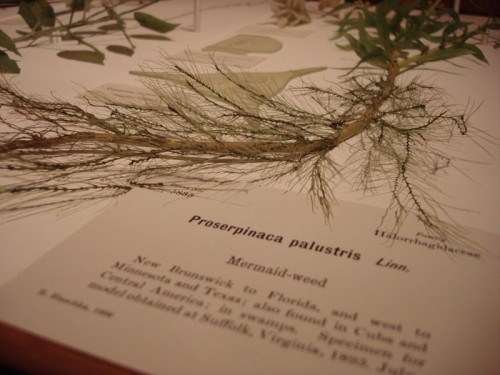 The level of details was astonishing, especially on plants like these, where there were very fine hairs.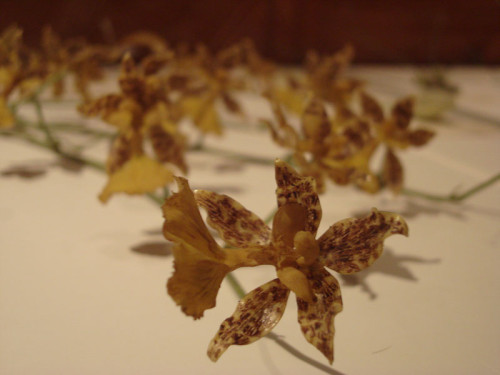 They were mostly models constructed on a 1:1 scale, but some were enlargements and others were even cross-sections of various parts of plants. I still had trouble believing that they were glass…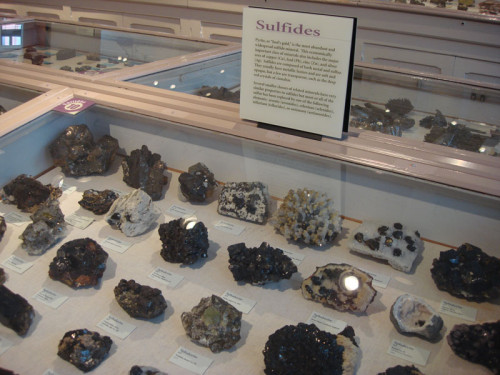 In addition to the glass flowers, no museum of natural history would be complete without an extensive collection of rocks. I must say that Harvard's collection is the most extensivest collection I have ever seen.
Among them was this Iron meteorite. It has been cut open and polished so you can see the crystaline structure of the inside which was, one would think, probably formed in a zero-gravity environment.
The good thing about having a very extensive collection of rocks, is that some of them are quite pretty.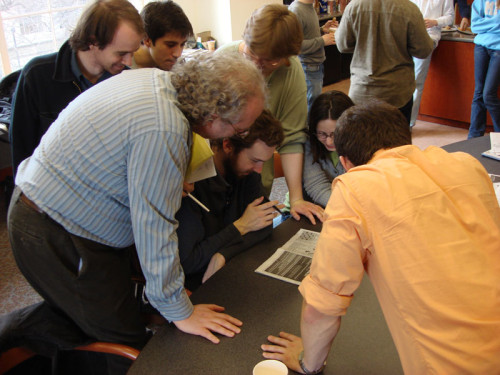 MIT pure maths people pour over the times crossword. It really is a team effort here and Friday's crossword is supposed to be the hardest one of the week. We flew through yesterday's crossword… and we did the same today… although it did take slightly longer. The moral of this story, if you're into crosswords, come to MIT.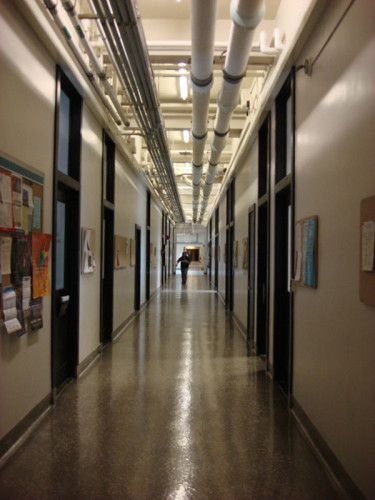 A corridor in MIT. They all look the same… no really, they do. So do all the buildings. I guess they made the architecture uninspiring so the students would spend less time outside ogling at the buildings, and more time inside ogling the maths.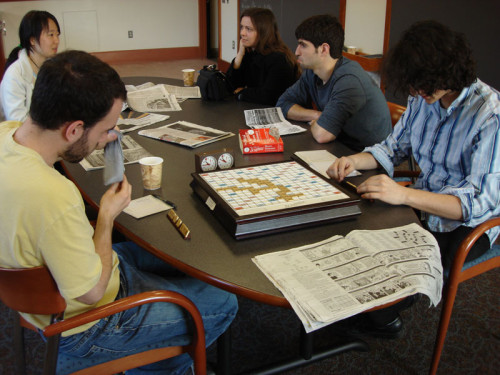 These two scrabble buffs go at it with words that I never knew existed (especially those two-letter ones). Notice the chess clock – yes, scrabble is very competitive here.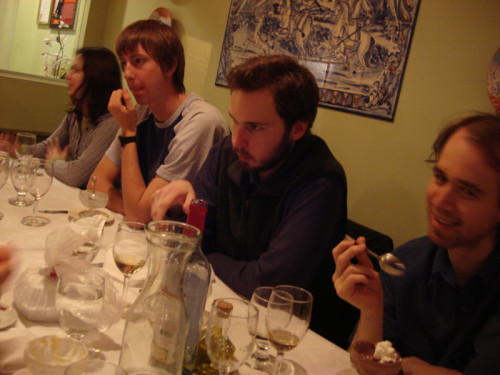 After touring MIT, we had a lovely dinner at a Portuguese restaurant, which was generously paid for by the department.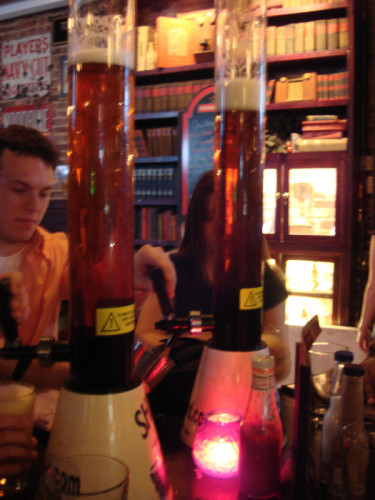 Afterwards, we went to a pub (The Thirsty Scholar) and drank no small amount of beer. That wasn't paid for by the department…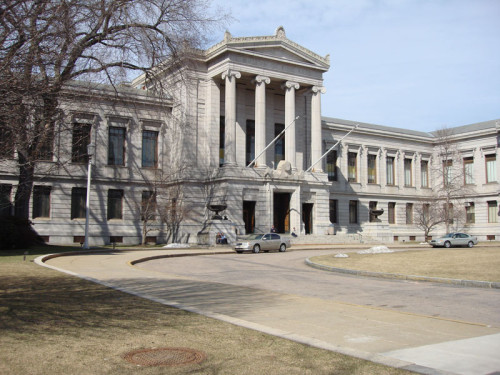 The Boston Museum of Fine Arts… housing much more than fine arts alone.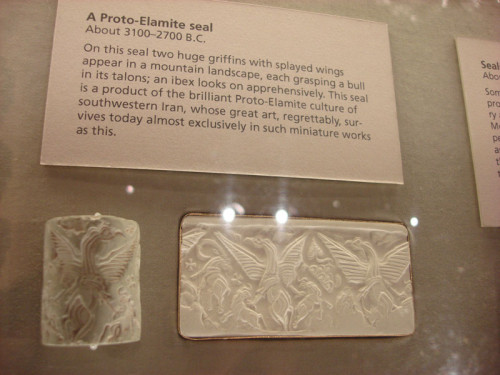 As is customary in all good museums, there is a section devoted to the archaeology of the ancient near east (one wonders why there is only ONE subject on it at Melbourne Uni). They had a wonderful collection of cylindrical seals which were, in my opinion, superior to the stamp seals… but they were eventually replaced by the stamp seals.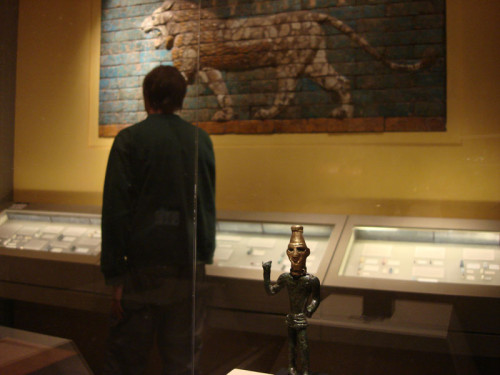 Nick looks at some seals, while i capture a small man on my digital CCD and a blurry lion in the background.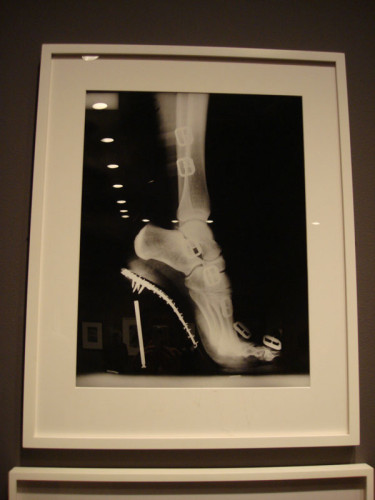 One of the special temporary exhibits which was on was a showcase of some interesting fashion photography. Here is a foot, in a very high-heeled shoe… through an x-ray machine. You can see the buckles…
Here is a very well-decorated harpsichord. It is probably so that whoever is playing it can put a recording on, and nobody will notice his fingers not moving, or the levers not plucking the strings because they are too busy looking at all the lovely decorations.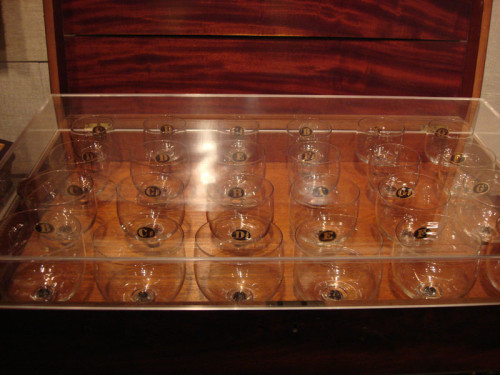 These are exactly what they look like – glasses. Someone, who was bored at a dinner table one day, decided to do this properly, and tuned up some glasses for dinging in tune…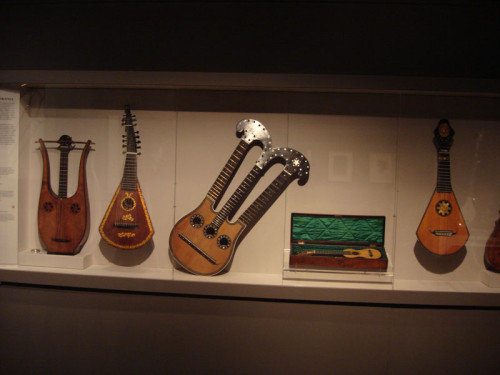 Some interesting guitars. Notice the one with three neck, clearly evidence for a long standing alien occupation of our planet as one needs at least four arms to play it properly (and humans don't have four arms).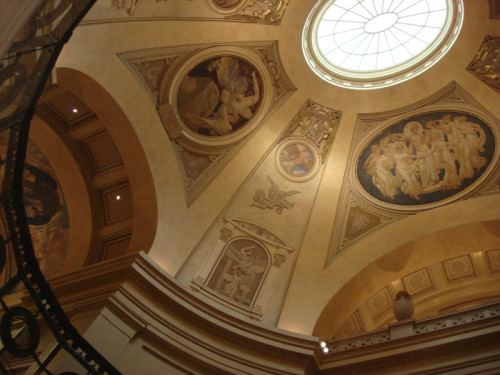 The museum building itself was quite impressive. In the centre, there was a lovely decorated dome.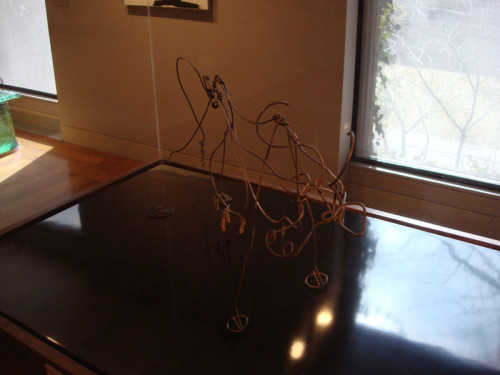 What could this be? A coathanger's hairy end (ewwww)? No, it is, in fact, a cow.
There's a sign you don't see every day in a museum. Please touch signs are normally confined to houses of ill-repute. Here, we find one next to a small statue of Abraham Lincoln, I wonder what *he* would have to say about the "please touch" sign.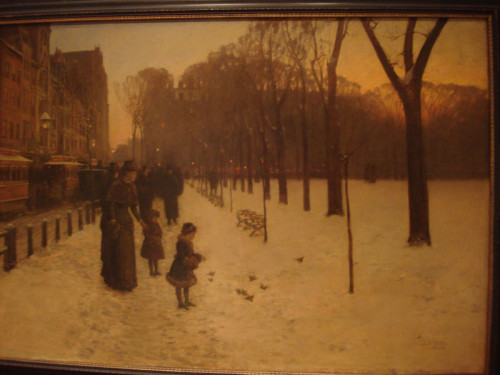 A view of Boston Common, not very different to what it looks like right now actually.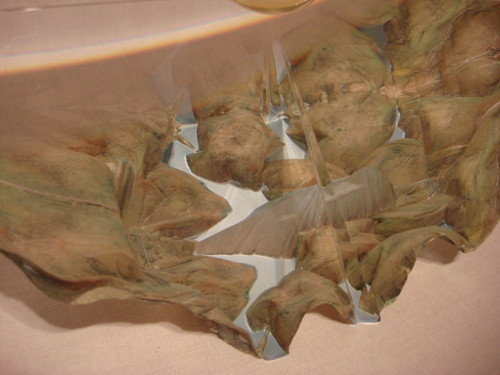 This was quite extraordinary. It is a wedge of glass with the bottom bit cut to look like mountains and rivers, then painted to look like… er… mountains and rivers. Anyway, the wedge-shape also gives it a remarkable kaleidescope effect.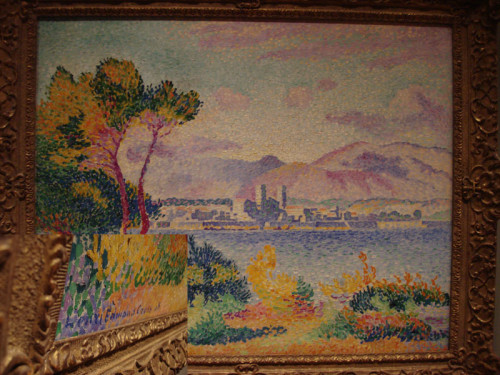 There were, of course, some impressionist paintings. The inset image shows some of the finer surface detail.
Of particular interest to me, having studied some arabic, was a small collection of arabic caligraphy. This one says – "I seek God's protection from the cursed devil, in the name of God, all merciful, most compassionate. O God, O the most auspicious opener of doors, open for us a blessed door." Maybe it was at the entrance to an ancient bank vault or something.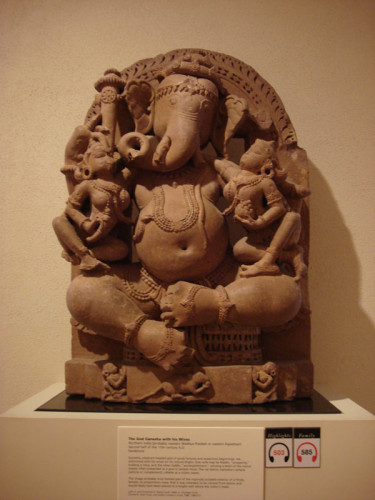 This is the Hindu god Ganesh. Here he is depicted with his many wives. Many wives? You may ask… well, just look at that trunk, its so long and thick – what woman could resist?
Although the outside of the building looks quite old… the inside was very modern. This was an interesting sculpture at the entrance… the other entrance… yes, there were two entrances.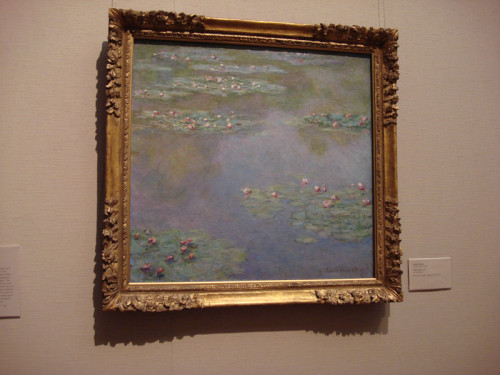 A Monet, as in Claude Monet… water Lillies.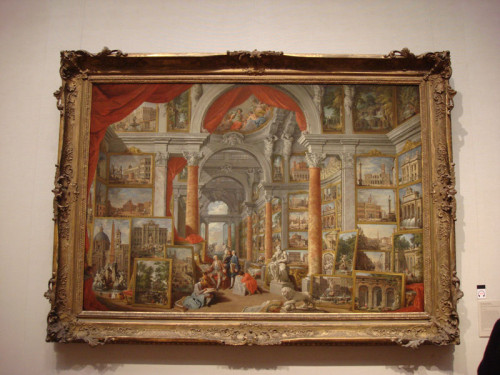 This painting was commissioned for a diplomat of some sort. He wanted a souvenir of Rome but couldn't be arsed buying all the postcards, so… he got a buddy of his to paint a painting of him sitting in a room full of paintings of all the different sights in Rome, quite a clever idea really.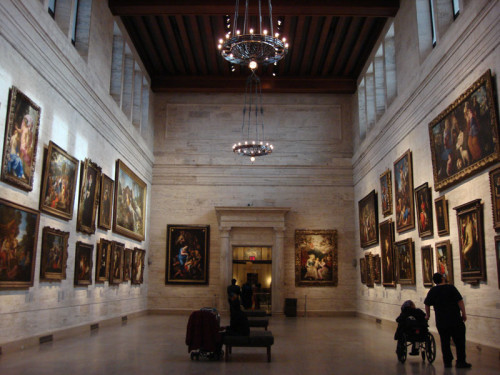 Speaking of impressive rooms full of paintings, the museum of fine art had them in ample supply.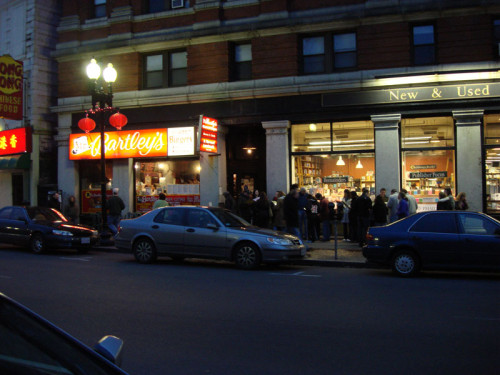 Bartley's burgers, supposedly one of Boston's finest eateries… yes, that's a queue to get burgers… they must be pretty special.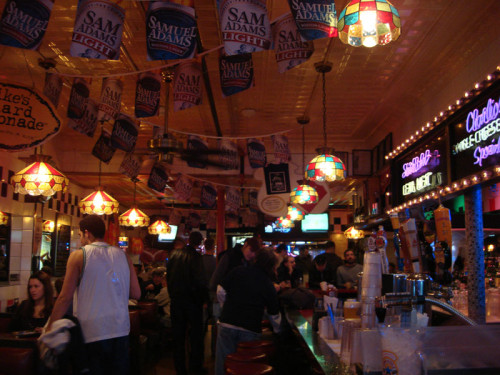 Not wanting to wait in line on a cold night, I went and sat down at a local joint called "Charlies".
Where I chowed down on some lobster chowder with a double lobster roll… mmmmm (notice the chowder is almost finished… ) .
New York (25/3/2007 – 30/3/2007)
There's no place like home… except maybe New York. I was surprised at how much like Hong Kong New York was. There are differences, of course. New York is much bigger. It is also much colder for much longer. The pace of life is very similar though…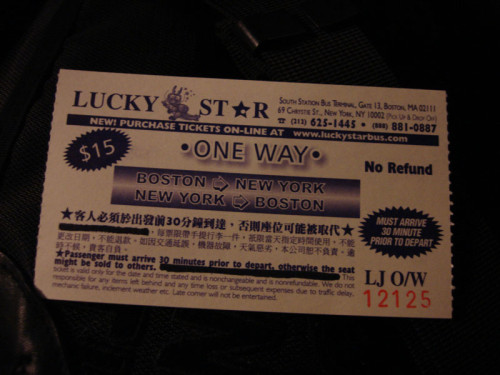 This is the impossibly cheap bus ticket which took me from Boston to New York. A five-hour bus journey for $15. Mexican transport was a shoe-in to win the bang-for-your-buck award, but this one just blows everything away. I'm still trying to figure out how they can afford to run it so cheaply.
The bus dropped me off smack in the middle of Chinatown. This scene looks so much like Hong Kong I really believed that I was there for a while…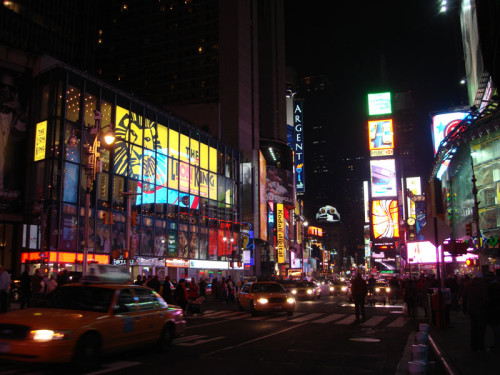 That's more like it… I hate to think how much the advertising space costs on some of those billboards. For those of you who are wondering where I'm standing, I took this photo standing in the infamous Times Square, on the corner of Broadway and 42nd Street.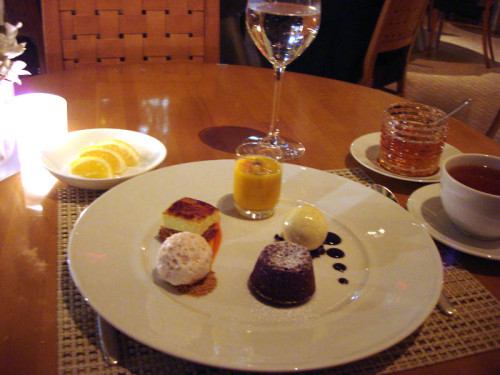 New York is famous for its fine dining, and I was not dissappointed. I ate at a lovely place on the north side of Columbus Circle called "Jean Georges". This is my dessert… mmmmm. The vanilla ice cream (immediately south-east to the small shot-glass of mango nectar) was the best vanilla ice cream I have ever had.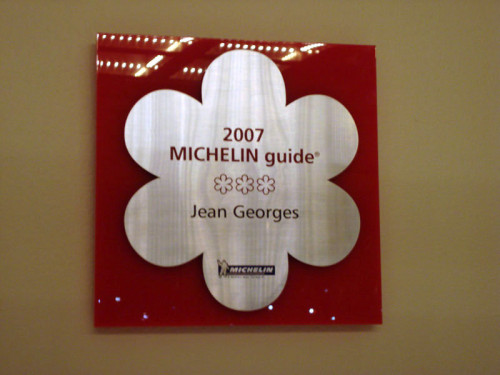 Surprisingly, this is actually the first restaurant I've been to which has three Michelin stars. I've been to a few which probably would get three stars when the writers of the red guide get around to rating them. I will dine in the formal section later (when I've arranged for some better clothing – there's a strict dress code) and find out what all this three-star fuss is really all about.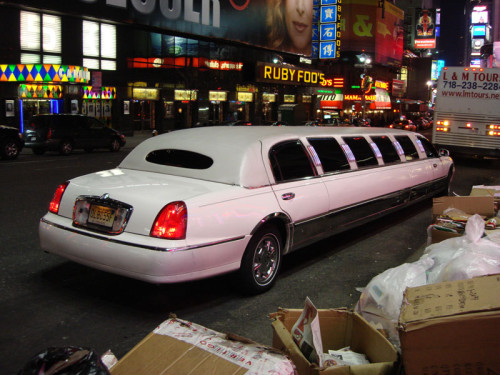 Apart from everything being open ridiculously late (many things never close here), New York is also known for… well… excess. Here is a rather long limo…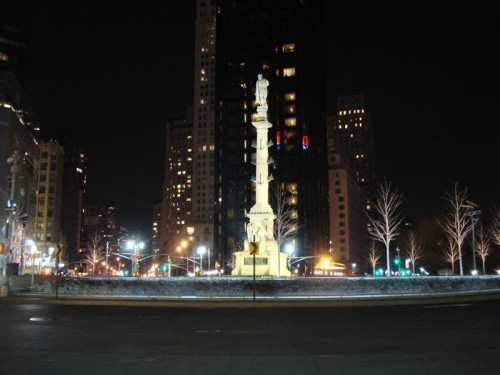 Columbus Circle by night, right on the South-West corner of Central Park. Immediately behind the column is the Trump International Hotel and Tower.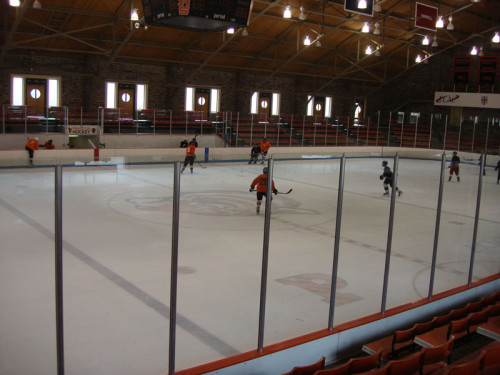 On the 26th I took a day-trip to Princeton University in nearby New Jersey. On the subject of Ivy League universities having too much money, here is a fine example. This is Princeton's Ice Hockey rink. MIT has an ice rink too, but it is only open during the winter months.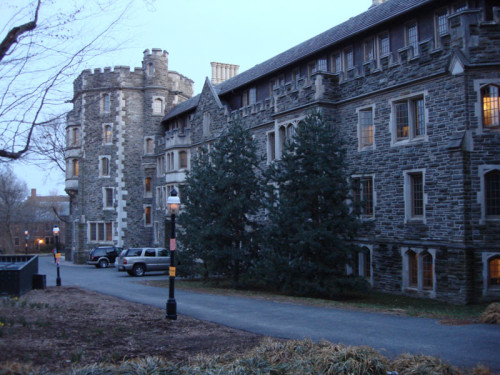 The architecture in Princeton is much more European-influenced and much nicer to look at than, say, MIT. Something I've noticed about American Universities, at least the ones I've been to, is that there is a great shortage of campus maps. It took me all of half an hour to find the building I was actually looking for.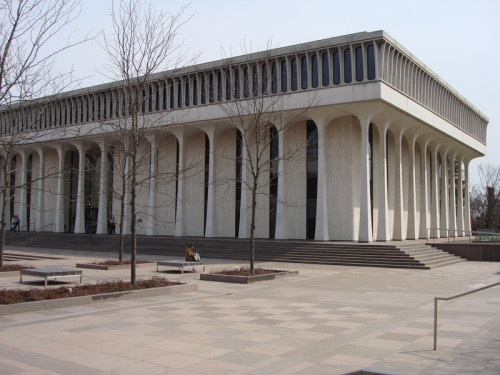 And here it is – The Woodrow Wilson School of Government, housed in Robertson Hall. Quite possibly the ugliest building on campus, at least on the outside. I was able to sit in on a class during my visit. I sat in on "Course 542 International Economics", a master's level course, but one which I found surprisingly easy to follow, especially given the fact that I have no formal training whatsoever in economics. It was very interesting.
Now for the real reason that I bothered to take the one hour train trip to come to Princeton for only a day – Hans Blix. He gave a talk on the challenges and the great need for disarmament. He spoke much of the cold war as well as more recent events including, of course, the war on Iraq.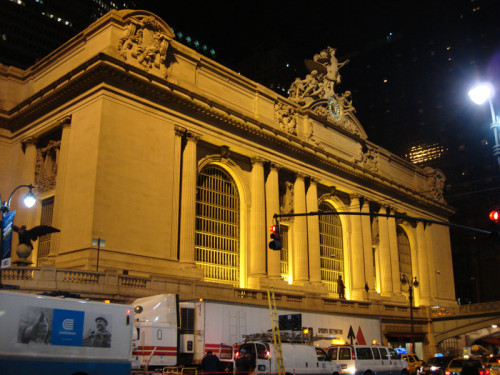 This very grand looking building is Grand Central Station.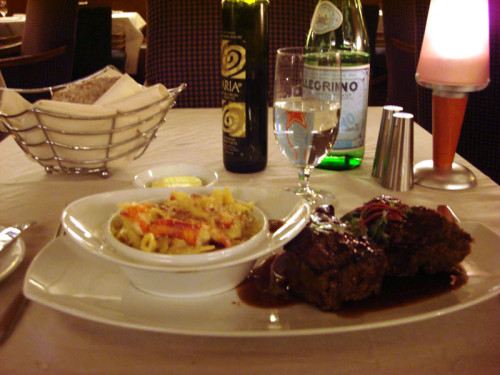 Continuing my food adventures, I went to the Grand Hyatt (relax dad, I didn't order EVERYTHING). I couldn't decide whether I wanted seafood more, or just a good hearty steak. Luckily, they had this dish – "Surf and Turf", penne with chunks of crab meat on the left, kobe beef on the right.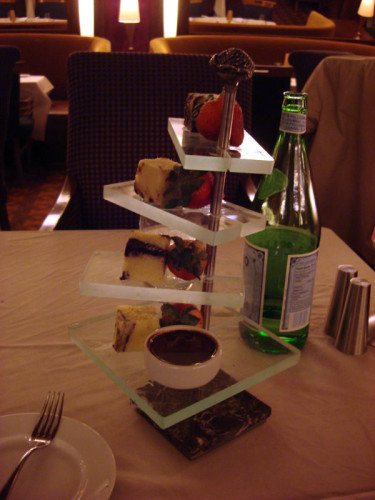 Desert was equally special with cake, stawberries dipped in brandy and some very very rich dipping chocolate mmmmMMMmmmm. The meal was very nice, but not as nice as the casual dining (no jacket required) section of Jean Georges from the night before. After this meal, I had my first big scare of the trip – I lost my camera. Or so I thought. It had fallen out of my pocket when I got up after my meal and, luckily, it had found its way under my seat where it waited patiently for my return not twenty minutes later.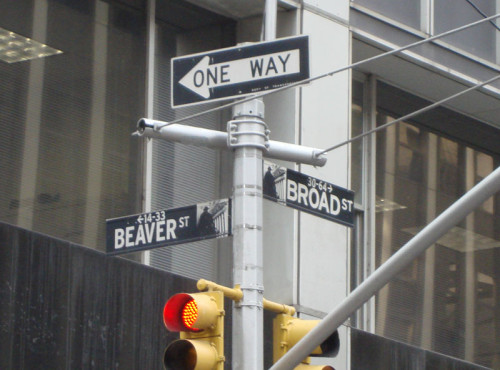 Downtown Manhattan is where the business district is at. If you don't find the above photo funny… that's probably a good thing.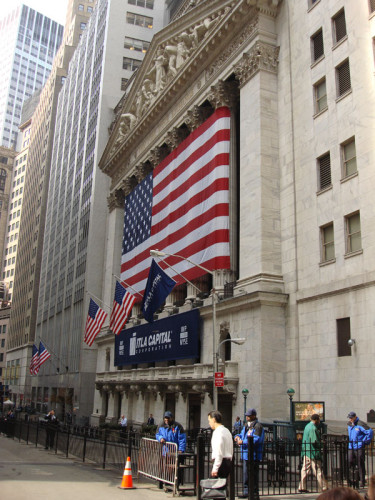 Right in the heart of it – the NYSE, or New York Stock Excange for those of you who didn't grow up with an accountant for a father. Security around the area was super-tight with all vehicles being thoroughly searched before being allowed to enter.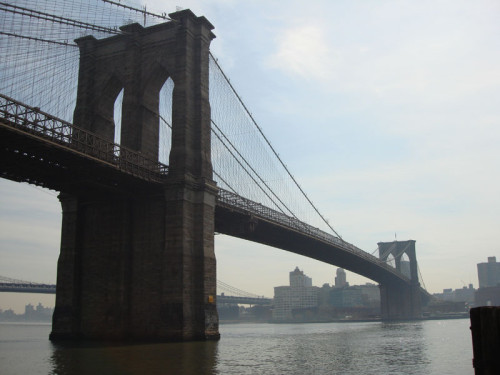 The Brooklyn Bridge – an marvel of modern engineering. In its day, the world's largest suspension bridge and the worlds first ever steel wire suspension bridge. The towers were also, for a time, the tallest structures in the western hemisphere. Built in 1883, it was plagued by problems (like the guy who designed it dying) but it did eventually get built. It really is very impressive.
The United Nations Building. Again, security in the area was super-tight with many groups of police patrolling with automatic weapons.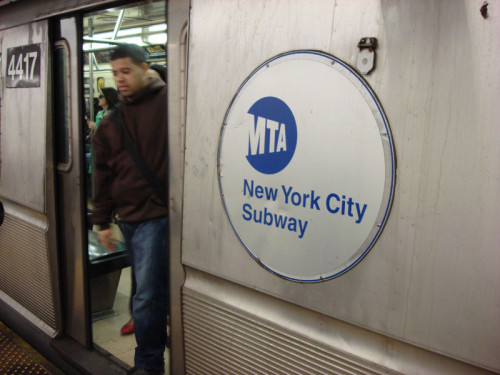 The New York City subway is truly marvelous. Surprisingly, it is not the busiest underground system in the world (bested by Moscow and Tokyo) but it is certainly a very good one. An MTA ticket will get you anywhere on the subway or on the extensive bus system, above ground.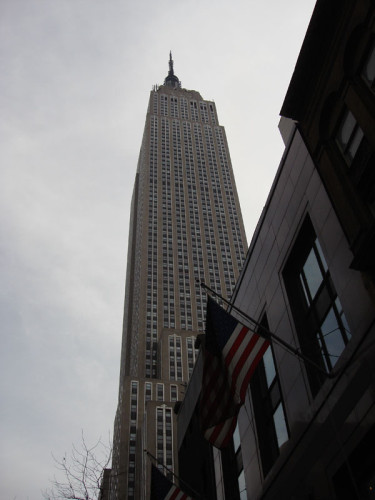 Now the tallest building in Manhattan, the Empire State Building towers above 34th Street.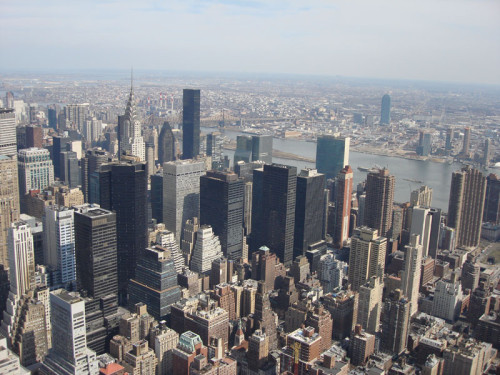 86 Floors up, and one gets a great view of New York. Although Mexico City's greater metropolitan area is supposedly slightly more populated than New York's, I'm sure New York, or at the very least, Manhattan, is more densely populated.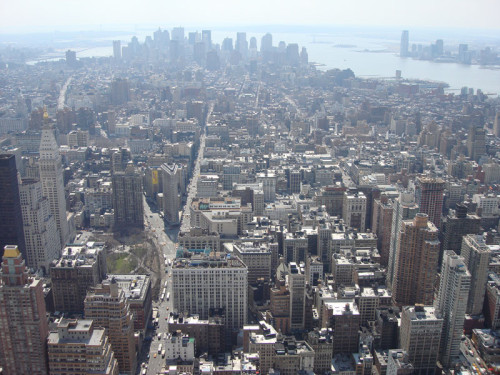 Looking south, we can see the towering buildings in the business district surrounding Wall Street. If you look very carefully, you might be able to make out the Statue of Liberty on an island to the right of the main body of buildings.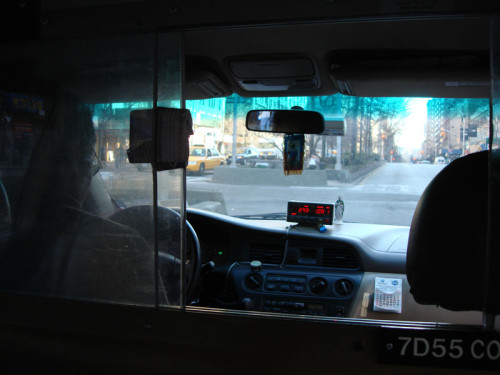 An integral part of experiencing New York is, of course, to take a New York taxi. These turn out to not actually be too expensive, due mostly to the fact that distances aren't that great. Here we are, driving along broadway towards Columbus Circle.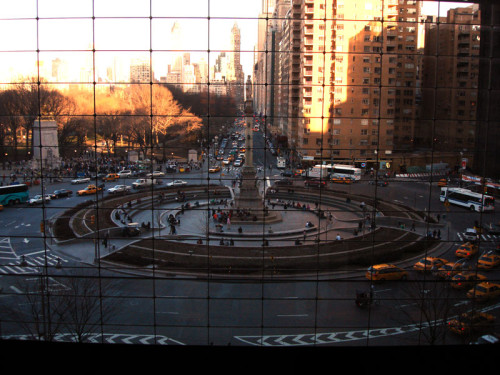 That night, I dined in a quaint little establishment called "Per Se", by famous chef Thomas Keller of "French Laundry" fame. The restaurant is located in the spiffy new Time-Warner centre which overlooks Columbus Circle. Getting a table at this restaurant is notoriously difficult and my persistent checking-up on my status on the waitlist may have had something to with me getting a spot in the end (I called about once every hour all day). If you check out this list, you will find Per Se to be quite highly regarded.
Right from the start, I had the feeling that they might have mistaken me for a food reviewer or something similar, as I was given a complimentary glass of very fine champagne. Turns out that it was because it was my first visit. I also spoke with the floor manager for the night who asked if we could try something "a little different" tonight. I was delighted and honoured that such a restaurant as Per Se would experiment on such a person as myself, and I happily agreed. Above, one of the more "conventional" dishes – "Oysters and Pearls" : Sabayon of Pearl Tapioca with Island Creek Oysters and Sterling White Sturgeon Caviar.
In addition to the orgasmic food, I had non-alcoholic drinks matched to my meal… at my request. The sommelier obviously thought this was a fantastic idea and went along with it, trying some things which he had clearly tried before and some other things which he… hadn't. This dish is a strong contender for the coveted accolade of being "Daniel's favourite dish ever". White Truffle Oil-Infused Custard : with "Ragoût" of Périgord Truffles.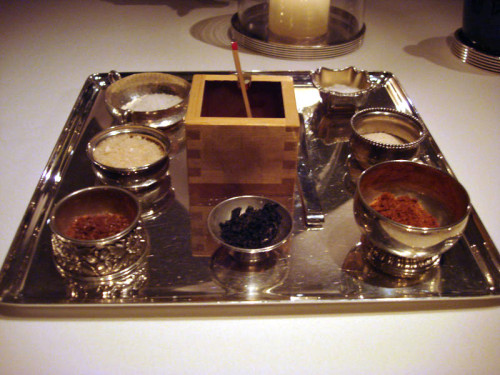 This is what ultimately did it for me – the selection of salts. Nine different and unique salts for me to mix and match as I pleased with each main-course savoury dish. Some were from exotic locations like Hawaii, others were found deep underground, so deep, that they are found amongst Jurassic-period fossils. Mixing and matching the right salts to each dish could either give a subtle hint of flavour where previously there was none, or it could cause something of a taste explosion, especially with some of the creamier dishes.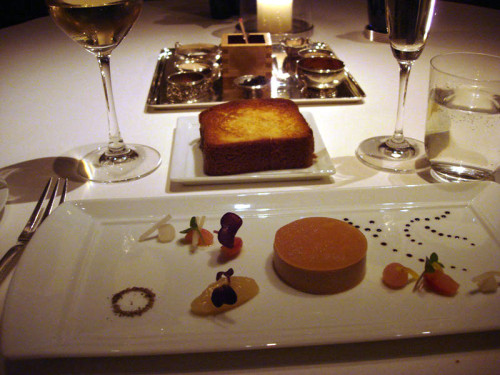 Foie Gras, with fruits and brioche and nine salts… this was WAY too much fun! Interestingly, the menu changes every day (I was very impressed to find the day's date printed on the menu) and I had them print me a copy of my menu for this particular meal. This course took an awful lot longer than it needed to, although it took about as long as it should and not nearly as long as I would've liked it to.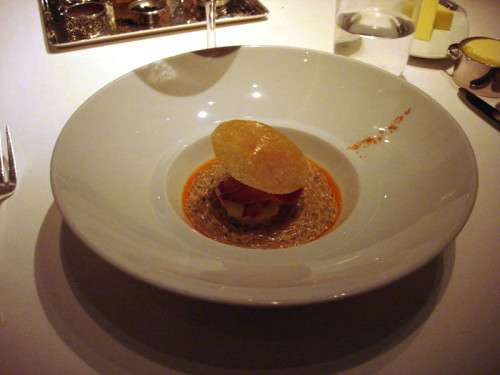 "Macaroni N' Cheese" the most understated menu item yet. Butter poached Nova Scotia Lobster Parmesan "Crisp" (that's the thing on top) with creamy lobster broth and Mascarpone-enriched Orzo. All in all, 17 courses… quite a feast, and a pleasant surprise seeing as the "regular" chef's tasting menu is supposed to be 9 courses (11 effective courses counting desserts and starters). Per Se is now the third restaurant to not only feed me with superlatively good food, but to also make me feel very full – something that doesn't happen often. Although the Michelin guide for New York has come under some criticism, I feel that Per Se is entirely worthy of it's three star rating. It may well have been the best restaurant I have ever been to…
The next day, I woke up early to the sound of one of these things. This particular example is a Bell-222. Though air traffic over New York is very very very tightly controlled, especially nowadays, there are constantly helicopters flying around for all sorts of different reasons – traffic, police, transport of diplomats etc. So I thought, why not get in on this obviously very "New York" experience?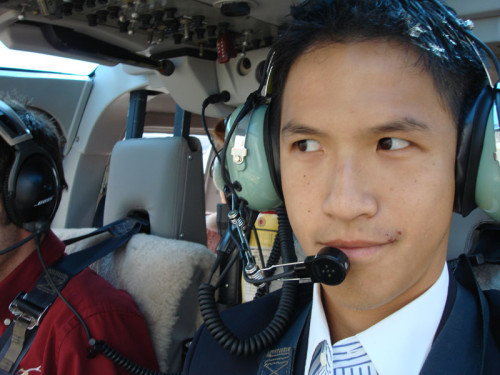 I was very fortunate that when I called, they had a single seat left in one of their helicopters and had had great difficulty selling it, so I negotiated what I believed to be a reasonable price (the tour company would have disagreed, and we'll leave it at that). The trade-off… was that I had to sit in the cockpit. Which may, at first, seem like a good thing, but since the pilot actually flies the thing so that people get the best view out of the side windows, it was a little tricky.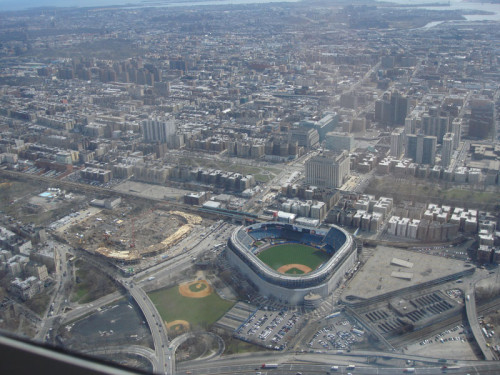 The cockpit does, however, have the advantage of having the cleanest windows because it is rather important that the pilot can see through them. Here is a view of Yankee stadium, home of the New York Yankees, a baseball team in the "World Series", a silly name… and one which would be analgous to calling the AFL grand final the "World League Grand Final" which I think, even the players would think a bit daft.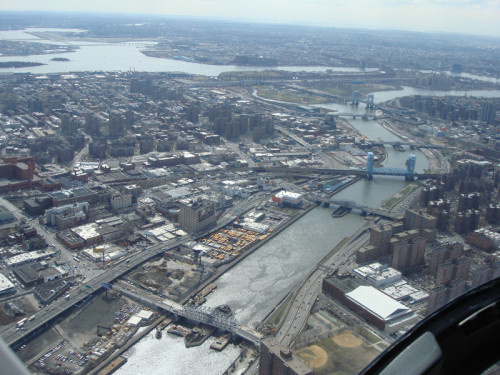 Here we get a good view of the many bridges which cross the East River and Harlem River.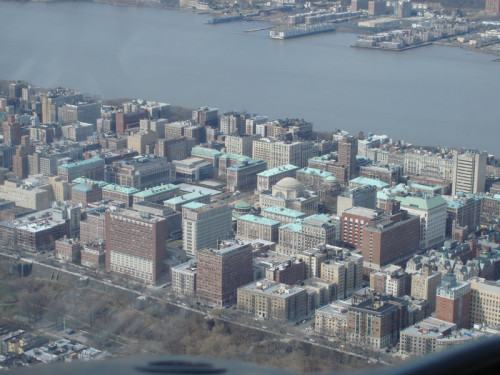 The upper west side, dominated in this photo by Columbia University… aahhh… so far and yet… so far.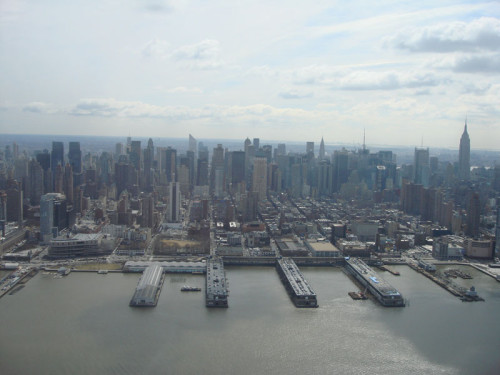 Staring down the barrel of 48th Street. The "twin towers" to the left of the shot are the Time-Warner building towers and the Empire State Building can be seen to the far right.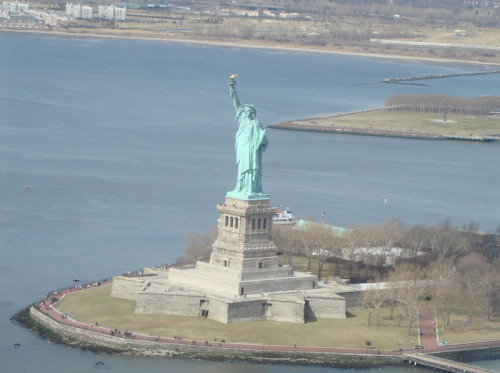 The Statue of Liberty, whose actual name is "Bob"… or maybe I'm getting it confused with "Liberty Enlightening the World".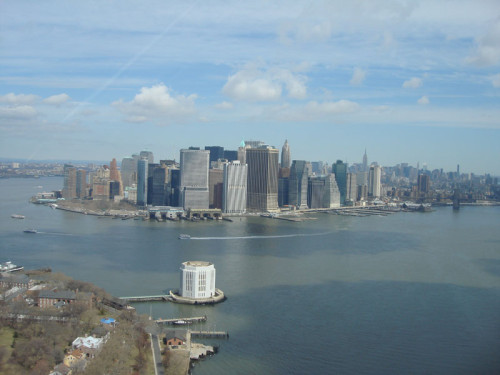 Downtown Manhattan with Fort Jay on Governor Island in the foreground. The skyline looks suspiciously inclomplete without the twin towers of the World Trade Centre. The helipad-pier can be seen just above the end of the wake of the sightseeing ferry which is closest to us (how's that for a vague description!)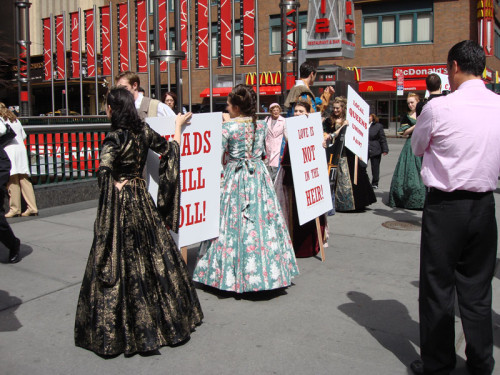 On Broadway, there is a mock-protest. The fact that they are dressed in period costume is no coincidence – this is a publicity stunt-ad for "The Tudors" a new mini-series on Cable TV here.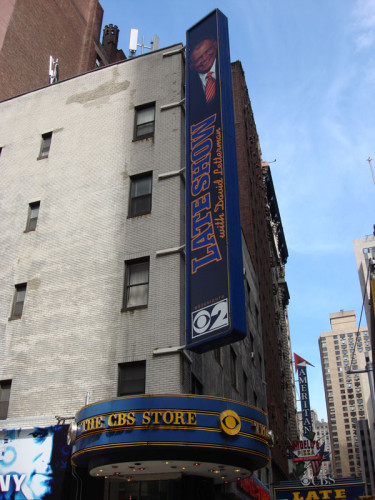 Also on Broadway – the CBS studios where the Late Show with David Letterman are recorded I was tempted to line up to be in the studio audience for this show… but then I remembered that I don't really like the show and that Dave isn't actually very funny.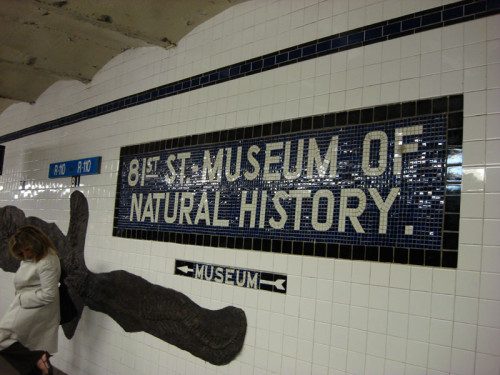 That afternoon, after a failed attempt to get last-minute-cancellation-tickets to see a broadway musical (Wicked), I strolled over to the Museum of Natural History on 81st Street. Well… I strolled over to a tube station and got on a train which took me there.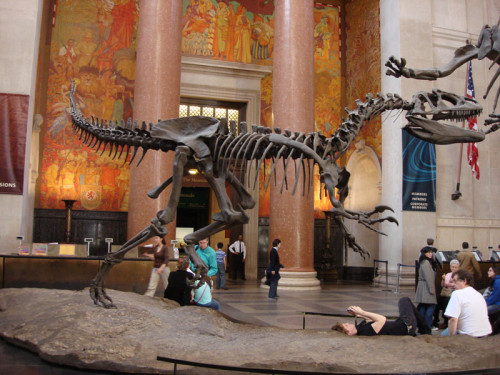 The building which houses the museum is terribly impressive. Terrible lizard (otherwise known as Dinosaur) skeletons decorate the main foyer-entrance.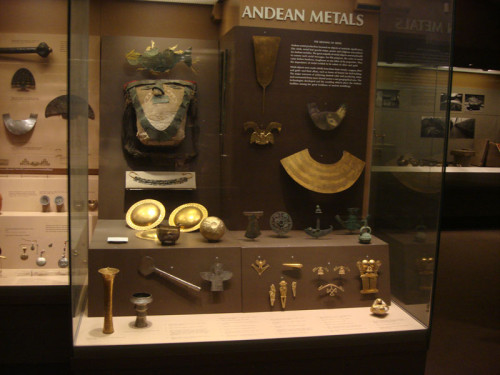 They actually had a very extensive and interesting section on Mesoamerica… but I figured that you'd all had enough of that. Besides, scale models of Chichen Itza are all well and good… but having been there, they just don't do it for me like they used to.
This is Australia. Well, all the birds… what do you do if a bird poops on your windscreen? Don't ask her out!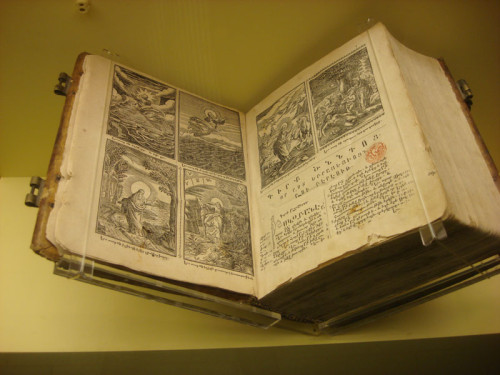 Ancient armenian texts from good ol' Constantinople.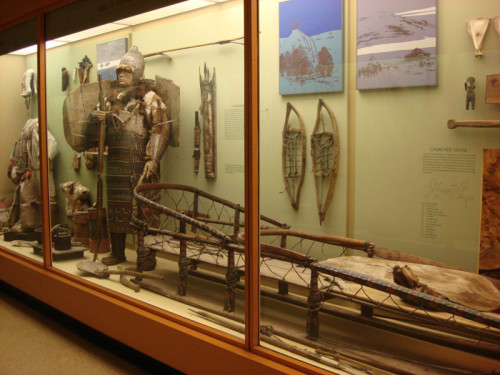 There were a great many exhibits on different people from around the world.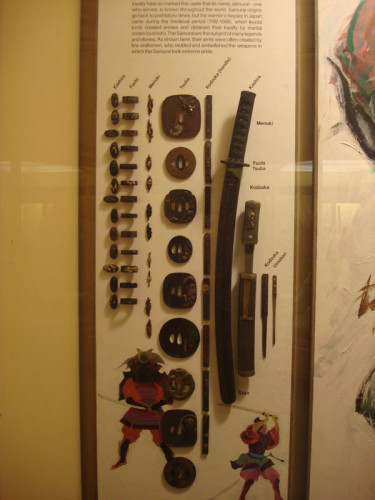 Including an extremely well thought-out display on the makeup of Samurai swords.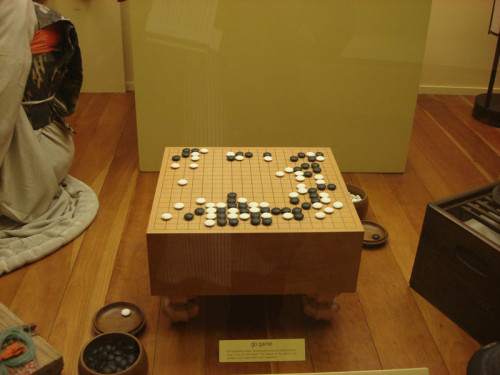 Some of the exhibits were still in a state of not-quite-completeness. Here we observe a go game which has barely started. Interestingly (and quite impressively) this looks like a fairly realistic game and that the people who set up the exhibit actually knew how to play.
This is Hammurabi's code of laws. It is one of the first examples of a formal legal system… ever. This is a replica, the real thing is in the Louvre somewhere (I may even have a picture of it).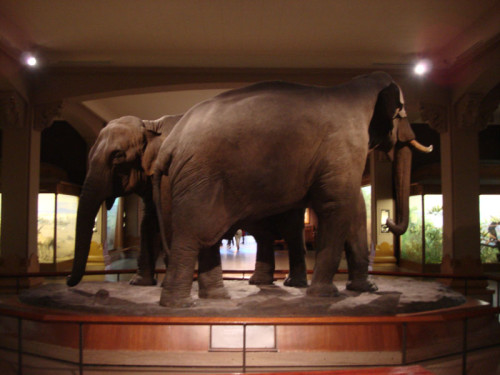 Elephants! Most of the exhibits are three dimensional and meticulously well-presented.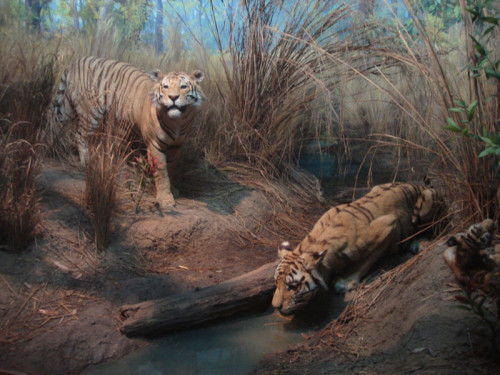 Grrrr Tigers.
This wall was created to highlight the wonders of biodiversity and to warn us that, if we're not careful, we may wipe out lots of species of stuff.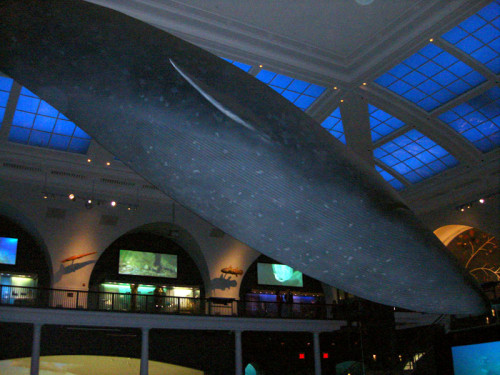 There was a very impressive hall with a very impressive marine exhibit inside and an impressively large model of a blue whale. Try as I might, I couldn't get the whole thing in one shot.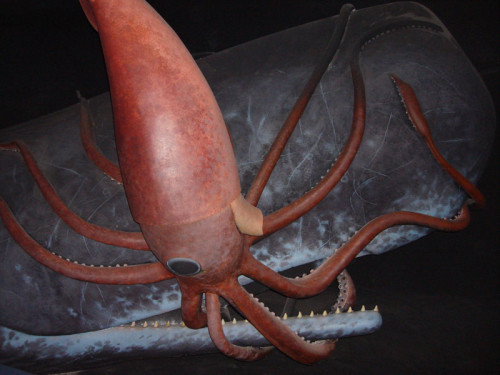 A depiction of the hitherto undiscovered scene from Moby Dick where Captain Ahab tries a different strategy and feeds the whale a squid which has been left out of the fridge for more than four hours. In the end, the whale outsmarts the squid by increasing its topological genus.
Another very spiffy exhibit, this time highlighting how different species of fish are related. Try as I might, I couldn't find the exhibit on intelligent design… or the flying spaghetti monster for that matter.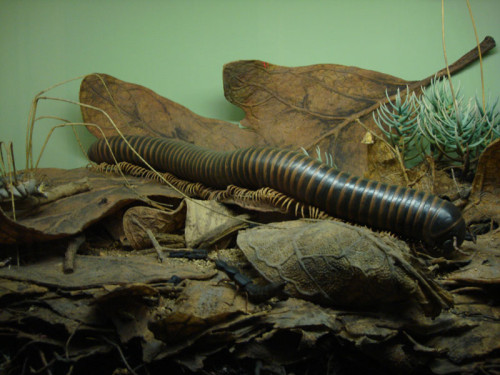 This is a very very large millipede. Despite its name, the milipede only has about a hundred legs (although it is sometimes uncertain just how many "L"s it has)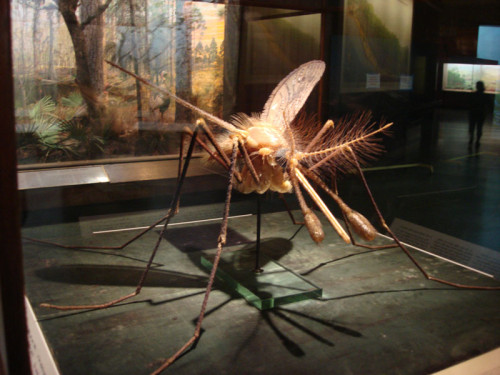 This is the mosquito that causes malaria. If only we'd known to find it in this museum sooner, then sub-saharan africa would be much better off. We are going to need a very large flyswat.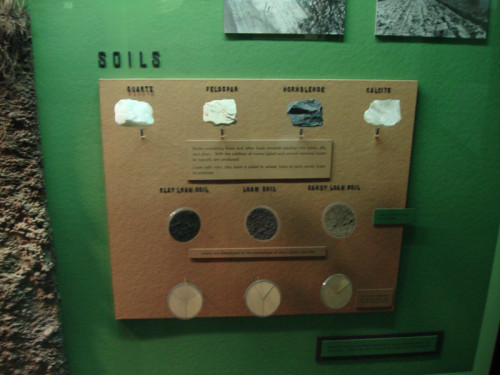 Soil… apparently if you really want to annoy someone who researches soil, call it "dirt".
Early man… well… just before early man. Oh, and I nearly forgot, early woman too. Notice she is looking away from the man. (She is probably looking for a mate with a bigger… brain)
Speaking of brains.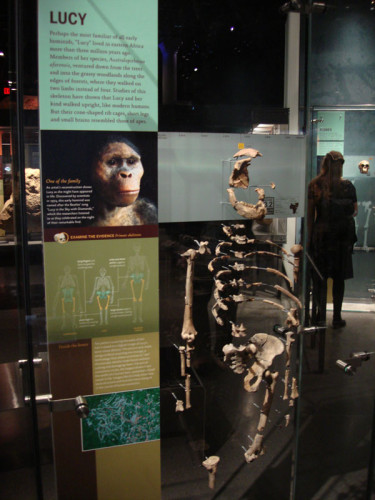 Here is Lucy, one of anthropology's most significant finds. She is the earliest, and remarkably very complete, examples of the australopithecus afarensis.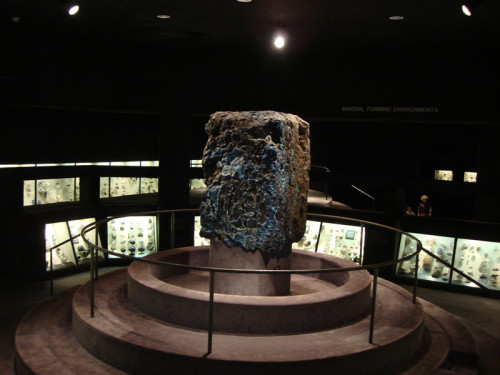 And, naturally, as is customary for any museum of natural history, a vast collection of rocks… and, keeping in custom with all things "New York", here are some very big rocks.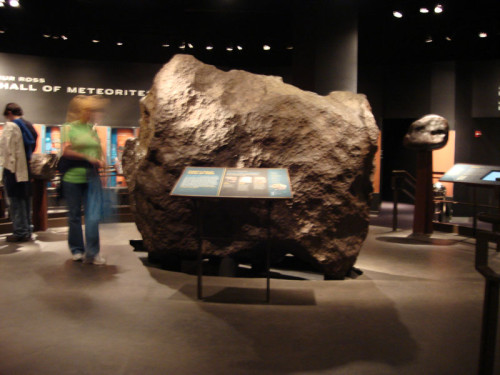 Perhaps we can adopt this one as a pet.
Some mooses… meece… ? These are the Alaskan variety.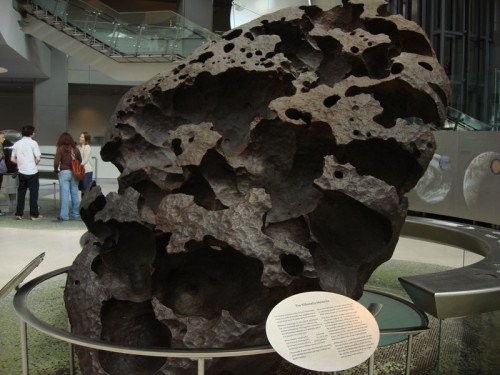 They could've put a small meteorite on display, but NooooOOOOoooo, they went and found a big one. This one is composed mostly of iron. The gaps are where there was other stuff, and it burned away when the meteorite entered the earth's atmosphere.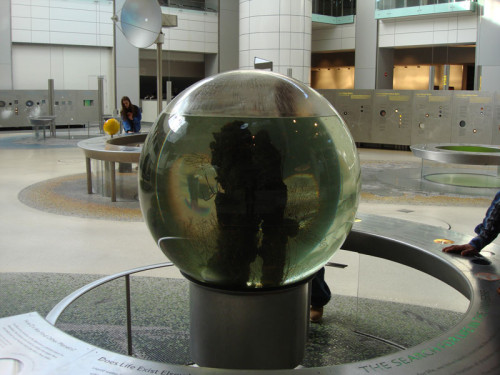 This curious looking thing is called a biosphere. Supposedly, it is supposed to be completely sealed off from the rest of the world, needing only light to sustain its life. That life being some seaweed and brine shrimps. Still, its pretty impressive.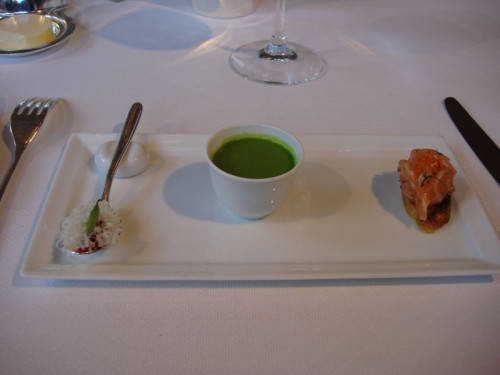 Now, for some more food. This time, I return to Jean Georges for some action in the formal dining section. Here we have Salmon Sashimi on garlic bread with roe, a Spinach Soup with a touch of lime consume at the bottom, and a spoon with a thin slice of blood orange with some white spring onion.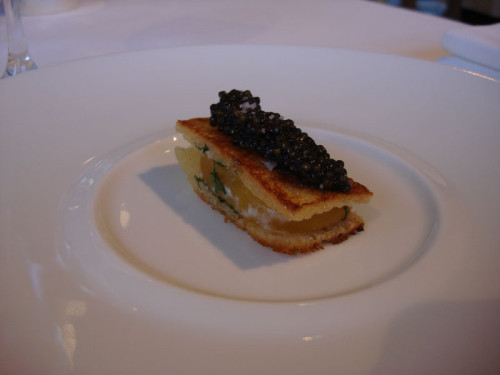 This is an egg sandwich. Oh… did I mention that the black stuff on top of it is Sturgeon Caviar? Its all the rage these days…
Asparagus, with mushrooms. A delightfully simple dish with a complex taste. Most of it comes from the mushrooms, which are wild (causing them to be expensive as they cannot be farmed, but rather, have to be found).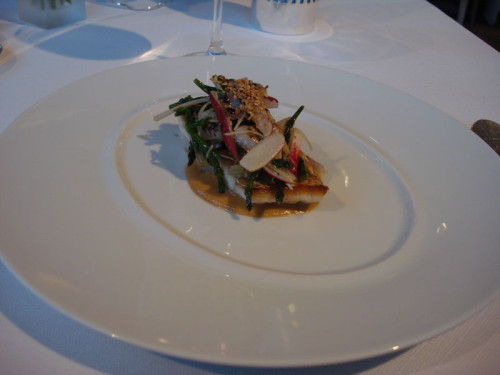 Snapper, a personal favourite. Here we find it topped with sesame seeds, an unusual combination, but one which adds a layer of flavour not usually found in fish dishes.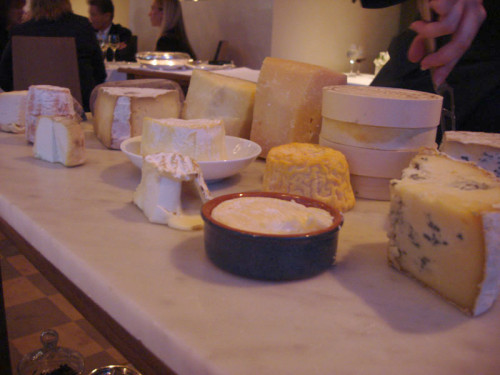 The cheese trolley. Many wonderful cheeses, but surprisingly no Dutch cheeses. Your selection of cheeses is cut and prepared right there and then.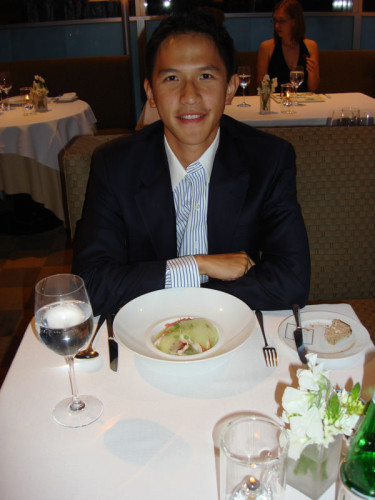 Formal dining means… Jackets must be worn by gentlemen. Despite not considering myself a very gentle man by any measure (he he he) I was compelled to fit this dress code because if I was to invite Jean Georges (yes, he is a person… no, there is no Mr. Per Se) over to one of my parties, I too would expect him to conform to whatever dress code I decide on. The shirt was bought at a clearence sale at a Brooks Brothers directly opposite ground zero (where the World Trade Centre towers used to be) and the Jacket was acquired at 50% off from Macy's almost-tax-time sale. Incidentally, tourists with a valid foreign passport receive an additional 11% discount. Does anyone else think that it is strange that a country which imposes a trade embargo on Cuba, has a chain of department stores having a red star as their logo? Speaking of red… the dots on the side of my lip are a result of my face inexplicably deciding to imitate a volcano for no apparent reason.
On the advice of a friend, I sampled some food which is supposed to be the staple of many a New Yorker.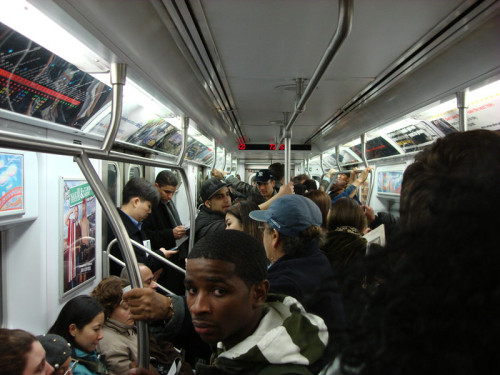 Riding home on the tube. It is very crowded at this busy time… (it was 10pm on a Wednesday night)
The next day, I queued up for a sum total of three hours to get to go into the Statue of Liberty. Here is the 'original' torch. Surprisingly enough, the current torch is actually closer to what the artist intended than the torch that ended up being on the statue.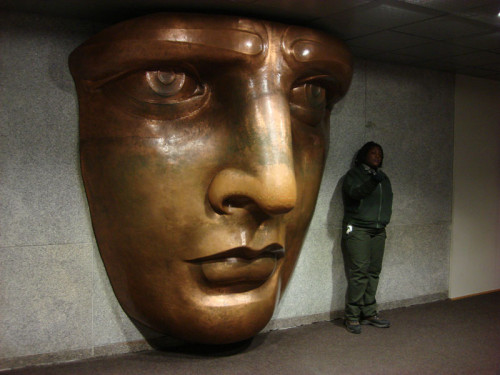 There are free tours given by park rangers (the monument is managed by the parks service). Here, our guide is showing us a replica of the statue's face.
The statue was orignially assembled in Paris then it was dismantled and transported piece by piece, then reconstructed on Liberty Island. The base was funded and built by the Americans. The statue itself has an ingenious structure which has the thin copper skin supported by an internal superstructure which is linked via a a series of bars which behave in a fashion similar to leaf-springs, acting as shock absorbers between the shell and the internal structure. It was designed by Eiffel, of tower fame.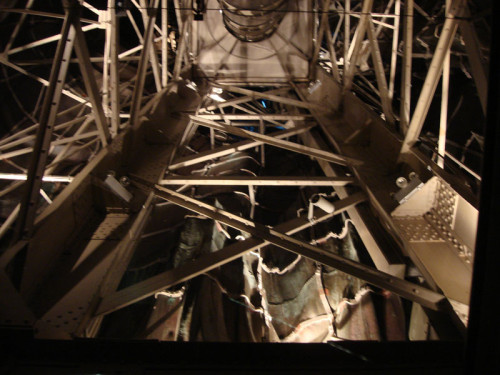 Before September 11th 2001, people were allowed to walk all the way up to the torch. Nowadays, this is as far as one can go, the observation deck at the top of the pedestal. Here we can see up Liberty's robes… how revealing.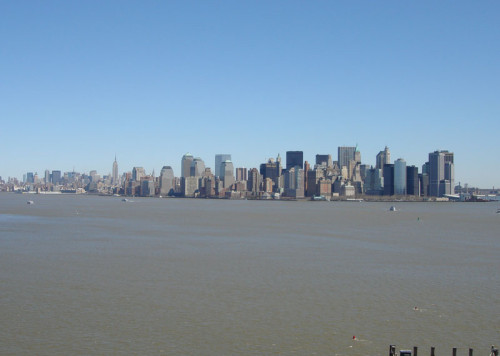 Yet another photograph of New York's majestic skyline.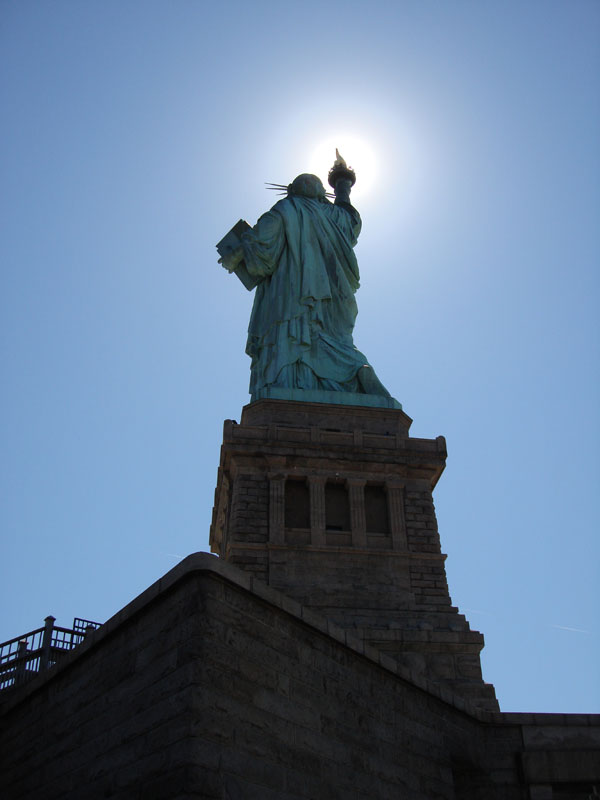 One advantage of queuing up at opening time is that you get to take pictures like these… made possible by the sun's position in the morning.
And, of course, the standard postcard shot of Liberty Enlightening the World. The weather couldn't have been better for taking photos… however… due to the fact that it had been a similarly clear night, it was very very cold and very very windy.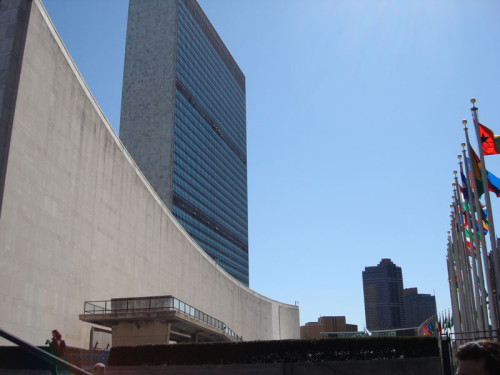 Later that day, I returned to the United Nations to go on a guided tour…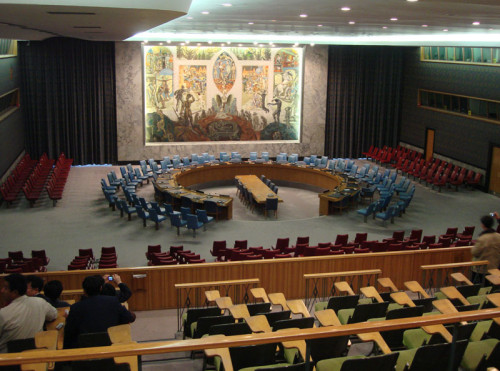 The inside of the security council chamber, a very impressive room… donated by Norway apparently. During the meetings, the non-permament members play musical chairs while discussing matters of great importance.
This needs no introduction. The UN peacekeeping forces, known affectionately by some as the 'blue helmets' have come to symbolize peace and stability… or maybe it is impotence and inaction… depending on one's point of view.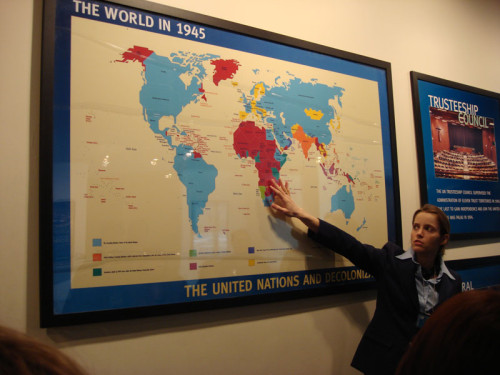 This is our guide, her name is Celia, she is French… mmm… French accents… Anyway, here she is explaining the process of decolonization after 1945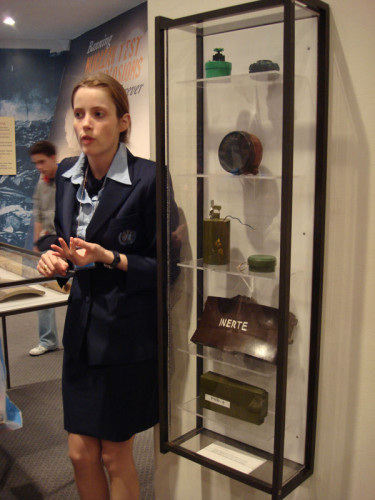 Does anyone know what these are? Strangely, I was the only one in the group who did (I was also the only one in the group who knew that there were 192 member states). They are landmines, which the 1999 Ottawa treaty sought to eradicate.
This is the general assembly hall, the home of a very chaotic game of musical chairs which starts every September when a name is drawn out of a hat and gets to sit at the front for a week. Everyone else spends the rest of the week trying to figure out where to sit then, at the start of the next week (or maybe it happens monthly…), the process begins again.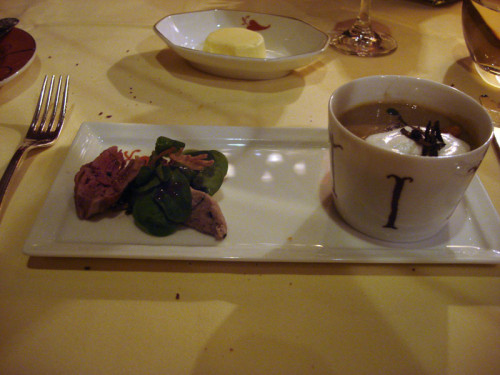 That night saw me dine at the third in my trifecta of delightful restaurants – Daniel. After getting over the initial distraction of my waitress's thick French accent (among many other distractions, like the decor of the room… of course) I decided that their 6-course tasting menu wasn't quite what I was after and I asked if they could "add" two more courses which I was able to specify from the A la carte menu. They agreed… and here is one of them – Lentil Soup with Truffle, Quail and Crispy Shallots…mmmm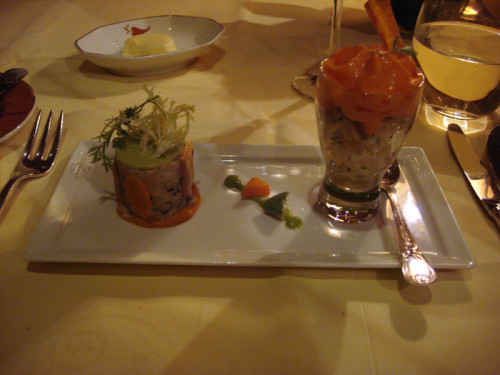 This appetiser was probably the stand-out dish of the night – "Peeky Toe Crab" salad… who in the world comes up with the names of these things?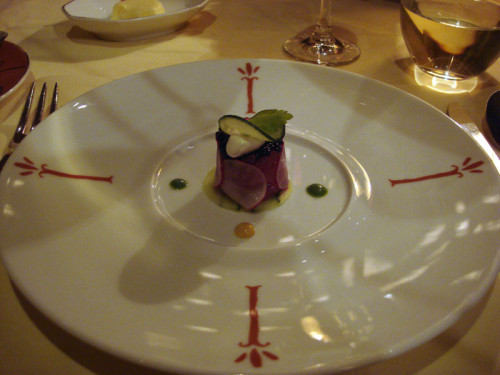 This was one of the other courses which I requested to be added… notice the caviar… I've decided (to the dismay of my parents, I'm sure) that I really like caviar.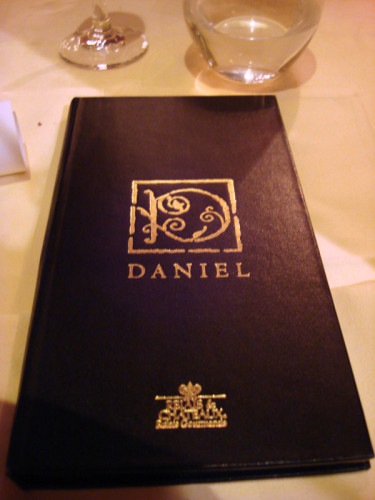 It was especially nice to recieve a menu with my name on it. After the meal, I was treated to a tour of the kitchen where an army of 15 chefs work manically to prepare the food for the people in the restaurant. I also had a twenty-minute conversation with one of the waiters about the food scene in Hong Kong and how all the big name French chefs are starting to open up shop there.
After emerging from the restaurant, I had a brief chat with a limousine driver to whom I explained that I was walking back to my hotel. Taking pity on me (and sensing a business opportunity) he offered me a ride at a considerably reduced rate (which, in the end, I calculated to be only slightly more than a taxi would've cost, but considerably more than it would have cost to walk). In the end, we got talking and he took it upon himself to take me on a tour of New York city. It turns out that he believes that the September 11th 2001 attacks on the World Trade Centre Towers were partly organised and bankrolled by the US government. Interesting.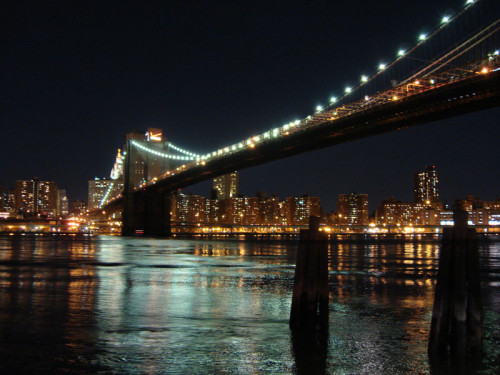 This turn of events did, however, allow me to go to some places I wouldn't have had time to otherwise, like Brooklyn via the famous Brooklyn Bridge, so that I could take a photo of the New York City skyline by night.
At the end of the day, after a long discussion about international affairs and politics, he didn't charge me any more for the little detour that we took. It ended up taking about twice as long as my helicopter ride and costing about half as much (I like to keep you guys guessing).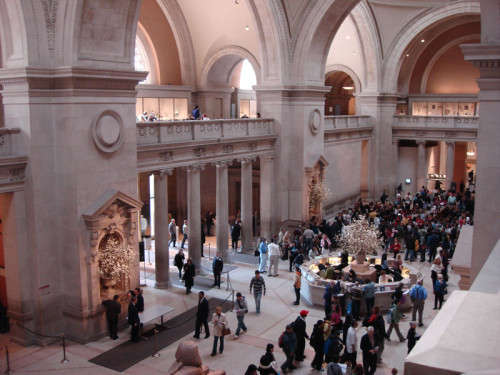 For my final day in New York… The Met. A work of art in itself.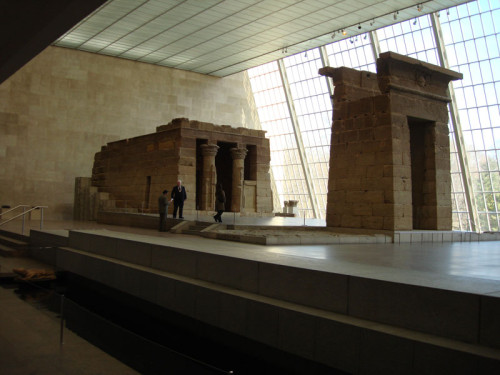 The Met had a very impressive Egyptian collection… and they weren't afraid to show it. This is a section from the famous excavation at El-Armana, the ancient lost city. Akhenaten, a slightly wacko Pharoah decided to abandon the polytheistic order and adopt a monotheistic one. He renamed everything and built a whole new city. When he died, he was succeeded by the famous Tutankaten, later renamed to Tutankamun. The city was abandoned, which makes it a treasure trove for archaeologists because it is so well-preserved.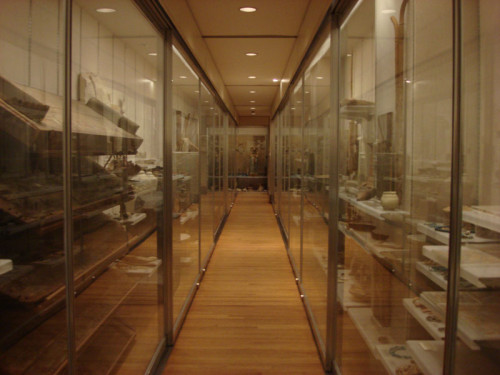 The collection was extensive… very extensive.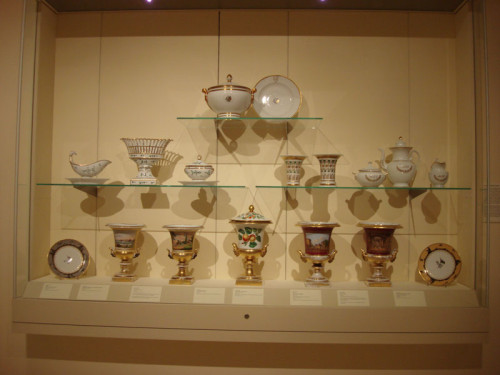 Their collection of American art, showcased the vast wealth (at least of the few very wealthy people) of America, even in the very early stages of its development.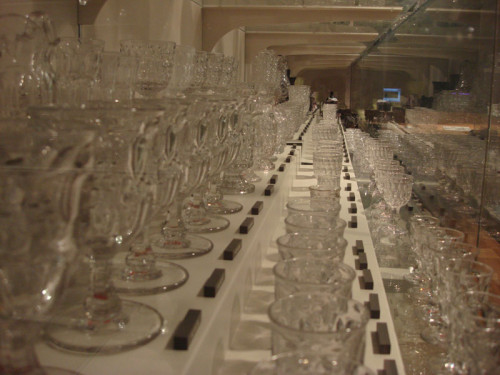 Let us raise our glasses in a toast to — wait a sec, maybe we shouldn't, it would take too long.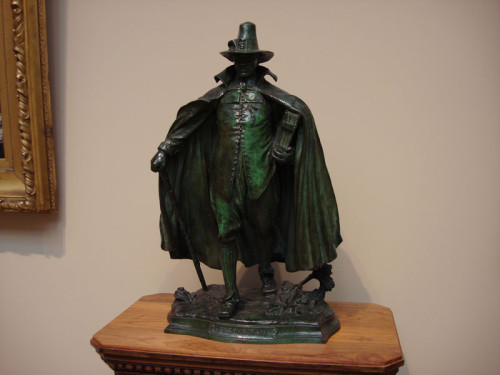 I told you! We are being overrun by little green men.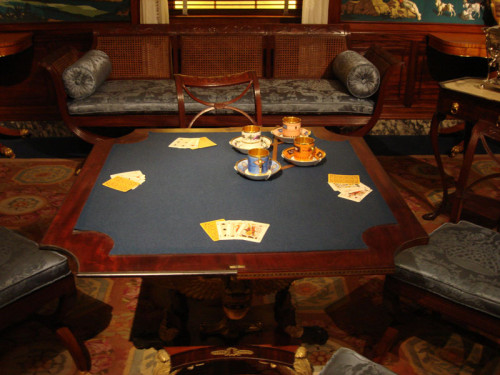 Now THAT'S a card table! The reproduction of entire rooms in period finishings is reminicent of the Louvre in Paris.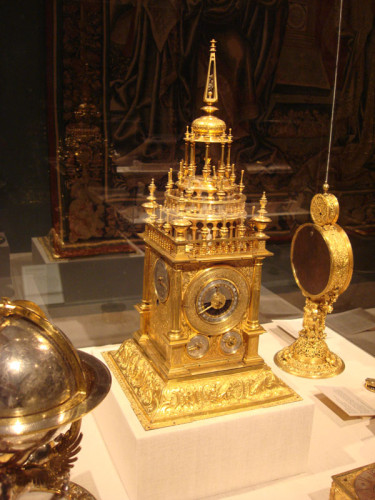 What's the time? Time to clean the ridiculously ornate clock methinks.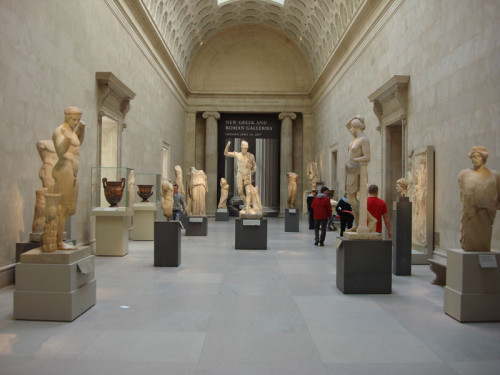 The J.P. Morgan wing, which houses the "Arms and Armour" exhibits.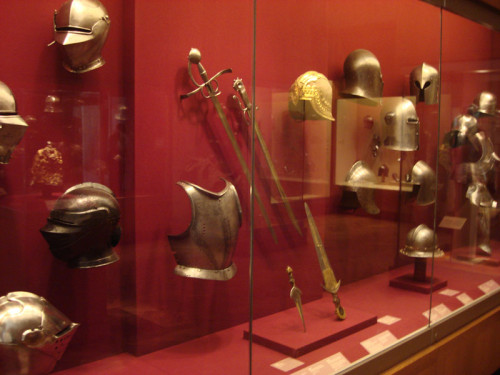 I wonder how much time the staff here spend polishing their helmets…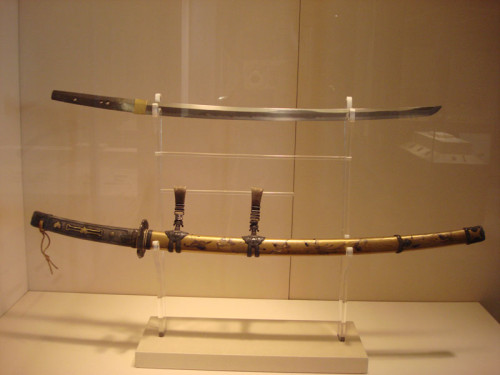 A tachi blade… what collection of arms and armour would be complete without a tachi blade?
During the enlightenment period in Europe, Asian art was very popular and influenced European art of the period as well.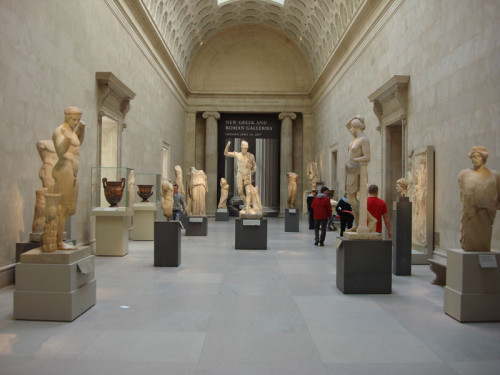 This hall reminded me of the Musei Vaticani in the Vatican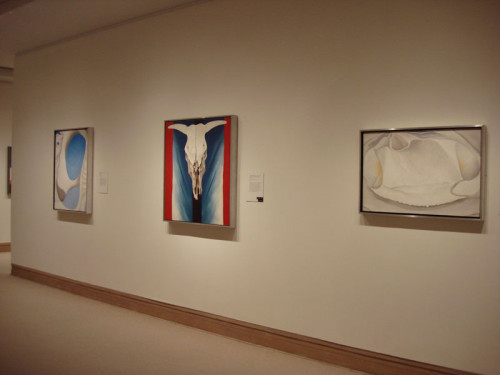 The museum had a small section on modern art as well. These three are interesting in that they are essentially paintings of the same thing but from different perspectives.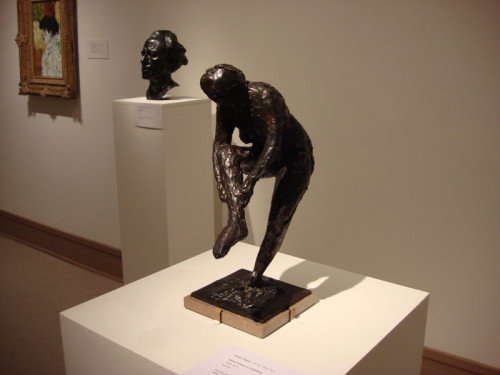 More modern art… this time, caught in the act of pulling ones socks up.
This piece was very interesting. Despite appearences, it was actually quite flat and it looked different when viewed from different angles. (these are two photos of the same thing)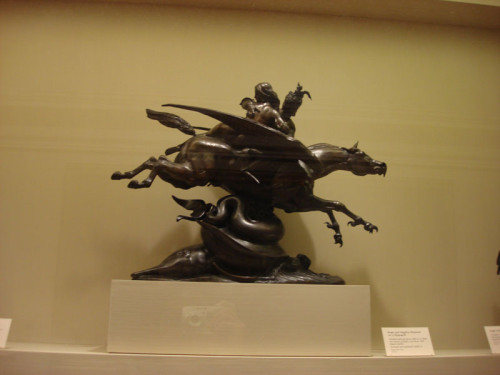 Pegasus. Interesting trivia – the computer company Asus was originally going to be called Pegasus, but dropped the first three letters so that it would appear closer to the top of alphabetical lists.
The building itself is quite magnificent. It has been slowly expanded and added to over the years, but it is very well-done and you can barely notice the seams where new wings have been attached. Here is one such example. Bet you can't even tell which side is newer (its the left).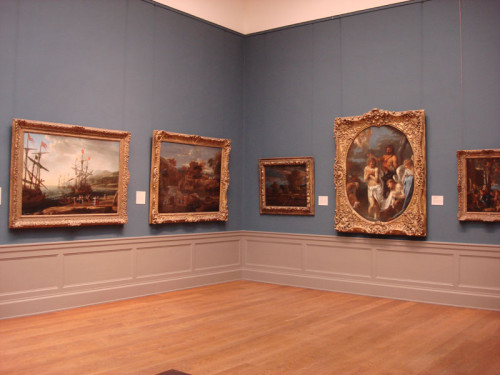 A room full of paintings, a fairly common occurrence in a museum of art. These are more paintings from western europe.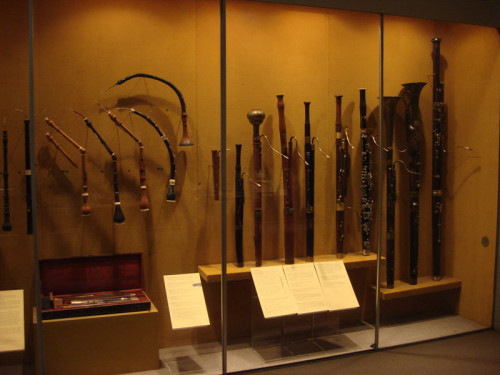 Is anyone feeling horny? They come in all shapes and sizes… although I'm told that the difference is really felt in the way that you blow them, rather than sheer size. You need to have good finger dexterity, of course.
Talk about ornamental pianos… this one was quite extraordinary… and VERY heavy.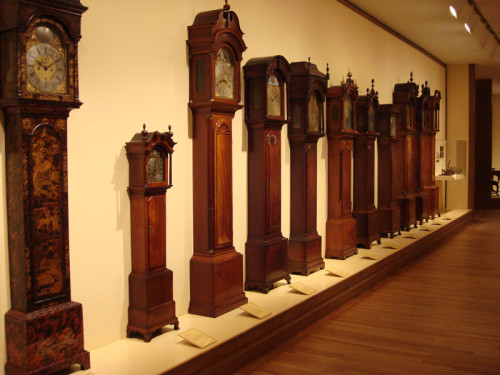 Oh! look at the time, I guess I should be heading back to Boston…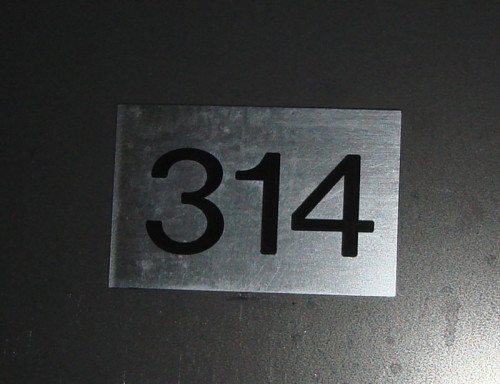 One for my maths friends out there… this was the number of my stinky hotel room.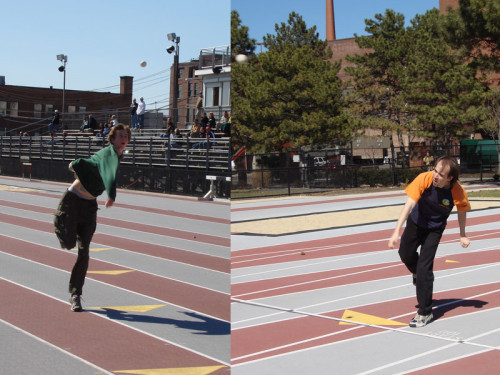 On returning to Boston, we hung about, had some lunch and started watching a game of lacrosse being played in the MIT sporting fields. The game was hopelessly one-sided so we found ourselves a lacrosse ball and did some bowling practice. Note to self: synthetic rubbery ball bowled on synthetic rubbery athletics track = LOTS of bounce (and some wacko spin too!).