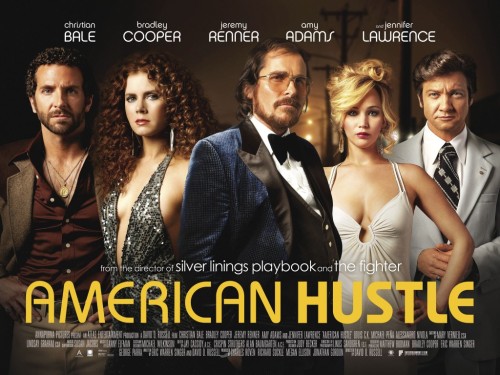 I loved The Silver Linings Playbook, and The Fighter. I love all of these lead actors. While many films in the past have demonstrated that simply shoving a bunch of talented people in a room doesn't always guarantee that a good film is going to come out, this film actually lives up to expectations.
Standing out in this ensemble cast is Batman Christian Bale, who has come a long way since Empire of the Sun. He is our main protagonist and plays a clever confidence trickster who is married with a family, but works with his mistress, played by Amy Adams who does a very good faux-British accent. Then there's the cop, played by Bradley Cooper who forces these small-time crooks to help him nab some bigger fish, including New Jersey Mayor played by Jeremy Renner. Thrown into the mix is Katniss Everdeen Jennifer Lawrence, whose screen presence literally bursts the seams of her relatively minor role.
Everything about this film is good, and that is reflected in its 10 academy award nominations. At the very heart of it all, is just really sharp, well-paced story telling. Christian Bale is a veritable chameleon here, and if I didn't know that he was in this film, I may not have been able to spot him (if anyone's seen Gary Oldman in The Contender (or not), you'll know what I mean). The irony of course is that he's British, and like Hugh Laurie, does such a good American accent that you'd think he was born and raised there. He plays opposite Amy Adams who is American and puts on a British accent for the purposes of their hijinks.
Metaphors abound (keep a close watch on everybody's hair) and the storytelling weaves its clever way through the seedy world of corruption, and also examines themes like desperation and loyalty. All the performances are great, and they've all been nominated – best actor, best actress, best supporting actor, and best supporting actress.
Of all the best picture nominees I've watched (all of them), this is the one I choose for best picture. There are some other strong contenders, but out of all of them, I find this film to be the most 'complete'. I'm also going to tip Christian Bale for best actor and Jennifer Lawrence for best supporting actress. The film, despite being quite serious, is not without a splash of humour, and the writers deserve a lot of credit for making this film as amusing as it is, in spite of its serious subject matter.
Go watch this film, it is everything a film should be.