Pyeongchang Day 9: Ladies 500m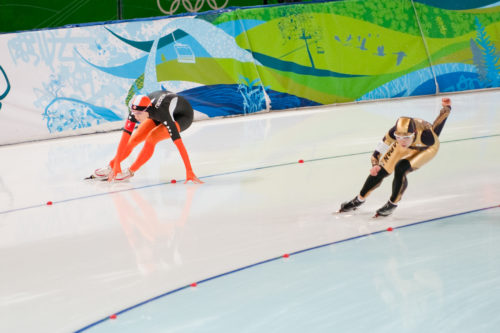 Recap
It has finally happened, a race went very close to my predictions. Nao Kodaira, after being denied in the 1000m (where she holds the world record) put together a superb race to smash the Olympic record and win the gold medal. In the pair after her, defending Olympic champion and local favourite Lee Sang Hwa put together a great opening hundred, and benefited from the draft in the crossover straight behind Arisa Go and looked to be slightly ahead of Kodaira's schedule at a few points in the race, but it was not to be – Kodaira's finishing straight was peerless and even though Lee still finished a very respectable second, she was still a good distance behind. In third place was Karolina Erbanova of the Czech Republic a mere hundredth of a second behind Lee. My pick for 3rd – Vanessa Herzog actually ended up coming 4th, so my picks for 1st, 2nd, and 3rd came 1st, 2nd, and 4th. Just to give an indication of how close the competition is, places 1st to 10th were all within a second of each other.
Listen to the recording of the live audio commentary for this event and synchronise it with the video replay of your choice.
Coming Up
Tomorrow will see the men's 500m final. A very closely-contested competition over the last few years and difficult to pick a winner. I've never accurately picked the winner for the 500m, and I don't think I'm going to start now, but I'm going to throw some names out there just in case. Ronald Mulder, identical twin brother of defending olympic champion Michel Mulder, was the top qualifier at dutch olympic selection trials and is surely one of the favourites. He has a bronze medal from Sochi where Michel won but, amazingly, was not able to qualify for the dutch team to defend his title at these games. Current world champion Jan Smeekens, also from the Netherlands will be wanting to improve on his silver medal from Sochi as well. Top of the world cup rankings is Håvard Holmefjord Lorentzen from Norway with the most victories in the 500m going into the games. Unfortunately one of the big names, and world record holder Pavel Kulizhnikov will not be contesting the distance since Russia has been excluded from this Olympics because of some heavy-handed doping practices during Sochi. Nico Ihle from Germany, Mika Poutala of Finland, and Kai Verbij of the Netherlands have all drawn outside lane starts meaning that, even though they will have the advantage of a draft in the crossover straight, they will have a hard time controlling their speed through the second inner-lane corner, but the reward of blindingly-fast corner exit speeds will await anyone who manages to nail it just right.
Look out for any opening 100m under 9.5 seconds, and flying laps that can slip under 25 seconds – giving a total time of 34.5 or lower. I think the winning time will be a 34.4 and I'm going to predict Mika Poutala, Kai Verbij, then Håvard Lorentzen in third. Either way it's going to be extremely close and exciting racing. Also keep an eye out for dark horse Daniel Greig who will be looking to redeem himself after a disastrous trip off the start line in Sochi cost him his race.
As usual, you will be able to listen to my live commentary of the event as it happens. Coverage begins at 8pm local time with team pursuit quarterfinals (not sure if I will commentate because I can't seem to find a network that will show the quarterfinals live) and then at about 8:45 the men's 500m will begin.
Useful Links
Official start list and results – ladies team pursuit quarterfinals