Pyeongchang Day 8: Interview With Renee Hildebrand
At the end of March 2009, Australian speed skater Daniel Greig and I finished the ice skating season in Calgary (at an event titled, appropriately enough "Oval Finale") and came to Florida with a handful of other international skaters to stay and train with a training group under the guidance of Renee Hildebrand. This training group included many past world champions in the sport of inline speed skating like Joey Mantia, and a lot of future ice skating world cup skaters. Renee, an extremely successful and experienced coach of over 30 years has been quietly training world champions and future world champions in the region of Ocala, Florida. Brittany Bowe, multiple world champion and former world record holder in the 1000m, Joey Mantia winner of a few world cups and current world champion in the mass start, and Erin Jackson who surprised everyone with an improbable qualification for the Olympic 500m after spending almost no time on ice skates (and soundly beating skaters who have spent many years trying to qualify).
I recently caught up with her on Yeowie radio and we had a chat about what goes into making a world champion skater, and just general discussion about the development of athletes. She's currently in Pyeongchang watching her skaters race at the Olympic games, and she generously took time out of her busy schedule to have a chat.
I have made the audio file of the interview available here. If and when I get some time I may transcribe the interview (any volunteers out there want to help me with this?)
Sometimes the best thing a coach can do is hold up a few fingers to remind the kids how many laps they still have to skate in their relay. Standing to either side of her are Daniel Grieg and Erin Jackson, who are both skating at these Olympic Games.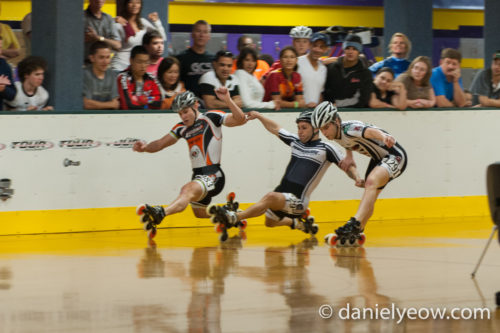 Joey lunges at the finish line at the conclusion of the 500m at the Tampa Classic, an annual inline speed competition in Tampa, Florida. He and Harry Vogel are both multiple world champions on inline skates.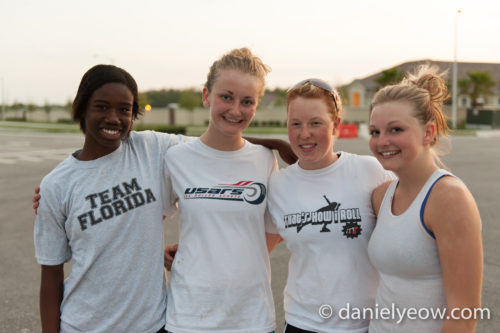 Some of the Junior girls at the end of one of our training sessions. Erin, Sophie, Brooke, and Briana all eventually made senior world cup qualifying times for speed skating on ice.