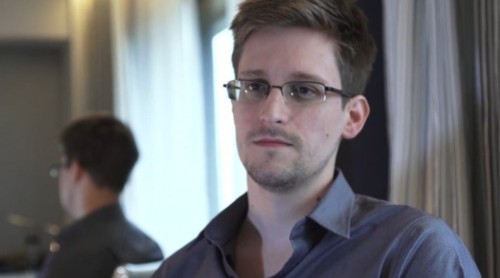 This may be one of the most important films you see all year. Of the nine films I managed to catch at the Copenhagen International Documentary Film Festival (CPH:DOX), this one was by far the best. Those who have been paying attention will know that I have a keen interest in both cryptography and social justice issues, so it should come as no surprise that the first ticket I bought to CPH:DOX was for Citizenfour1, and that I was pleasantly surprised to find that there were extra screenings because the two originally-planned ones had sold out.
This may be one of the most important films you see all year
Most documentaries suffer from what I call the 50-minute disease. That is to say that they get to about the 50 minute mark (sometimes sooner) and the viewer begins to check the time. This seems to be the approximate amount of time it takes for a documentary to thoroughly explain its subject material at a pace which is both thorough, and not-boring. It is, of course, challenging to engage a viewer in what is essentially exposition for a very long time because you run out of things to say, everything has already happened, and there's little material left to maintain tension or conflict on screen.
I was originally a little apprehensive going in, since Citizenfour's length is just shy of a full two hours – very long by documentary standards. I knew the story, of course, and I understood its importance, but I was worried that the documentary might, in its effort to really say everything, lose the audience with too many details. Fortunately, I was completely wrong, and Laura Poitras has given us a film which stands on its own, independent of the gravity of its subject material. Currently, it's pleasing to see that it is doing well at the box office (for a documentary) and is getting a general release in many countries, and beyond the small world of film festivals.
Of course, with a subject like Edward Snowden, and a story which reads like a spy novel (since it is, in essence, a story about spies) generating mystery and tension is easy, at least in the beginning. The key to Citizenfour is that the film doesn't just tell his story, but it tells the story of how he came to tell his story. In fact, the story of how the documentary came together is in itself very interesting and I encourage the interested reader to look into it. The interweaving of the story he tells with the story of how it came to be told is what keeps the viewer engaged. It doesn't only serve to build suspense (after all, most people know, at least superficially, the basics of what happened) but also cleverly encourages the viewer to invest emotionally in the story.
It goes without saying that the subject material is hard-hitting, and important. I will leave a detailed discussion of the implications of Snowden's revelations for another post, but I will say this – they surprised me. I already knew a lot about the extent of surveillance, and how not-secure supposedly secure networks are, but the Snowden revelations still managed to surprise me. What will hopefully also get your attention is just how "human" these people are – they have lives, loves, and interests outside of the world of whistleblowing, and their adversaries know that, and use that. (For example, journalist Glenn Greenwald's partner is detained for no reason at an airport at one point.)
This film is odds-on favourite to win the award for best documentary, and it should. Even though my recent reviews have focused on nominees for the academy awards, the impact of this documentary goes well beyond that. I've been fortunate enough to have attended screenings with Poitras, Jacob Appelbaum, and even William Binney (another former NSA whistleblower) in attendance and from what they've said, it wasn't always an obvious fact that this film would ever make it to the big screen. In fact, prior to its initial release, almost nobody had a copy of the final cut in its entirety, owing to security concerns.
Cryptography may be one of the most effective weapons against mass surveillance, but ultimately it's up to us to elect leaders who will end it
Meanwhile, Snowden is still stuck in Russia, and Poitras, Greenwald and many of the other journalists involved in breaking the story continue to be harrassed by intelligence agencies because of their work. Don't let that important work be in vain, do yourself a favour and see this film. Cryptography may be one of the most effective weapons against mass surveillance, but ultimately it's up to us to elect leaders who will end it, and for that to happen, people need to understand what's going on, and what their governments aren't telling them.
Useful Links
The story of Snowden's first contact with Poitras
The Freedom of the Press Foundation's guide to modern cryptography
Footnotes
"citizenfour" is the name with which Edward Snowden signed his emails when he made initial contact with director Laura Poitras ↩