Sochi Day 9: Ladies 1500m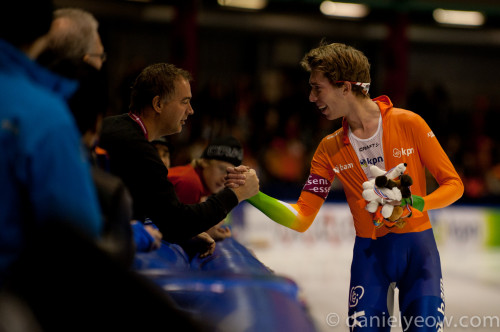 Marathon skater Jorrit Bergsma presents a challenge to Sven's supremacy.
Recap
Exciting as always, the Olympics continues to throw surprises at us, thick and fast. Olga Fatkulina, famous for her silver medal in the 500m and 4th in the 1000m made an ambitious start to the 1500m, posting a very quick time and almost falling several times in the last 200m in the process. Her time would have earned her a silver medal at world championships last  year, but alas, these are the Olympics and skaters are expected to rise to the occasion, and they did. Just before the ice resurfacing break, Jorien Ter Mors (the short tracker who was cover girl in my last daily update), who had in the previous day come 4th in the 1500m in the short track event, smashed the track record AND the Olympic record and set a time which seemed unbeatable… and everyone had the full 20 minutes of ice resurfacing break to let that sink in. Once racing resumed, pair after pair failed miserably at coming to close to the mark set by the feisty short tracker. Even her fellow dutchies struggled, and defending olympic champion Ireen Wüst fell agonisingly short, even though her time was faster than the old track record, and would have won the gold medal (which, incidentally, she won) at world championships last year. With that, she slipped into second just in front of Marrit Leenstra on what was already looking like a sure 1-2-3 podium sweep. As the final pairs flapped and flailed at the line, it was down to the 4th and last dutchie to make a difference. Lotte van Beek held her nerve and finished strong to slip into the bronze medal position, completing an unprecedented Dutch 1-2-3-4 'podium +1'. Next in line was Yuliya Skokova of Russia and Katarzyna Bachled-Curus of Poland followed by Heather Richardson of the USA. 8, 9, and 10 were Lobysheva, Fatkulina, and Shikhova, all from Russia to put four Dutch and four Russians in the top 10, but it was all about the Dutch today, and what a good day they had. (This is also the first time I've correctly picked the medallists, ever… although I did get them in the wrong order).
Coming Up…
The men's 10k, of all the events, was always going to be the most likely to be a Dutch podium sweep. The sweep in the 5k was a little unexpected, and the sweep in the 500m was out of the box, as the event is not a traditionally strong one for the Dutch, but the 10k is one of the country's strongest events. Part of the reason for this is that the northern European countries have traditionally placed a high priority on the allround format of competition (in which a cumulative 'samalog' (score) is calculated from a 500m, 1500m, 5000m, and 10000m race, where 1 second in the 500m is worth 1 point, and 10 seconds in the 5000m is also worth 1 point), while the Asian and North American skating traditions have emphasised specialisation in one or two distances. Of course, it doesn't take a genius to see that allround competition favours those who are strong at long distance skating. The dutch also have another source of talent in the longer races, and that is the dutch ice marathon series, which is a league that takes place throughout the season in which teams compete with each other for points and jerseys.
Jorrit Bergsma comes from the dutch marathon world and was the first person to convincingly beat Sven in a 5k or a 10k in a very long time (Bob de Jong had always been close to Sven, but close enough that Sven was always able to *just* eke out a victory). Jorrit lost to Sven in the 5k by 4 seconds, and will be looking to get his own back in the event in which he is current world champion. It will be close however, as Sven will also be looking to make amends for his disqualification in Vancouver for skating into the wrong lane, at his coach's instructions. Also in the mix is Bob de Jong, who was Olympic champion in 2006, bronze medallist in 2010, and third at world championships last year. In fact, these three finished within three seconds of each other in the event, a margin which represents about a third of a percent of a race that will be won in just under 13 minutes.
Gold medalist from Vancouver Lee Seung Hoon of Korea will be looking to challenge, and his 4th place at last year's world championships suggests that he can, but his time – 14 seconds behind third place – about half a lap, would suggest that he can't. Skobrev, the silver medallist will also be looking to medal, but after his unexpectedly poor performances in the 5k and 1500m, I can't say that I'm very confident in his chances. Also look out for inline skaters Bart Swings from Belgium and Shane Dobbin, flagbearer for New Zealand, both of whom benefit from the slower ice since they are tough as nails and equipped with impressively high pain thresholds from years of inline speed skating. I'm also going to flag the German skaters Marco Weber, Patrick Beckert, and Moritz Geisreiter, who impressed me in the 5000m, which could be an indication that they've peaked very well coming into these games, and between the three of them could perhaps pull a great time out of the box.
In terms of race strategy, there's not much to it. The 10,000m is 25 laps of finding the rhythm, staying relaxed, and keeping to a schedule. If all goes well, you'll cross the line having done your last lap about a second slower than your average, and then collapse in a messy heap on the infield and have your coach take off your skates and resuscitate you. To win, a time in the region of 12:50 will be needed, and that will demand laps to be about 30.5 seconds the whole way. I'd love to see one of my inline skating friends stage an upset, but looking at the numbers, it's difficult to see past a Dutch podium sweep. The order in which our three favourites finish will be largely down to where in the order they race, as being in a later pair gives you a slight advantage, as you will know what schedule you will need to do in order to win. The order I want is Jorrit, followed by Bob, followed by Sven. Lock it in Eddie. But realistically, the finishing order is anyone's guess.
Don't forget to click on the sochi2104 tag below to read other articles about these olympics. You may also want to read the 'Sochi Specials' of which there are now four including a new one, published just a few hours ago about the timing equipment used in speed skating. The others are about the speed suits that the skaters wear, the difference between long track and short track, and where I explain that it is NOT about the suits.
Useful Links