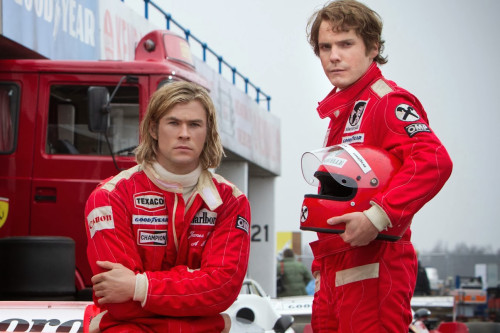 Rush is a film which documents the famous rivalry between James Hunt and Niki Lauda. It's 1976 and Formula one is just starting to become an international live TV event. Niki, fresh from winning the world title in 1975 is keen to defend his crown with car maker Ferrari, but then a new kid shows up in the form of James Hunt driving for British racing outfit McLaren. It was one of the most electrifying rivalries in F1 history, and no doubt helped cement F1 in the international live TV calendar.
Director Ron Howard has done what nobody else has been able to do – make a really good film about motorsport. There have been many previous attempts, and most of them have been unwatchable. Even John Frankenheimer's Grand Prix from the 70s, while it had some incredibly well-shot racing sequences, really fell down in the writing department. Sylvester Stallone had a go with a film about indycars called Driven, which was also unwatchable. So despite Howard's reputation, I was a little skeptical about how this was going to turn out.
My worries were for naught, as this film is very good indeed, thanks in part to the perfect casting of Chris Hemsworth as Hunt and Daniel Brühl as Lauda. The actors and their on screen chemistry are the highlight of this action-packed look into the world of 1970s formula one. The cinematography is excellent, and especially outstanding considering how difficult it is to shoot cars at this speed in what are essentially precisely-choreographed dances of very expensive machines crashing into each other.
It astounds me that this movie was completely passed over for any oscars. The acting was very good, and I thought Daniel Brühls performance in particular was prizeworthy. Hemsworth too plays the part of the F1 driver playboy very well, although his flavour is more of a smooth, brooding seducer, while the real James Hunt seemed more of a smiling, charismatic party-animal.
As far as story is concerned, the writers didn't exactly have to make anything up to make things more exciting. This season was packed with drama as it was, including bitter bickering over rules and disqualifications over the width of cars. Then, of course, there was the Lauda's famous crash on the Nürburgring where his car burst into flames. It all comes down to the final race in Japan in appalling weather conditions. If these things hadn't really happened in real life, you couldn't make a film that anyone would believe, but luckily truth is often stranger than fiction.
As the film goes on, the bond between these characters solidifies, first out of respect and then out of genuine friendship. Their backgrounds, and significant relationships are also examined, which I feel gives the film that last little bit of emotional gravitas that ultimately makes it real in your head, and makes it stick with you, in particular when Lauda's wife stays by his bedside while he is recovering in hospital from his crash.
To top it all off, real footage is occasionally interspersed in the scenes, and the real Niki Lauda even has a few words at the end. Ron Howard, who is already an academy award winner might not feel too bad for missing out, but the sound editors, mixers, cinematographers, and actors probably aren't feeling too good at the moment. This is an incredibly honest film, which gives us a little insight into an important year in the history of formula one, as well as the people behind it.
Just to give you an idea of how good a job the casting director did, I've included a photo of the real James Hunt and Niki Lauda below.