Heerenveen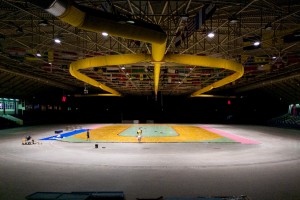 Several days ago, a new wooden floor arrived from the US with the purpose of enriching the experience of inline speed skating training in the Netherlands. Four containers later we found ourselves looking at a very shiny wooden floor fully-constructed in the middle of Thialf, the premiere (ice) speed skating facility in the Netherlands and, arguably, the world.
Costing upwards of 30,000 USD for the physical pieces of wood themselves, it was a significant investment for the Skeeler Bond Nederland (SBN) which has recently been allocated more funding owing to incrementally better results in past world championships. The Dutch inline speed skating team has lacked an indoor surface with significant grip until now, and it is hoped that this move will contribute significantly towards making the Dutch more competitive at international competitions such as European Championships and World Championships.
Skaters from the United States, long a dominant country at the World Championships, are believed to benefit from regular, competitive, indoor competitions on indoor floors with a lot of grip which makes them technically strong when negotiating corners. Skaters from Europe and elsewhere regularly travel to the US in order to train on grippy indoor floors and, until now, Europe has lacked its own grippy indoor surface to train on.
After unloading the pieces of the disassembled floor from four trucks over the course of several days, members of Team Totally Awesome (previously known as Team Gold Rush) who had recently moved to Heerenveen and maintain very close ties to the Dutch inline coach, Desly Hill, set about the nontrivial task of constructing the floor. Initially faced with difficulties concerning those workmen who were allocated to assisting them in the task, those difficulties were eventually ironed out and the floor finally came together late on Saturday. Afterwards, cleaning took place and an initial analysis of the grip properties was made with the verdict being that there was considerable room for improvement.
Click on any of the images below for a larger version (you want to, trust me)