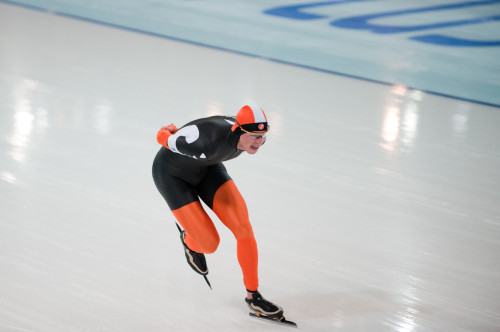 With the opening ceremony literally hours away, hopefully I can get this article out before everyone starts watching (and stops reading). Judging from the feedback from the previous post, readers are most interested in the stories behind the main headlines. There has been considerable interest in the preparation that the athletes undergo for the games, as well as interest in commentary on differences in technique.
There has also been interest in some kind of commentary on the political aspect of things. Namely, the various calls to boycott the games over issues of human rights abuses, mistreatment of animals, discrimination against homosexuals. I will NOT be covering those here. Too often, sport is used as a platform for political purposes, and while I certainly feel that many of the causes being discussed are worthy (and I probably will say a thing or two about it via Facebook or Twitter), I will try to keep my commentary of a sporting event limited to its sporting aspect.
I'm generally going to do one post a day which covers the events of the previous day, and talks about the upcoming events. This will be the "backbone" to my coverage. In addition (if I have time) I will write "feature" articles on specific topics, like training schedules, suit technology, skate technology, fanciful and meaningless comparisons between sports. Requests are always welcome. There may also be the occasional guest contributor to add a bit of perspective or expertise to a topic.
Opening Ceremonies
I have watched, from start to finish, the opening ceremonies of every Olympic Games since the 1994 games in Lillehamer, Norway. What I find miraculous when I think about this is that I can barely remember anything. In 94, some guy ski jumped with the torch before landing and lighting the cauldron, in 96 Muhammad Ali (who won a gold medal in 1964) lit the cauldron, I honestly don't remember anything from the 98 opening ceremony in Nagano (but I do remember watching them, since I'd been to Nagano only three years previously for a skating competition). The cauldron for the 2000 Olympics in Sydney was lit by Cathy Freeman (who went on to win the gold medal in the 400m) and there was a mechanical failure with the moving flame, and a really annoying little girl sang a song, there was a memorial to the victims of 9/11 during the 02 opening ceremony in Salt Lake City which I only remember because Derek Parra (who went on to win the gold medal in the 1500m), a former inline skater, was a part of it. The 04 (Athens) ceremony had a cool bit with people doing athletic poses and their shadows being cleverly projected onto large piece of cloth, all I remember from 06 (Torino) is the olympic flag being carried in by 8 women to represent the five continents and three pillars of Olympic something. The 08 games in Beijing had another annoying little girl singing, and a 6-time gold medalist gymnast running sideways along the stadium interior – I also remember being impressed that the NBC commentators were able to pick up on the references to Chinese history. In 2010 in Vancouver, I only remember the slam poem "we are more" by Shane Koyczan (who did not win an olympic medal), and that Wayne Gretzky (manager for the victorious Canadian team in 2006) was the final torch bearer, and as for London in 2012, I can only remember the funny bit with Rowan Atkinson (also not an olympic medalist) playing along to the chariots of fire theme.
I'll watch the ceremony from Sochi, of course. Expect it to be dazzling, and above all expensive. This is Russia's big coming-out party (yes, that was a thinly-veiled political wink-wink-nudge-nudge). They haven't hosted a games since 1980 in Moscow, and it was boycotted by many countries. This is also the most expensive Olympics ever, surpassing even Beijing, so people are probably going to wonder where the money went. Perhaps visitors to Sochi will be showered by fireworks made from diamonds and unicorn, while volunteers on every street corner will hand out tins of caviar. We can only hope.
Speed Skating – Men's 5000m
The first event will be tomorrow, and it is the men's 5000m. A sentence you'll hear me say a lot during the next few weeks is "anything can happen" since this is the Olympics. This is mostly because I was quite embarrassed by how inaccurate my predictions were at the last games. The men's 5000 though is one of the more predictable events, and it's one that I got right last time.
It's difficult to look past Sven Kramer of the Netherlands (pictured) for the gold medal. He is the current world record holder, and is undefeated at this distance for the last two years. He would have been undefeated for an impressive seven years if it hadn't been for the 2011/2012 season where he was, shockingly, defeated by both Jorrit Bergsma and Bob De Jong at the Dutch single distance championships. He has been very strong lately though, and unless he makes some kind of fatal error (like forgetting to change lanes for example…  which happened to him in the 10k in Vancouver) I'm quite sure that he's going to win. He's paired with Jonathan Kuck from the US who is a medal chance, albeit not a good one in my opinion. For the silver, look out for Russian skater Ivan Skobrev who will be looking to improve on his bronze medal performance from Vancouver. For the bronze, I'm going to go out on a limb and say Bart Swings from Belgium, who had a very strong inline season during the summer despite prioritising ice skating (he won a few world titles and broke a world record).
Also be on the lookout for Jorrit Bergsma, the only person starting this 5k who has actually beaten Sven in a 5k in the last seven years, and also the Korean Seung Hoon Lee, the gold medallist in the 10k from Vancouver.
Technical Notes
This is really a subject worthy of another post, but due to time constraints I will quickly try to cover some of it here.
The 5000m is the shortest distance which, at the elite level, is raced "flat". That means that lap splits for most of the 12.5 laps should be about the same. A "perfect race" would typically start off up to a second faster than this pace for the first lap, then settle into even splits, then get slower by half a second to a second in the final lap. To win the Olympics on sea-level ice (as opposed to high-altitude) you're looking at an 18-second opener or faster for the first 200m, followed by a mid 28-second lap, eventually settling into mid 29s with the final lap being no slower than 31 seconds. I'm predicting the race to be won in 6:10, four seconds below the current Olympic record, but seven seconds slower than the world record. All of those records are Sven's so this is his race to lose, however he is a sufficiently experienced and professional athlete that I don't think that psychological pressure would have any deleterious effects on his performance.
An astute viewer will also be able to observe a wide variety of speed skating techniques in the 5000m. There are several things which are generally constant throughout the variations – skaters trying to keep their shoulders flat and square, trying to stay as low as is manageable for the distance (pain vs aerodynamic efficiency), and trying to glide as efficiently and for as long as possible. These days there isn't a huge amount of variation in the 'racing line' that skaters take around the track. In the past, it was beneficial for some skaters to extend the corner by as much as a third of the way down the straight (because corner 'crossovers' have the skater applying pressure on the skate for a longer time, as a percentage of their skate-on-ice time) but they've recently introduced rules which make doing that very difficult. Variations on straightaway technique a numerous. Håvard Bøkko from Norway, in pair 6 with the very tall Moritz Geisreiter from Germany, displays an excellent example of what I would call "classical" technique. Flat shoulders, flat hips, very little movement of the centre of mass up, down, or to the sides – very efficient. Sven has a very different technique in which he swings considerably from side to side with his bodyweight relative to his shoulders. This has the effect of allowing him to apply more pressure (and thus a harder push) to the sides in the straights, but also requires greater core strength and coordination to execute properly. If the shoulder 'whip' is timed incorrectly, it ends up being a lot of effort for not a lot of reward (not to mention more distance travelled). Interestingly, Jorrit Bergsma displays a similar but more extreme variation of this. Watch how wide they both skate in the straights, and also watch out for when they switch from taking six steps down a straight to taking eight steps – it's the first sign that they are starting to get tired.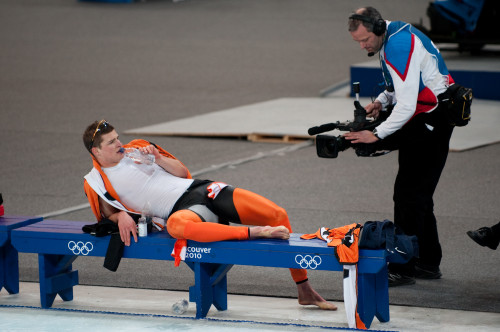 don't forget to click the "sochi2014" tag to read more articles about the games
Useful Links