Copacabana (20/4/07 – 22/4/07)
Bolivia is a place I have only previously known through reading about its dire hyperinflation in the chapter "Bolivia's high altitude hyperinflation" in Jeffrey Sach's book "The End of Poverty". It is a completely landlocked country but maintains an active navy which does exercises on Lake Titicaca, the world's highest navigable lake at about 3800m above sea level. Copacabana is on the banks of this lake and is the launching point of tours to Isla del Sol, (according to one story) the birthplace of the Incas
I'm not sure why, but I found this quite funny.
Ok, be down at the dock at 8:30am, got it. Get on the boat that says "titicaca"…. riiiight.
The boat trip out was quite pleasant for its 90 minutes. Part of the Isla del Sol can be seen in the background.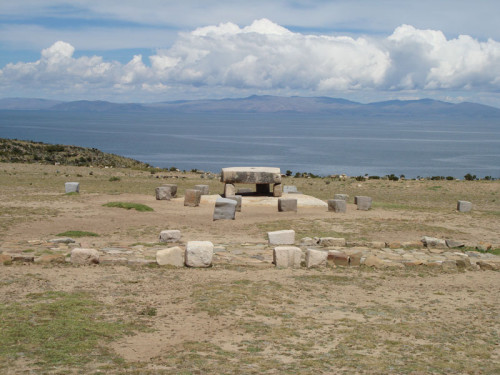 There are various archaeological niceties on the island including a rather underwhelming museum. Outside though, there were many things including this "sacrifical" table. Any volunteers?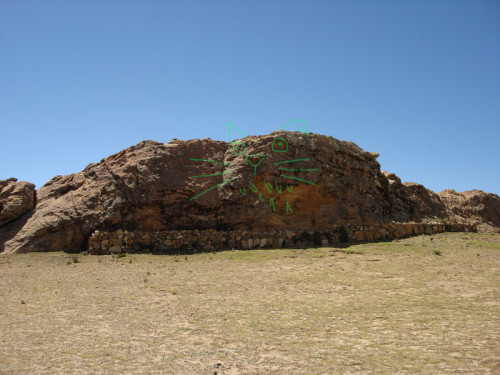 This is the sacred rock. If you look closely, you can see a puma in it (those Incas loved their pumas). I have highlighted the details in red so that you may more easily see the features of the puma.
We arrived at the north side of the Island at about 10:15 and immediately began seeing sights. After that, we began the 3-hour walk to the south side of the Island, where I would catch my ferry back to Copacabana. This didn't afford very much time to grab any lunch so I got kinda hungry along the way. Either because of hunger pangs or the altitude (or perhaps the corruptive influence of the people I was walking with, which included two Irish girls) we decided to "eat" one of the surrounding Islands. Here I am, just having a little taste.
Do these guys look familiar? Yes, they were some of the people who trekked to Machu Picchu with me. They were trekking from the south side to the north, I was going from the north side to the south… there is only one road linking the north and south… guess what happened.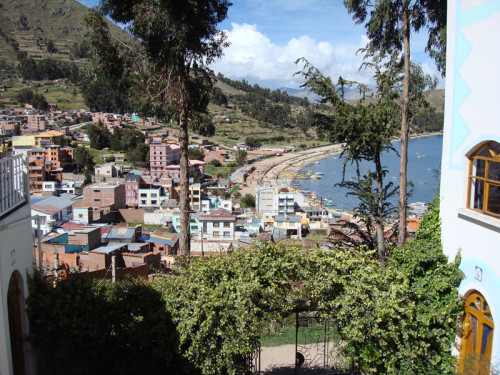 The view of Copacabana from my hostel. If it weren't for the high altitude, one could be forgiven for thinking that this was some kind of tropical paradise.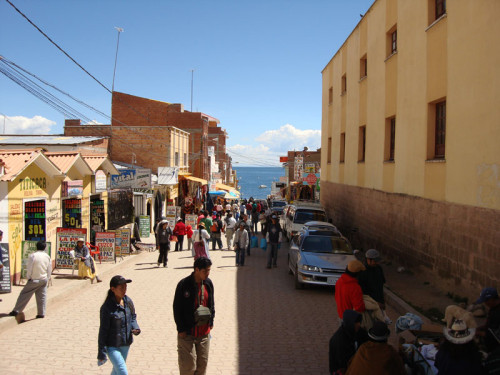 A shot down Avenue 6th of August, one of the main streets in Copacabana… from the window of my bus to La Paz.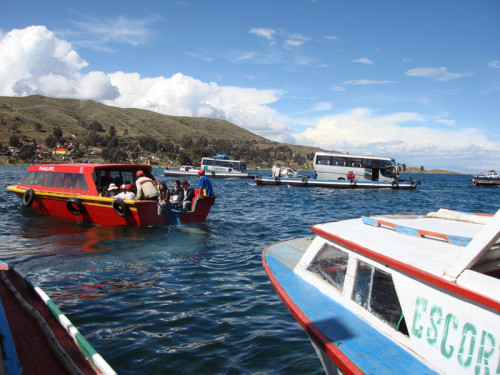 If you look at a map of the area I was in, you will see that the quickest way to La Paz is to drive to the other side of the small peninsula where Copacabana is located then take a boat across Lake Titicaca. But what about the buses? You say… well, they can take a boat too.
La Paz (22/4/07 – 25/4/07)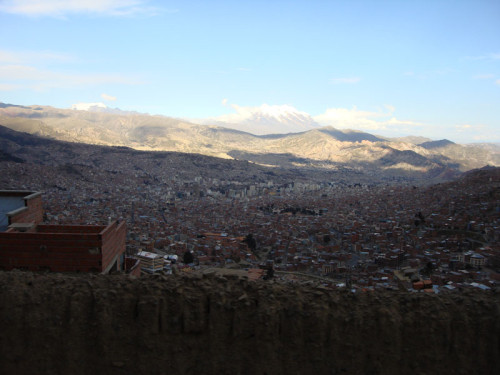 The world's highest capital… and not just because of all the cocoa leaves. La Paz is surrounded by stunning snow-capped which seem to look at you and say "altitude? you ain't seen nothin' yet".
Closer to the centre of La Paz, the city is hectic and very smoggy. Combined with the altitude, I'm surprised anyone even bothers to smoke cigarettes here – you need all the oxygen you can get.
Salar de Uyuni (26/4/07 – 28/4/07)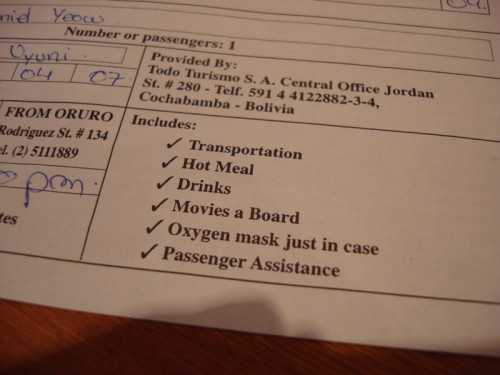 Next stop: Salar de Uyuni – Salt Flats. The bus that would take me there would take 10 hours… luckily they seem to have all bases covered.
The town of Uyuni, launching pad for all tours of the salt flats, has some strange artwork which punctuates its hexagonally-tiled streets. Reminded me a bit of Melbourne actually (the art, not the tiles).
What do you do when you have lots and lots and lots of salt? Bricks sounds like a mighty fine idea…
This friendly chap is a close relative of the Llama and the Alpaca – the Vicuña. Vicuña wool is horrendously expensive and very fine and warm.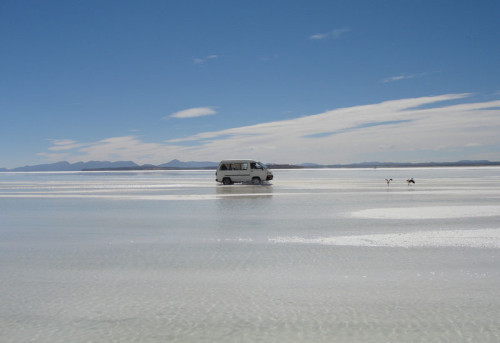 The Salar de Uyuni is what remains of what was once a very very large lake. As you can see here, it hasn't *completely* dried up. The terrain is difficult and one generally doesn't venture out this way without a well-equipped off-road vehicle.
In many sections of the flats, the salt is piled up in these curious conical piles to dry out for later use.
This is what one sees most of the time – a vast seemingly endless expanse of blindly white salt. It is said that one can make out the curvature of the earth here… although I wasn't able to.
Somewhere in the middle of it all, there is a hotel made entirely of salt. Well… mostly. Really redefines the meaning of "table salt" ha… ha…. ha….
MMMmmmmm…. salty!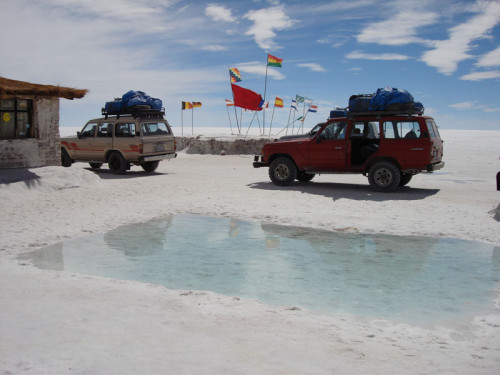 They even had a small wading pool. I wonder if it was a salt pool or a chlorine one…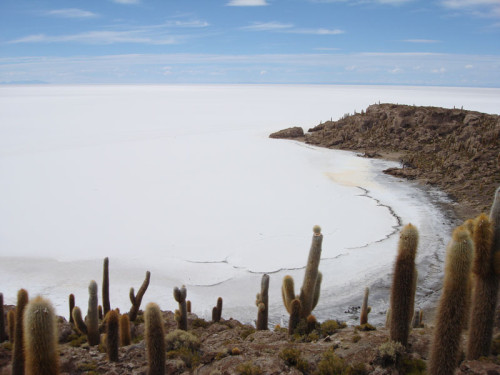 A view of the flats from atop the "Isla de Pescado" – fish island. So named because it is shaped like a fish…
The island is mostly populated by very tall cacti. I doubt even Nick would be taller than most of these…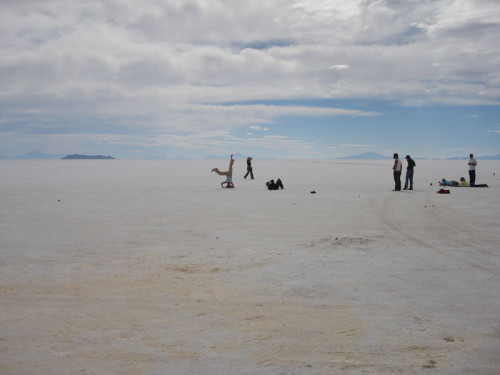 The altitude seems to have a funny effect on some people… or maybe its all the cocoa leaves they tell you to chew to combat the altitude sickness.
Its not all salt… and its not all flat either. In many places, the salt has dried and hardened to the point where it cracks.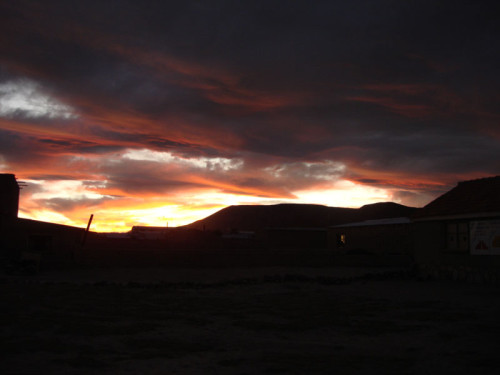 Something I'm starting to learn – it is much easier to take spectacular photographs when one is surrounded by spectacular scenery. This is the sunset over the first town we stopped at to sleep – San Juan… literally in the middle of nowhere.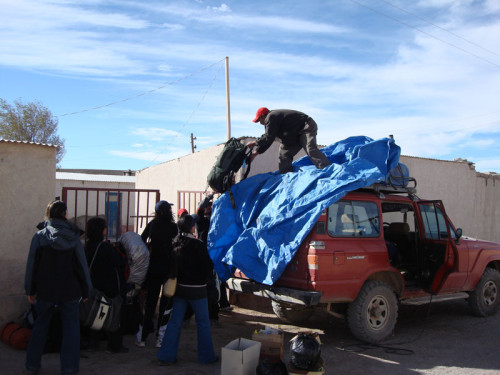 Our guide, on the roof of our jeep, loading our supplies. This was before he got completely plastered on the second night….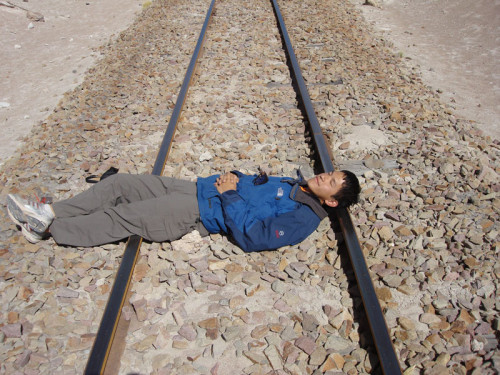 Sometime during the second day we happened apon a set of railway tracks… again, seemingly in the middle of nowhere…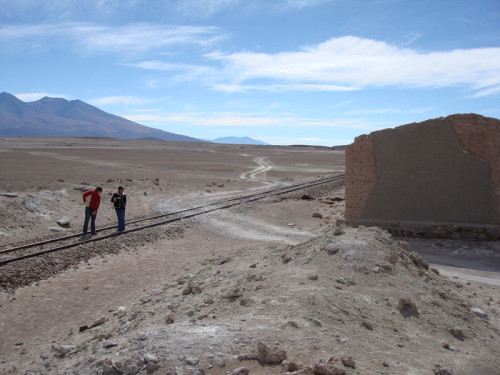 See if you can spot the route that our vehicle took.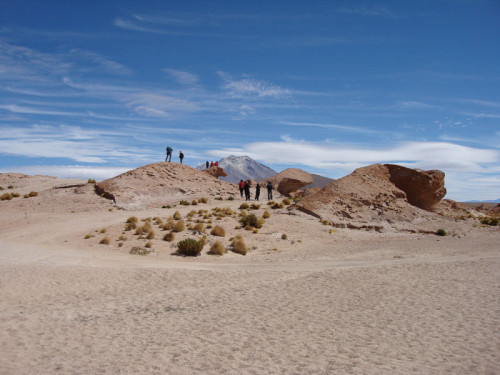 Everywhere we went, we seemed to be redefining the meaning of the term "middle of nowhere". South of the flats, there were peculiar rocky outcrops everwhere, carved out by the harsh winds that sweep these parts. It is difficult to tell, but it is actually very cold out here because of the altitude (above 4000m in most places).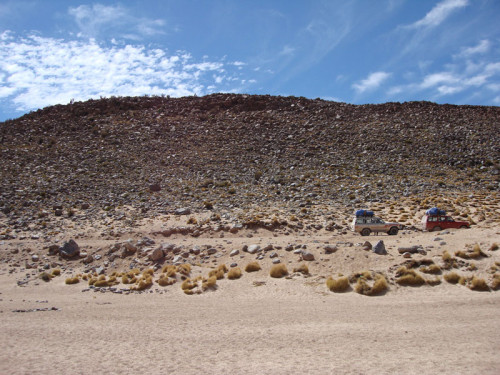 Piles of rocks… and lots of holes in the ground – an archaeologists paradise… well… maybe a geologists.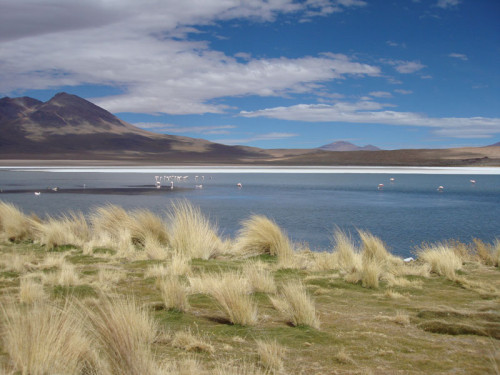 Flamingos populate the sparsely spaced lakes which dot the landscape. In the background, volcanoes can be seen…
You can run, but you can't hide….
On the subject of unusual-looking rock formations.
Our vehicle got very dusty very quickly. Have a wild guess at who was responsible for the kangaroo… ("pare" means "stop")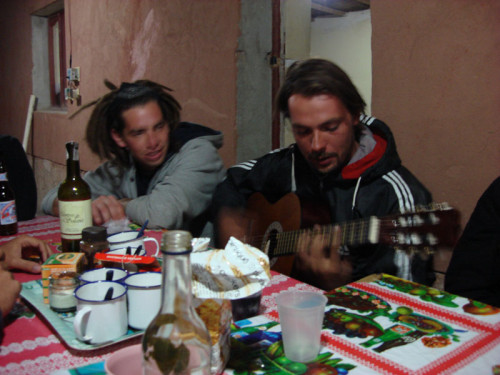 On the second night, we met up with another group who happened to have a guitar, so we had a bit of a sing-along.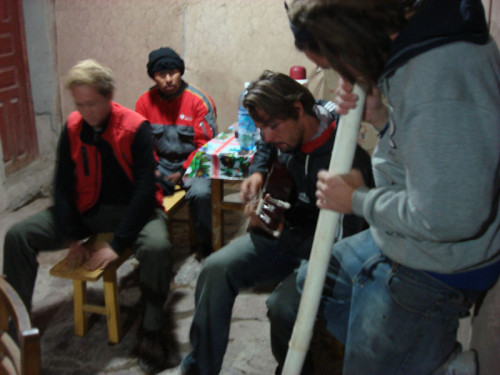 The sing along quickly turned into a jam session. Drums were improvised with the chairs… and a digeridoo (sp?) was improvised with a pipe and tuned to "D".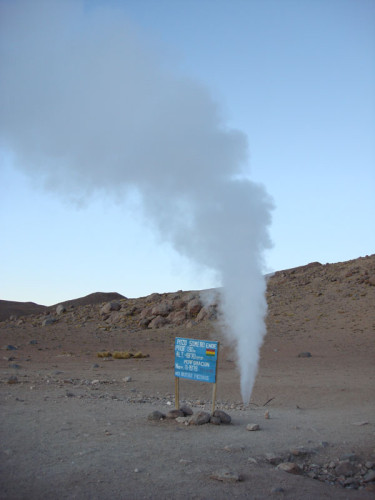 The morning of the third day saw us visiting a geyser.
Nearby, there were volcanic springs, of course… which were very smokey and smelly.
Aside from being very smelly, they were very warm – very welcome at 6am out in what was effectively a very high, very cold desert.
We were able to bathe in pools of water supplied by the hot springs while the ice slowly melted around us.
For those of you who were wondering about the condition of my feet… bad, but getting better.
We journeyed further south until we hit the border with Chile. We were just dropping some people from our group off.
The sign marking the Chilean border was certainly very welcoming.
Our vehicle was plagued with problems right fom the start. At the start… and at various other times, it failed to start. This prompted our guide to run around the front and play around under the bonnet for a little while quite frequently. This time… we actually managed to run out of petrol. Yeah, Bolivians suck royal monkeys when it comes to planning ahead.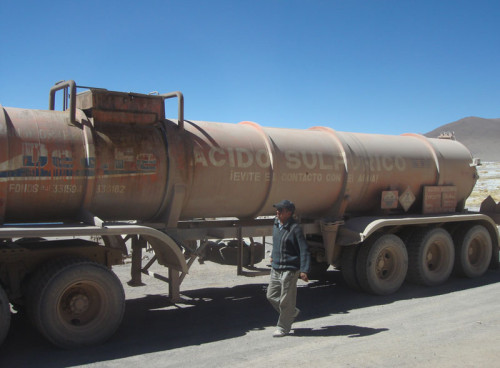 I wonder what this truck was carrying…
All those 5am starts finally got to some of us and we managed to fall asleep in the jeep despite it being bottom-numbingly bumpy most of the time.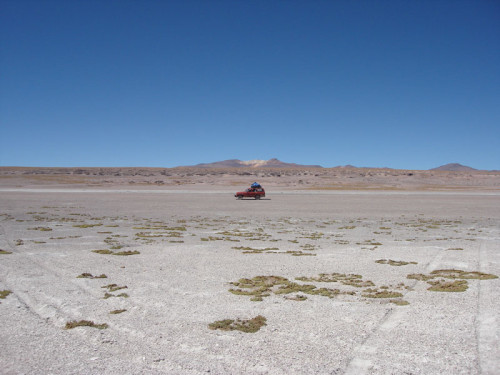 In the distance – our trusty vehicle… further in the distance – a volcano…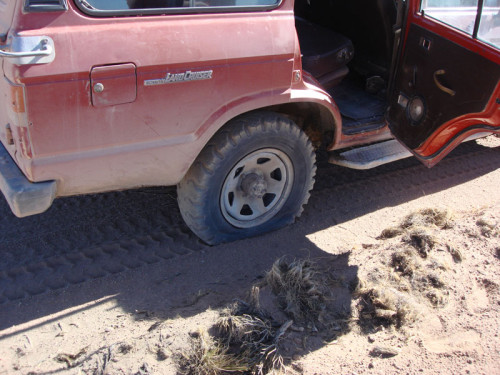 Once again, we were delayed by problems with our vehicle. I was starting to get worried because my bus from Uyuni to Potosi was scheduled for 7pm and, as the day wore on, it became clear that it wasn't likely that I would make it. The solution – I hitched a ride with another land rover on the way back to Uyuni – one that wasn't broken. You'll never believe what happened… it ran out of petrol. So I had to change vehicles AGAIN… I did make my bus, just.
Potosi (29/4/07)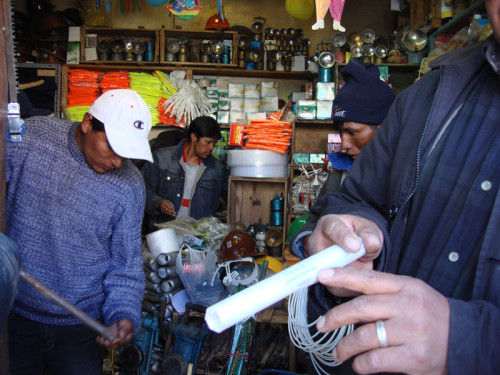 Potosi, at an altitude of 4000m is a bit of a ridiculous place to have a town. Unless, of course, the mountain nearby happens to be one of the richest deposits of silver… ever. Nowadays, there isn't much silver, but still a bit of tin and copper, which keeps the collectives going. Here my guide buys a stick of dynamite…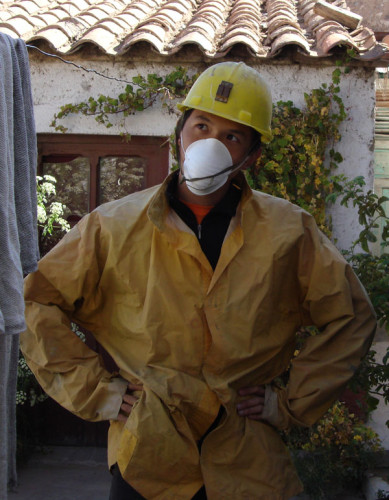 I should be a model… idiot. Apparently the mines are very dirty and one must dress appropriately.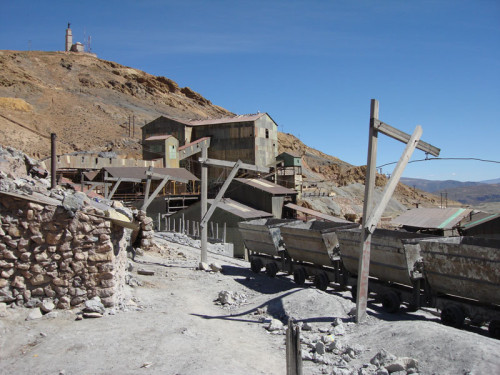 These are not modern mines. The Bolivian national mining company abandoned these mines in the early 80s when the price of metals collapsed. Since then, the mines have been owned and operated by collectives while more than half the population of Potosi simply sought work elsewhere. Even when it was run by the Bolivian national company, it wasn't a particularly modern mine. The techniques used these days are the same as they were around the turn of the century… as are the conditions.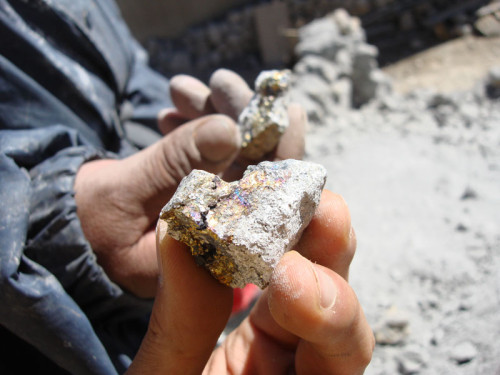 Oooohhh… shiny. Mostly Zinc here… I'm told.
If my major in Archaeology isn't going to get me any closer to my dream of being like Indiana Jones… then surely this will.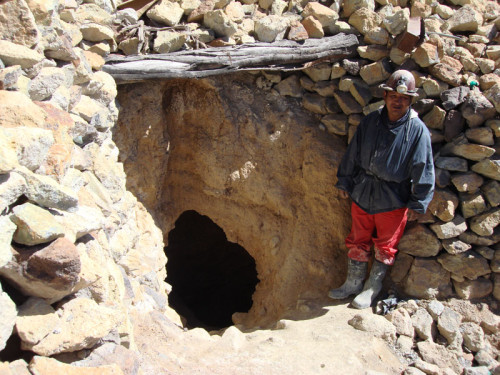 This is the mine that we will be visiting today… as you can see… it is a hole in the ground… and not much more.
A shaft runs from the heart of the mine to the surface. Used for ventilation and for transporting stuff up and down (like canaries in cages).
My guide shows us a vein of metal.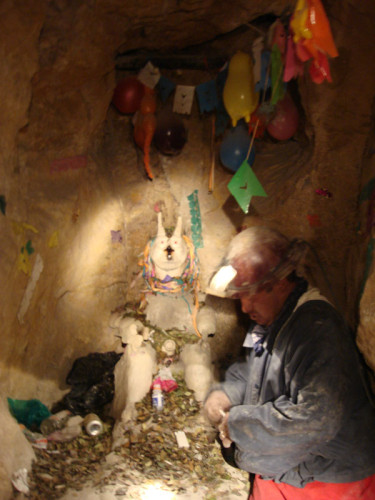 This rather strange looking statue is a shrine of sorts where the miners come every Friday to pray for safety, luck and better metals prices. Oh, they also drink themselves stupid… did I mention that?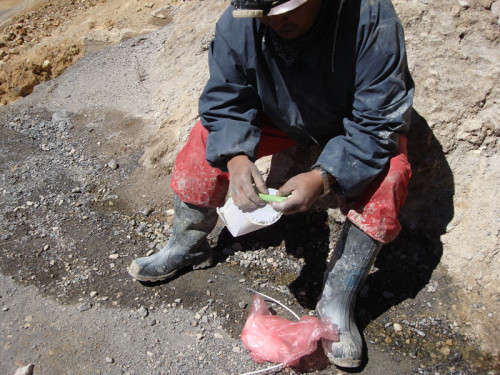 Now, onto that stick of dynamite…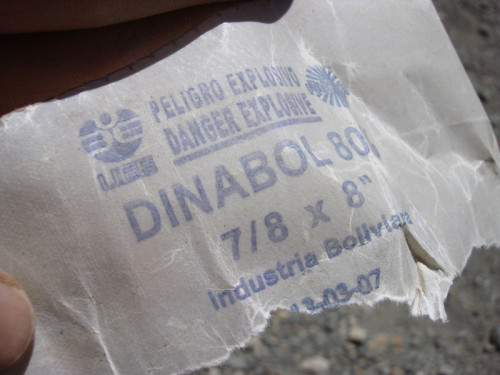 Riiight. 10 bolivianos (a bit less than $2 AUS) buys you a nontrivial amount of exposive…
The photo doesn't really capture it very well. We were standing about 50m away from the blast, and it still felt like someone had just come up to you and slapped you with some force in the chest.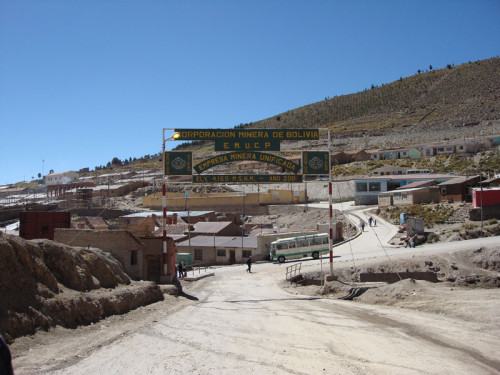 The guy I toured the mine with was this nutcase from Japan, who had literally just come off the plane from Japan the day before. Obviously, a town that is more than 4000m above sea level is an ideal first stop. Not only that, but going on a tour of an old mine where the ventilation is very poor… what a nutcase. Not surprisingly, at the end of the tour, he had a bit of a headache.
My next major destination would be Asuncion, Paraguay. Reached via Cochabamba then Santa Cruz… from Santa Cruz, a 23-hour bus ride.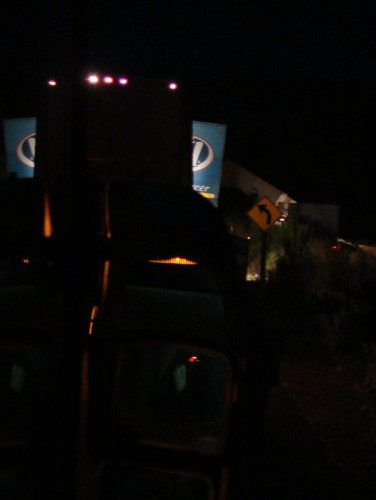 All did not go according to plan though, a rolled vehicle or two severely delayed my exit from Bolivia.
No, this is not the effect of too much photoshopping, nor is it the result of too many cocoa leaves… this lovely scenery was on the way into Santa Cruz, the largest city in Bolivia… but sadly only a transit stop for me.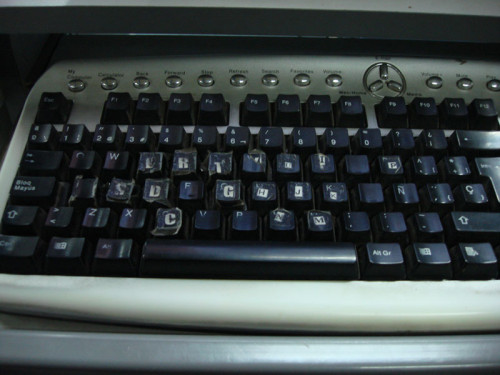 The internet cafe at the Santa Cruz bus station was… how do I say it….(I give up). This is the keyboard that the modern ransom-note writers use.