Brazil page 4
page 1 | page 2 | page 3 | page 4 | page 5 | page 6 | page 7
The beach is a bustle of activity, even on weekdays because of all the tourists. There are cyclists, joggers, rollerbladers, surfers, bodyboarders...
There's that mountain I was talking about. It really is as close as it looks. I'm standing on the corner (well, I'm actually standing in the middle of the street) of this street and Ave Atlantica.
And would a photo page featuring Copacabana beach be complete without a panoramic shot? No, it wouldn't is the answer. I think I'm getting better with the stitching deal. (click the picture!)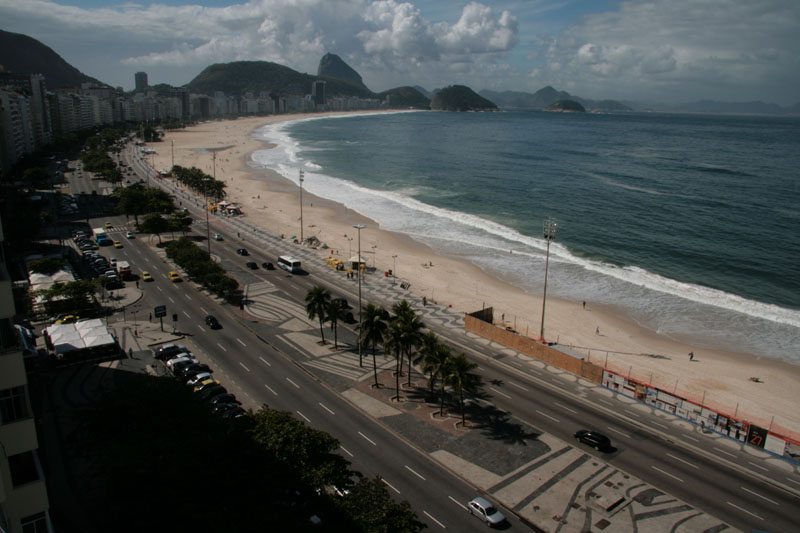 I craftily pretended to be the guest at one of the nicer hotels along the waterfront... and took a lift to their restaurant on the top floor and took a photo or two... I even had a plan to tell them that I was working for a travel magazine like Conde Nast Traveller... but I didn't need to use it. They were happy with me pressing myself against the window and snapping away. (you can see the famous sugar loaf mountain in the background)
When in Brazil... do as Brazilians do. What are Brazilians known for? Apart from hot lingerie models and nether-region waxing configurations... Brazil is known for football. (in Australia, this is known as soccer) I decided that it was my duty to attend a game while I was here in Rio.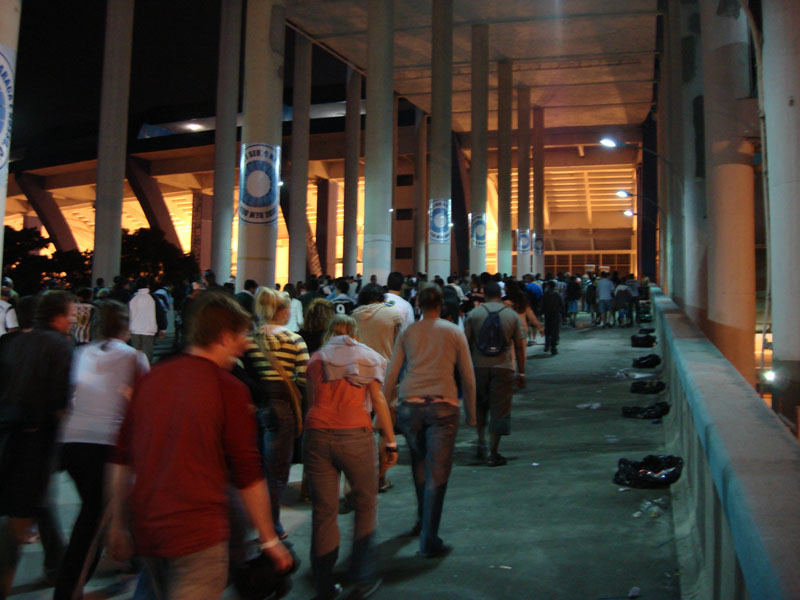 Access to the stadium is via several entrances, the main one of which was a huge walkway which led to the circular (very MCCG-like) stadium-part-with-seats.
Football games in Brazil are unlike anything I've ever been to. The crowd is already going bananas before anyone even walks on the field. There are chants, song and the like and EVERYONE knows the words. I was most impressed by the unity with which they were able to sing and chant. Add some flares, firecrackers and a samba band or two... and you've got yourself a Brazilian football game.
These poor fellows walk around, squeezing through the crowd selling drinks out of eskys and plastic bags full of ice. Observant readers will notice that the home team's (the safest place to stand, as a general rule) colours are black and white. Those who know me in Melbourne might know that I am a Collingwood supporter... who share the same colours. This made the team, Botafogo, easy to cheer for.
The other actually scored first, just before the half time break. We scored the equalizer close to the beginning of the second half and the crowd, as one would expect, goes absolutely bananas.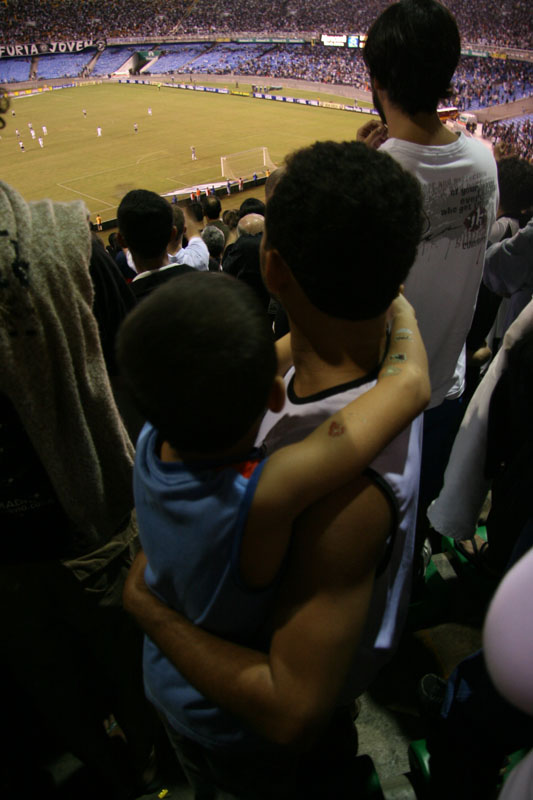 Its a bit of a family thing, the football. You are generally born into whichever team you go for. One of the people I went with had the team's logo and name tatooed on her back. These Brazilians take their football pretty seriously.
The final score... 2 - 1 in favour of the home side. Oh... the game was in the Maracana stadium... did I mention that? Originally built in the 1950s, it had a capacity of over 200,000. Then a thing called safety regulations came into practice and the capacity was reduced to just over 100,000. That's still a lot of people! The stadium itself probably covers a greater area than the MCG, but it is not as tall. It is also lacking various bits of stadium technology that we take for granted... like a big screen for replays... and a clock. (I'm not kidding, there was NO clock).
As I mentioned before... the home team won. I'm sure these guys were relieved. The crowd that night was just under 50,000. About 47,000 of them were Botafogo fans... I'd hate to be the ref if the home side had lost.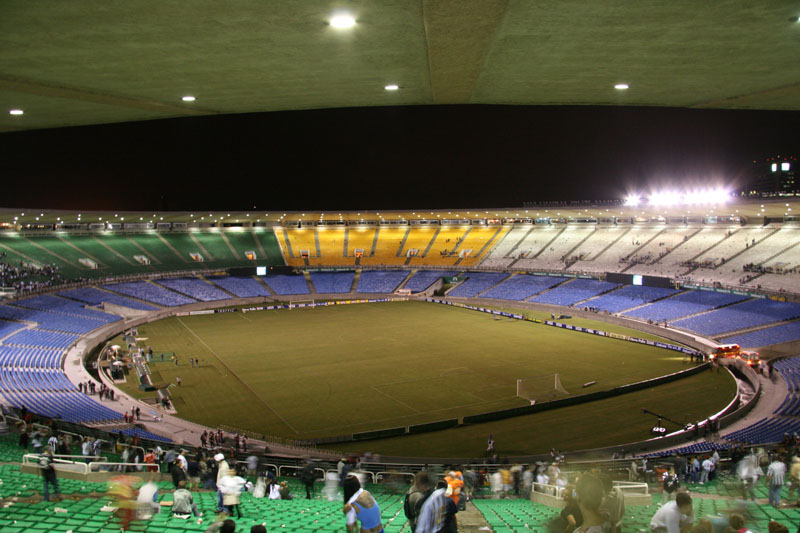 The game itself was actually very frustrating to watch. As is typical of Brazilian football, all the players have spectacularly brilliant ball-control skills but, as a team, they don't gel very well and the play often seems to lack direction.
The next day, I hopped on a bus and thought I'd go for a wander around the various touristy sights of Rio. One thing that you learn very quickly in Brazil - in advertising, you do one of two things - you either link your product with hot, barely-dressed women OR you link it to football. If you can't do either of those things, then your product is probably not worth advertising for in Brazil.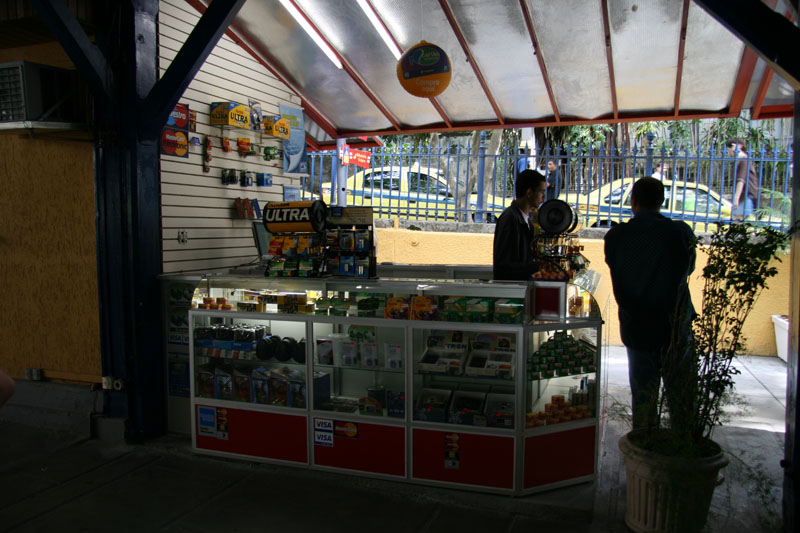 Ha! A film shop... how quaint.
Waiting for the train that takes you to the top of Corcovado... meaning "hunch back". It is a mountain where there is a big statue...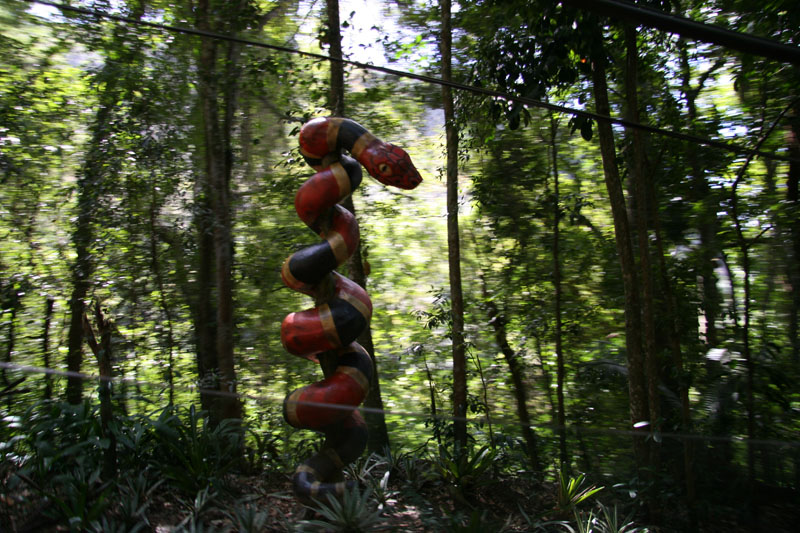 The train is kinds strange. It is basically a tram with little modification done to it except bigger brakes and a lower gear in its drivetrain. I would've thought that a standard funnicular (sp?) rail would've made more sense. Then again... all this stuff was constructed almost 100 years ago...
You get to the top and there is a... samba band. These guys are everywhere...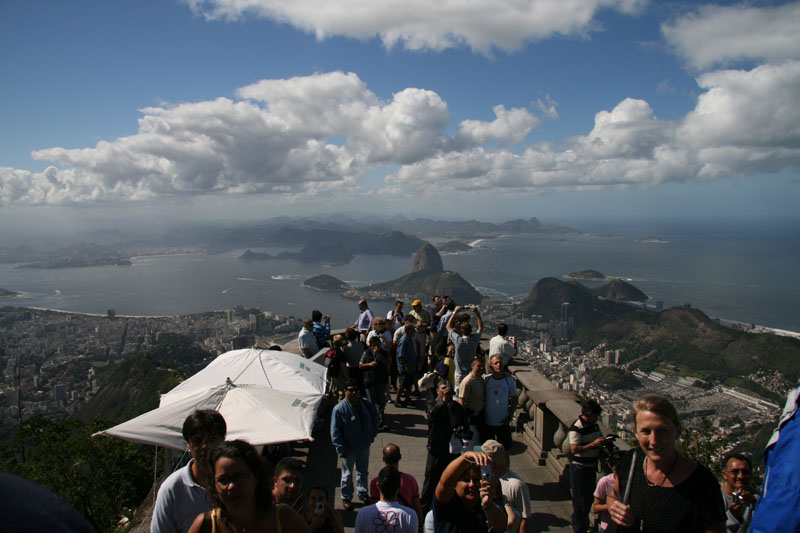 From the top... once you're clear of the forest of tourists, you can get a pretty decent view of all of Rio.
Walking to the end of that little causeway, I was able to get a better view. In the top-left, you can see the sugar loaf mountain and to the right of that, Copacabana beach (see how all the buildings are squashed between the mountain and the beach?)
page 1 | page 2 | page 3 | page 4 | page 5 | page 6 | page 7