Food Shoot!
News assignments are kinda cool, sports assignments aren't bad either... but food... mmm.... Those who know me well know that I like food. I am capable of consuming copious amounts of it and, when married with a well-travelled and somewhat refined pallette, this makes for an expensive combination. When the opportunity to go along to an interview with a pasty chef came along, I wated no time in putting my hand up. I was a little afraid that there was the possibility that I might get to photograph wonderful food, but not consume any of it... luckily, that didn't happen. If you enjoy these photos half as much as I enjoyed the food, I should be up for a pulitzer.
The Lever House is located on 53rd St, between Madison and Park Ave and is a popular spot for "power lunches" apparently.
We arrived at about 1:30pm. It was quiet... people don't begin to arrive to begin preparing the dinner service until well after 3.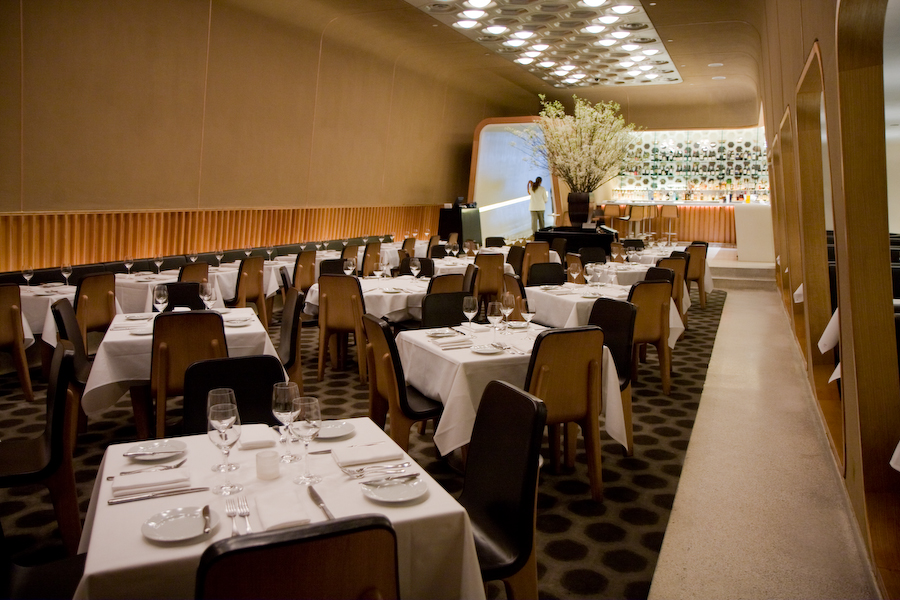 The relatively unexciting portion of the restaurant - the bit where people sit and eat. Decoration is simple to reflect the simplicity of the new American cuisine, whose emphasis is more on fresh locally-sourced ingredients rather than being stuffy and ornate.
...and the interrogation... er... interview begins. Julian Plyter, pastry chef tels us all about what it takes to make it as a pastry chef in the big smoke.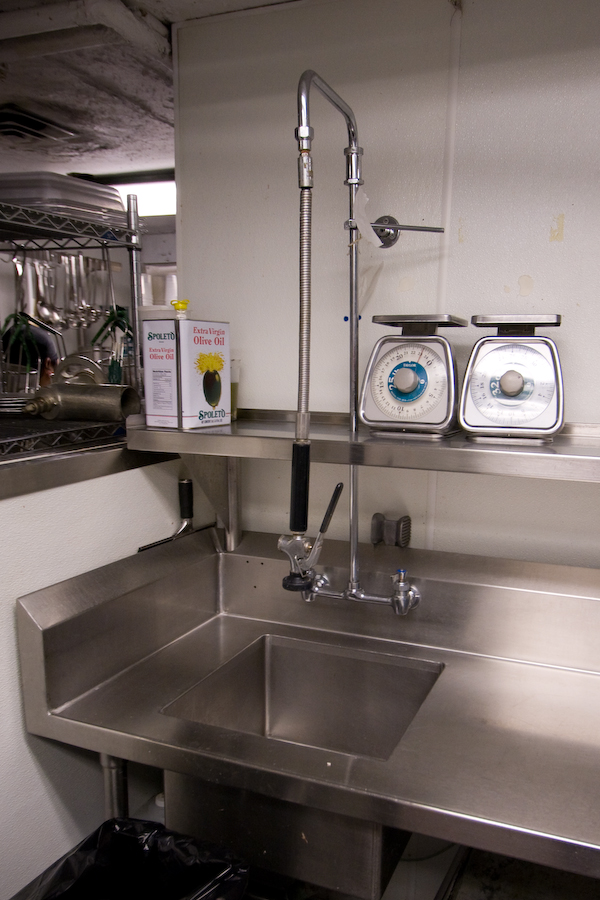 A washing station. In a large restaurant like this, things get washed as they get used otherwise they would be constantly running out of trays and plates and the like. It is an important bottleneck in the kitchen... "if a dishwasher calls in sick... everyone's in trouble"
We got to have a stroll through the walk-in fridge. This fridge had several different sections, each colder than the previous one.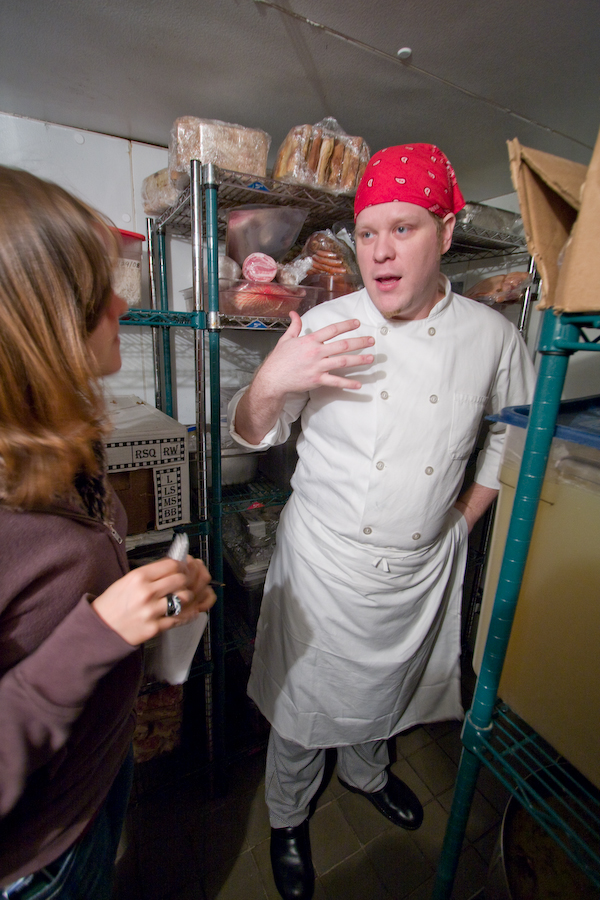 The Lever House Resaurant has its own butcher... so they get meat delivered in great big slabs, and it gets cut up into juicy steaks right here.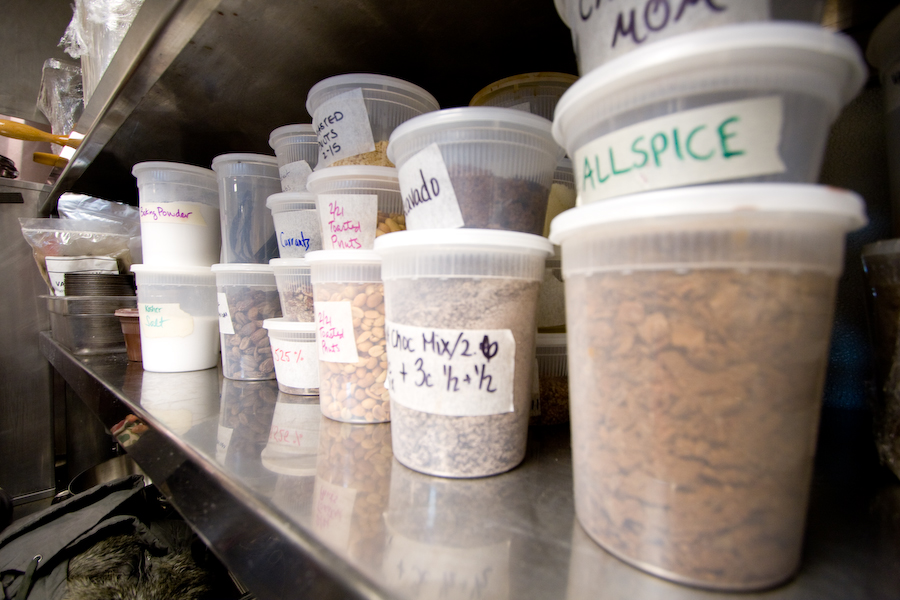 Different nuts, spices and salts are kept here in clear labelled containers for easy identification.
"Hey guys, would you like to try some ice cream cookies?" as a matter of fact, we did have a desire to try some ice cream cookies. The verdict: niiiiiiice.
...tools of the trade...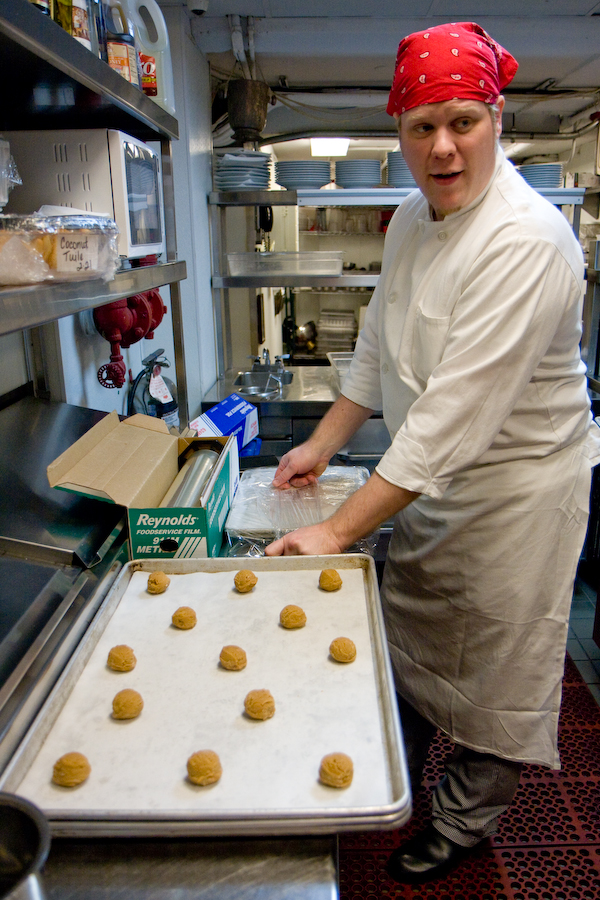 So we just casually went through the routine of getting everything prepared for the evening's service. There's a huge checklist and, as the night goes on, everything is slowly ticked off... and the show is ready to roll.
Getting all the cookies ready for baking.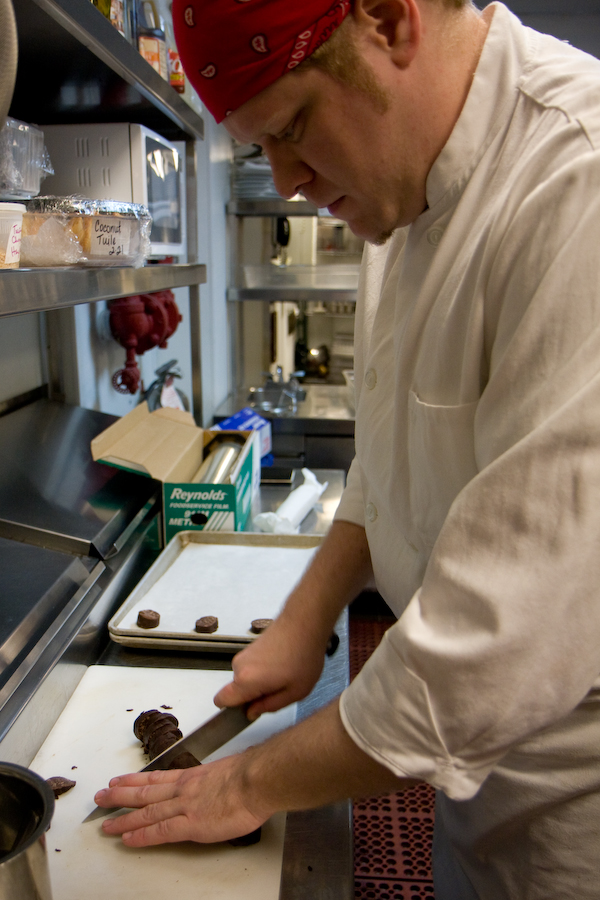 It looks like a sausage... a CHOCOLATE sausage... mmmmm
That's a very yummy looking menu... especially those cheeses...
Taking the trays out to be put in the oven, visible to the top right of the shot... well, the door is visible.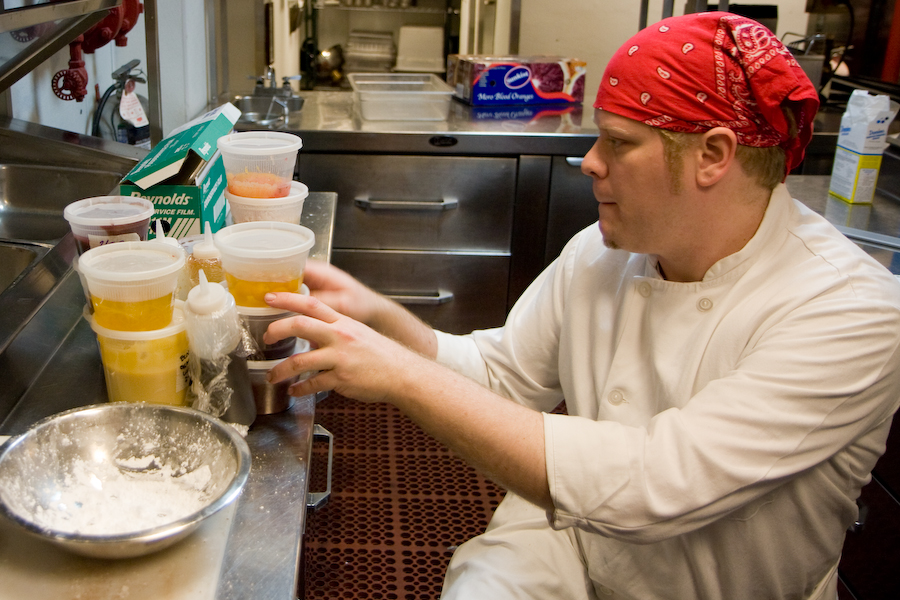 More goodies for Julian to weave together into more magical desserts.
...more tools of the trade...
...ever wondered about those little cookies that you get with an espresso? This is where they are birthed...
The beginnings of the production process of some mmmMMMMmmarmalade...
"Hot chocolate? Coffee?"... this hot chocolate was sweeet... it had LOADS of cream in it. It's a good thing I went for a run earlier that day, otherwise I would have felt very guilty about eating a small meal's worth of dessert.
To ensure that things like the marmalade are consistent, everything is weighed and measured. Here is the marmalade mix on its way to 220 degrees (Farenheit)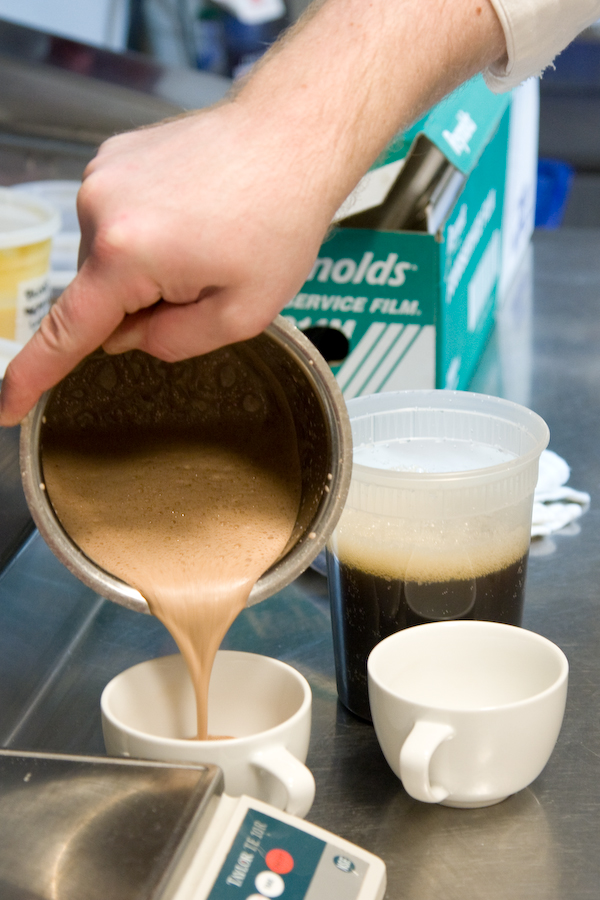 On the left, hot chocolate... on the right... coffee. Julian: "How do you like your coffee?", Shane: "actually, can you put some of the hot chocolate into the coffee?" Daniel: [giggles].
mmm.... more dessert... acually, more like dess-ART.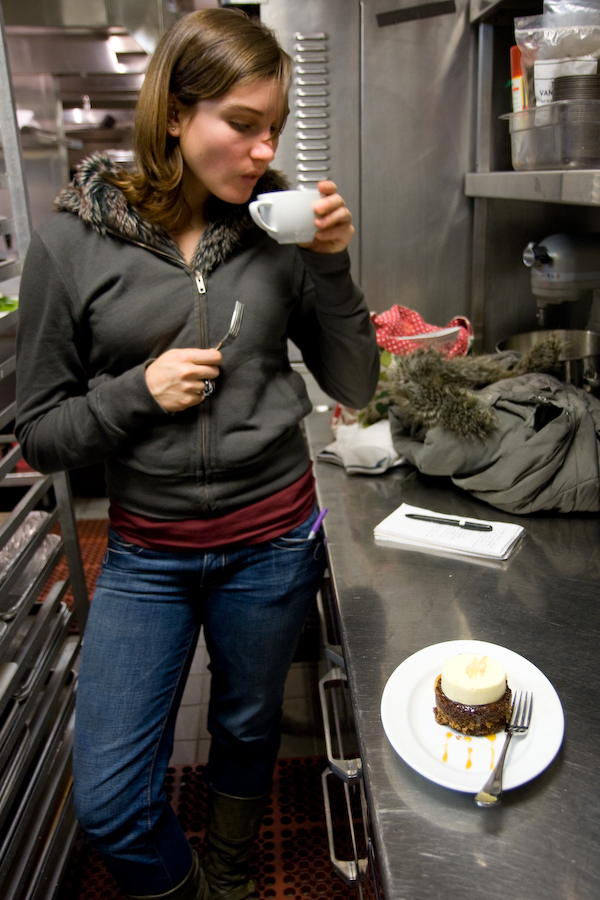 Shane really ought to be paying attention to her journalist's notebook, but the cake was just a little too distracting.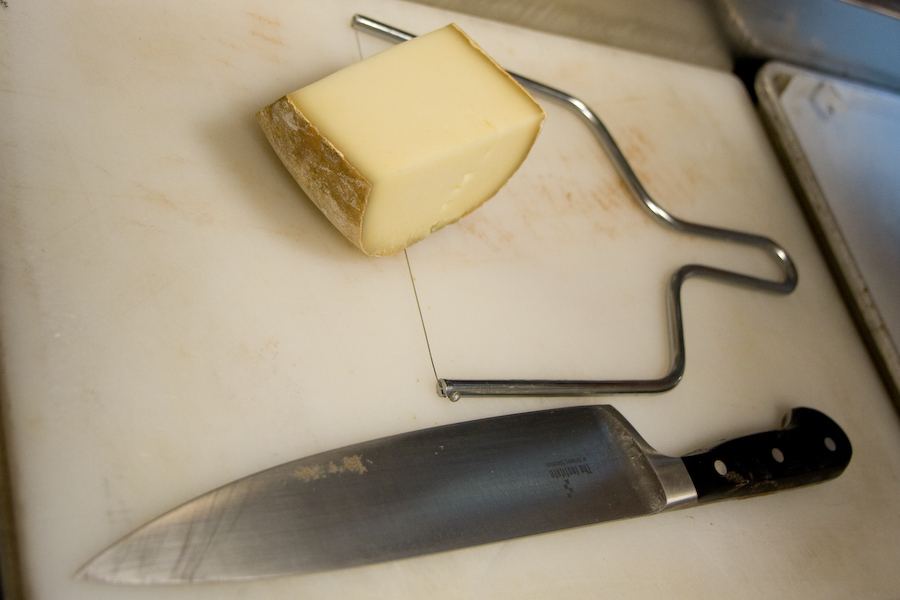 I'm not sure if the excess of leftover cheese off-cuts had anything to do with the fact that we were there, but I wasn't about to complain.
This cheese was the most interesting... it came from Ireland and smelled like... a gerbil's cage (you think I'm kidding). Its taste, however was something else... very strong and quite complex... quite a cheese indeed.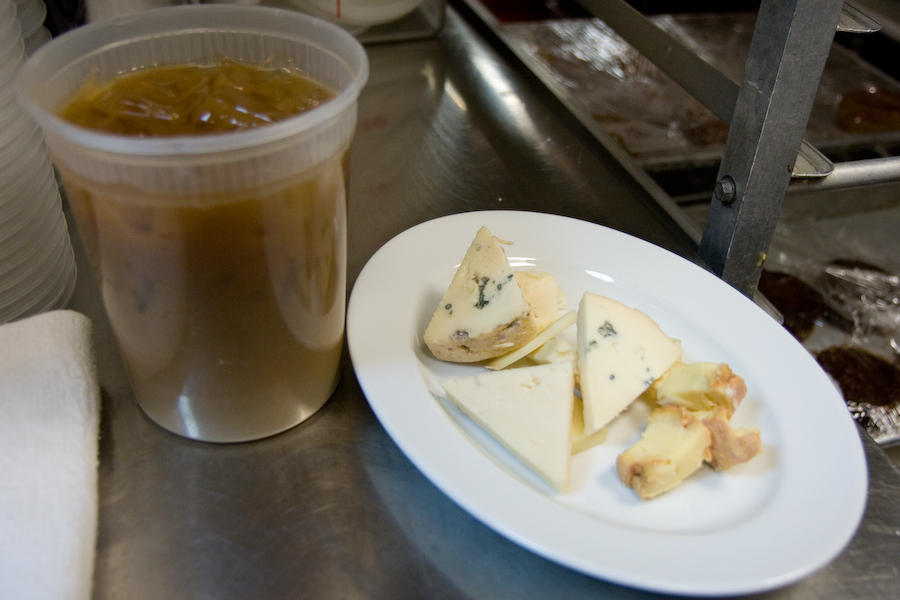 The snack-diet of the average pastry chef... leftover cheese off-cuts and a container full of iced coffee.
...more tools of the trade...
"Crepes anyone?". (this was actually the second attempt... the first one ended badly because he was distracted talking to us and left it in the oven for too long)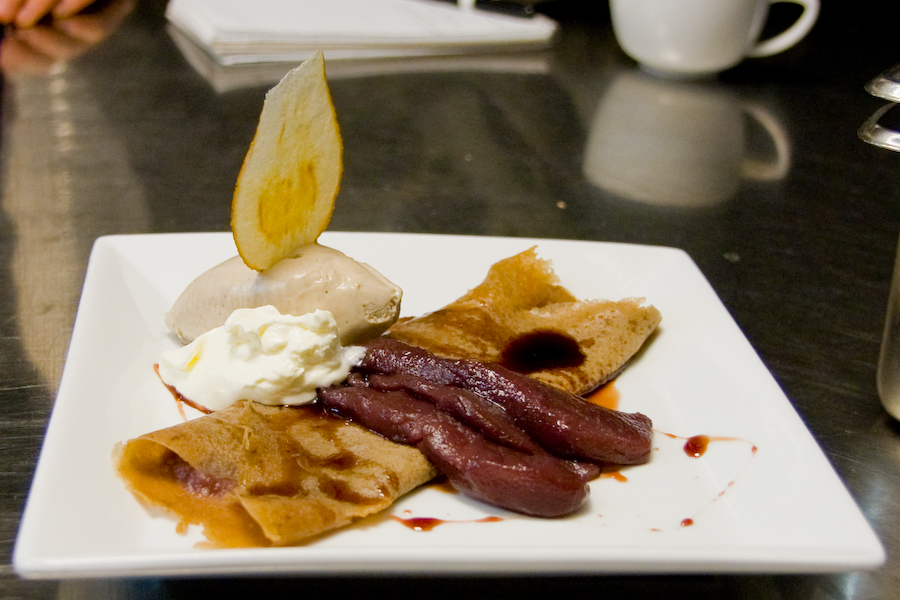 mmmm.... crepes. (this actually made me REALLY miss Breizoz back in Melbourne)
Oh... did I mention the ice cream drawer? It had apple flavoured ice cream that actually TASTED LIKE APPLES!!! (as opposed to apple flavouring, which is mostly sugar which may contain traces of apple)... and that wasn't even the best ice cream. My personal favourites were the passionfruit and vanilla. flavours
...and for the grand finale, today's special is constructed in its entirety.
...with its dulce de leche...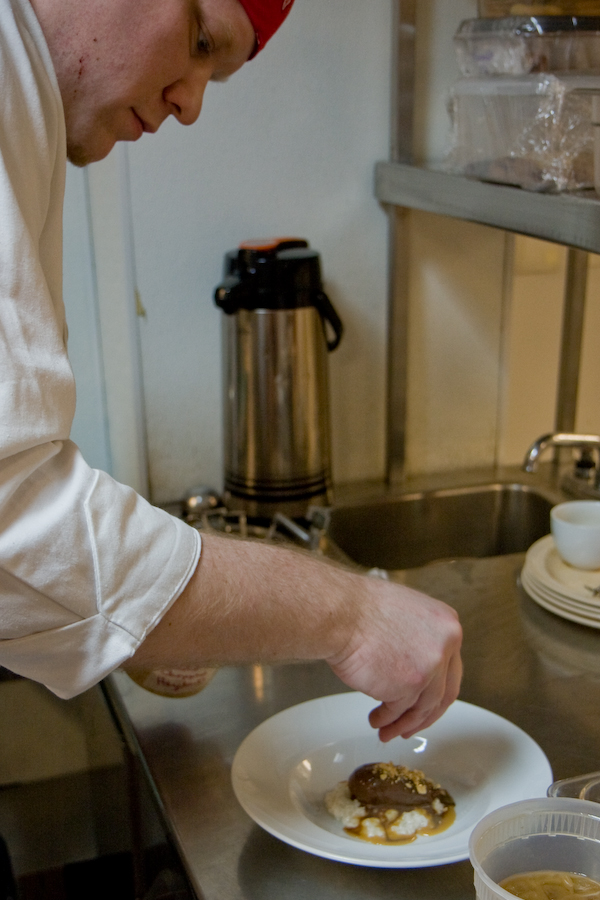 ...and nutty topping...
...but Julian, it's still much too early, nobody's come in for dinner yet, let alone ordered dessert.
aahh... this was for the front-of-house staff to try out so they could explain to to diners and recommend it. Wow... the restaurant business feels a bit like showbiz... except with more food.